Romania's former Prince Nicolae says he never agreed to have his royal title withdrawn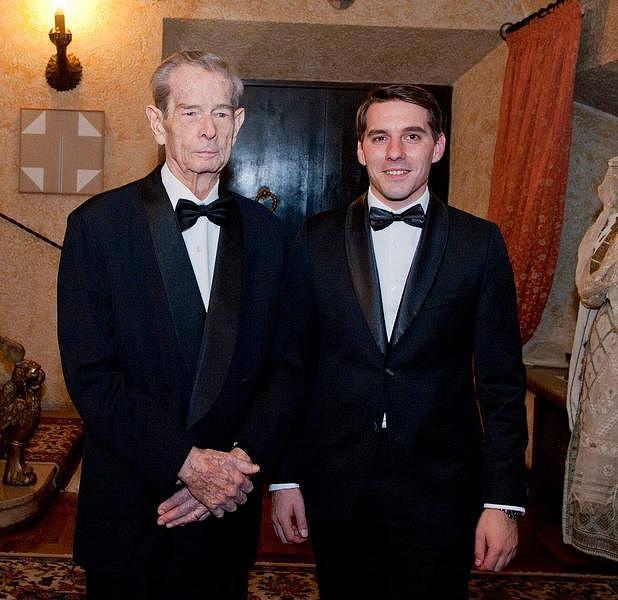 The scandal around the Royal House of Romania, which began two weeks ago when Nicolae Medforth-Mills (picture, right), the disinherited grandson of King Michael I (picture, left), allegedly tried to force his way into his grandfather's home in Switzerland, has continued in recent days.
The former Prince Nicolae said in a recent statement that he never agreed to have his royal title withdrawn, and that he never signed such a decision.
Nicolae was third in the succession line to Romania's throne, but King Michael decided to withdraw his royal title as Prince of Romania in August 2015. Royal House representatives said at that time that King Michael made his decision thinking about the future, after observing his grandson's behavior in public and in private, and that Prince Nicolae had agreed to this decision.
In a recent statement, the former Prince talked about how he was excluded from the succession line, and how he was forced to leave Romania.
"My statement of August 2015 on accepting the withdrawal of the title was not written by me. I was forced to accept it, I refused to sign it, and the declaration is still not signed," Nicolae said.
"There has never been any understanding or signed agreement on my departure from Romania and the condition that I will not return to the country. I would not have accepted an exile of this kind."
He goes on saying that he returned to Romania in November 2015 to solve the situation related to his alleged child, which has remained unsolved so far. This is believed to be the reason behind the decision to withdraw Nicolae's royal title. According to the former Prince, there is no medical evidence to support the idea that he is the father of the child.
After the exclusion, the former Prince also received a "modest" financial support from the Royal House, to help him make another life. Now, Nicolae says that the money was given to him for another reason, representing "the price offered for exile, silence and my removal."
He also says that he met his grandfather, King Michael, one more time after the exclusion, in 2015 in Aubonne, Switzerland. At that time, the King asked him how are things going in Romania, what projects he has there. "At that moment, I understood that the King had no idea that I had to leave the country. It was a private conversation between my grandfather and me. Somebody also made sure it's the last one," Nicolae said.
In his statement, the former Prince also recalls another moment when he informed his aunt, Princess Margareta, that he is in Bucharest to solve some personal problems and invited her to meet. In return, he allegedly received an email in which he was accused of disregarding "a so-called desire of the King." As a result, the Royal House stopped his financial aid.
"Afterwards, I received a letter from the King, written on a computer, in which I did not find my grandfather at all. In a cold manner, I was told that I am forbidden to live or work in Romania from that moment. Knowing him well, I am sure that my grandfather, King Michael, who lived in exile as well, would not have asked me to leave Romania definitively."
The former Prince had no public appearances between 2015 and 2017.
The scandal that hit the Royal House comes in difficult times, as the health of King Michael has worsened. In a recent press release, the Royal House said: "his Majesty continues to be in a worrying state of health."
The scandal actually started after the Royal House issued the first press release on the health of King Michael, when Nicolae went to the King's private residence in Switzerland and tried to force his way into the house to see his grandfather.
King Michael withdrew from public life in 2016 after being diagnosed with cancer. He passed the responsibility of representing the Romanian Royal House on to Princess Margareta.
Romanian Royal House scandal takes new turn
Romania's Royal Family announces its succession line
Irina Marica, [email protected]
Normal