Three Romanians on New Europe 100 Innovators list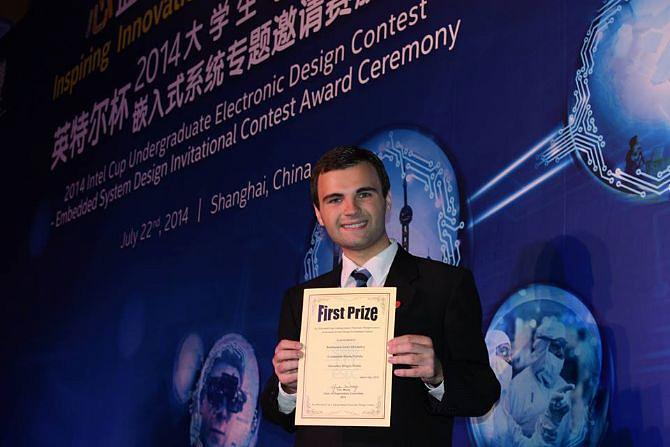 Three Romanians were selected for the New Europe 100, a list of outstanding challengers who are leading world-class innovation from Central and Eastern Europe.
They are inventor Ionut Alexandru Budisteanu, Paul-Andre Bran, the manager of the Biblionet program, and Cristian Botan, the creator of the jobs.gov.ro portal for transparency in public administration.
Ionut Budișteanu is a twenty-year old freshman college student at the University of Bucharest, nominated by TIME magazine as one of the most influential teens of 2013, primarily for his design for a low cost, self-driving car. The prototype design won the Gordon E. Moore grand prize at the Intel International Science and Engineering Fair (ISEF) for high school students. Budișteanu has been programming for almost ten years, and has participated in more than 130 design and IT competitions in which he has won many awards.
Paul-Andre Baran, 40, is program director for IREX in Romania where he manages the Biblionet program, a five-year, USD 26.9 million initiative funded by Bill and Melinda Gates Foundation. The project's aim is the improvement of the lives of Romanians by providing free access to computers and the Internet through public libraries, as well as inspiring widespread institutional reform in the public library sphere. Paul-Andre Baran-Candrea was born in Los Angeles to a Polish mother and Romanian father, in 1998 he moved to Romania as part of an intern exchange program, and later began work as a technical assistant to the British Council in developing the Romanian public administration Regional Training Centers (RTCs).
Cristian Botan, 27, created the jobs.gov.ro portal aiming to increase the transparency of hiring in Romanian public administration, both central and local, and fight nepotism. Botan was appointed an advisor within the Chancellery of the Prime Minister of Romania on issues regarding transparency in public administration.
The New Europe 100 list is a project launched by Polish magazine Res Publica together with Google and the Visegrad Fund, and in cooperation with the Financial Times.
"The New Europe 100 list is about individuals from Central and Eastern Europe who are changing the world and improving people's lives with ideas that scale up in the digital world. It's about those who, with their courage for innovation, new-tech expertise, unique skills, and social outreach, are having a global impact. This list is both about people and their big ideas," according to the coordinators of the project.
Romania's presence on this list is rather shy, compared to that of other countries in the region. Poland has by far the largest number of representatives in this list, 28, followed by Slovakia, with 16, and Czech Republic, with 14. There are also 8 Hungarians and 6 Bulgarians on the list.
The full list is available here.
Andrei Chirileasa, [email protected]
Normal