Paranormal Romania: Spooky places teasing mystery fans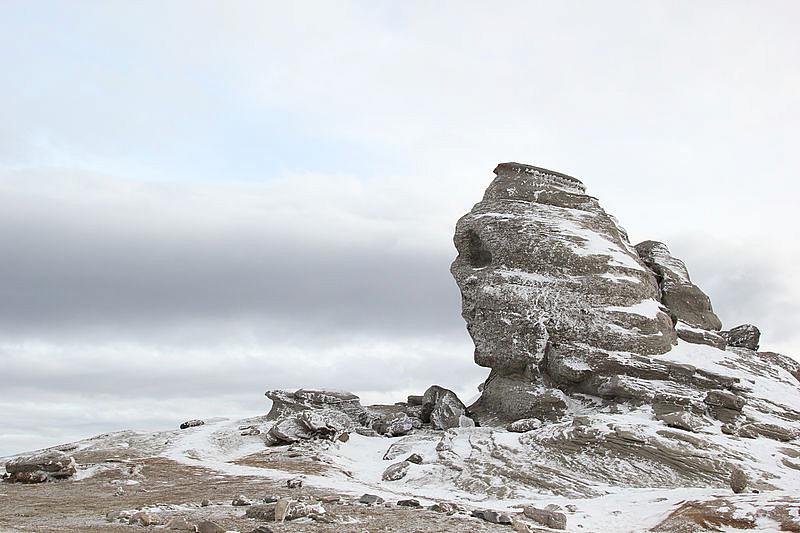 Romania is not only a beautiful country with many places to visit and enjoy. It also has places where supernatural and weird things seem to happen, teasing the imagination of mystery fans, and attracting the attention of skeptics.
If you happen to like paranormal stories, we've selected some places in Romania that you should add to your "to see" list:
The Bucegi Mountains
The Bucegi Mountains are among the most mysterious places in Romania, some of their stories being connected to the secret underground tunnels, paranormal trails, and even places where gadgets seem to go crazy.
The belief that there is a secret network of underground tunnels in Bucegi Mountains has been spreading for years, and is one of the most common stories among mystery fans. While some say that these tunnels are linked to the pyramids in Egypt, other believe that secret bases are hidden in these galleries and that no one should ever know about them. Meanwhile, some also say that the tunnels were built by aliens.
The Bucegi Mountains are also home to a strange place where people say that the Earth and the Sky meet, forming a so-called Gura de Rai (a Paradise Mouth). Some say that in this place, which is believed to be located in the area around Omu Peak, people get filled with positive energy, forgetting all about fatigue, and can even be cured if they suffer from certain diseases.
Those who plan a walk on the mountain's Jepii Mici route should also pay attention which way they go because a legend says that there is an "unreal path" that makes people disappear. Under certain weather conditions, especially in summer when a thick fog covers the mountains, it is said that a narrow path of about 20 cm appears on the Jepii Mici route, parallel to the main trail. In reality, people say that this path doesn't exist, and those who have dared to go on it reappeared somewhere else in the Bucegi Mountains, disoriented and even hurt, or have even disappeared forever.
There is another similar legend that refers to another part of the Bucegi Mountains, namely Valea Alba. The mystery fans say that this is a place filled with strange energies that reset or trigger photo cameras out of the blue. There are also stories about tourists who went to Valea Alba but suddenly woke up disoriented in some other place, kilometers away from the valley. Legends also speak of a portal located in Valea Alba.
The energy pyramid
The strange natural rock formations in the Bucegi mountains, namely the Sphinx (opening picture) and Babele, have also been at the core of some strange stories. One of them refers to a so-called "energy pyramid" that appears every year on November 28. On this day, people go up to the famous Sphinx hoping to see how the sunlight builds an "energy pyramid" around the rock formation. Some said that the strange pyramid of light cured them of their diseases.
On the first days of August, some people also go up the Ceahlau Mountains to enjoy a unique view: the morning of August 6, the mountain's shadows blend into a perfect pyramid.
The Gugu Peak
The Gugu Peak up the Godeanu Mountains is also among the most mysterious places in Romania. The peak is also known as "the mountain that disappears," as some say that it is not visible during certain hours of the day. People also say that this is the holy mountain of the Dacians (ancestors of Romanians), as Zalmoxis, the Dacian God, is believed to have lived there. Paranormal researchers believe that this place is highly charged with energy.
The Hoia-Baciu Forest
The Hoia-Baciu Forest near Cluj-Napoca in Central Romania is definitely one of the strangest places in Romania. Also known as Romania's "Bermuda Triangle", the forest covers 250 hectares and is a really spooky place. Several paranormal activities and unexplained events allegedly took place in this dark forest, from ghost and other unexplained apparitions to UFO sightings.
There are also stories about people who entered the forest and reported intense feelings of anxiety. Moreover, some of them said they had the feeling that someone was watching them. The locals also avoid entering the forest, as the legends speak of people who returned from it with physical problems, including rashes, nausea, vomiting, migraines and burns.
In 2014, Hoia-Baciu Forest was included among five of the freakiest places on Earth in a ranking made by Movie Pilot. 
The Witches' Pond
Not far from Bucharest there is a forest that hosts the Witches' Pond (Balta Vrajitoarelor), a place filled with mysteries and bizarre phenomena. The name of the forest is Boldu-Creteasca.
The strange pond's name comes from a story saying that witches gather here sometimes, especially on special days such as the Sanziene day – the midsummer celebration in Romania, to perform various rituals. Apparently, all the rituals and curses performed here come true.
It is also believed that this is the place where Vlad The Impaler died beheaded. And the strange things surrounding this place don't stop here. It is said that animals don't drink water from this place, no matter how thirsty they are, and no creatures live in the water. Moreover, the pond never changes, doesn't dry, and doesn't expand.
The gravity hill
In northern Romania, on the road between Budesti and Cavnic, there is a place where a car left out of gear appears to be going uphill against gravity. Although some people strongly believe that what happens there is something supernatural, this is most likely an optical illusion that makes a slight downhill slope appear to be an uphill slope (watch a video here). Similar situations were encountered in other places in Romania.
Irina Popescu, [email protected]
Normal