Expat of the day: Romania's Greek "office king" makes EUR 2.6 mln a year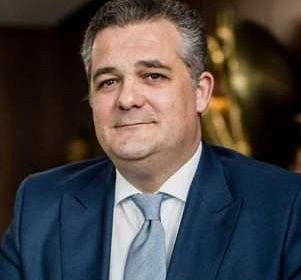 Greek Ioannis Papalekas, one of the most powerful real estate investors in Romania, made over EUR 2.6 million last year as CEO of Globalworth, a real estate investment firm that is listed on London Stock Exchange's AIM market, according to the company's annual report. Most of this sum represents bonuses related to the company's results in 2014, which Papalekas received in cash and shares.
Papalekas was also Globalworth's largest shareholder at the end of 2014, holding 42% of the company's shares. Given that the company is currently valued at EUR 316 million, Papalekas' stake is worth some EUR 133 million (as of September 3, 2015).
Greek investor Ioannis Papalekas nears EUR 1 bln real estate portfolio in Romania
Ioannis Papalekas has over 16 years of real estate investment and development experience, 14 of which in Romania, where he has created one of the most successful real estate development and investment groups in the local real estate market. He has been responsible for the development of more than 400,000 sqm of commercial (office, retail, and logistics) space and 1,000 residential units in Romania, realizing an IRR (internal rate of return) of 175% and an equity multiple of 4.7x on invested capital, according to his presentation in Globalworth's annual report.
He set up Globalworth in February 2013 and managed to raise EUR 50 million via the initial public offering (IPO) in London, and an additional EUR 144 million via a capital increase in April 2014. He also managed to get two American investment funds into the company, York Capital and Oak Hill Advisors, which now own 34.3% of the shares.
Globalworth's investments are almost entirely focused on Romania. The firm is now one of the biggest office space owners in Bucharest, after buying several big office projects in the last two years. Only last year, Globalworth announced the acquisition of ten properties in Romania. The company also has several developments of its own ongoing.
Its portfolio was valued at over EUR 800 million, at the end of June 2015, and the net asset value (NAV) was EUR 427 million.
Globalworth to add new office building in Bucharest to its portfolio
Globalworth continues shopping spree in Romania with the acquisition of Nusco Tower
Swedish Skanska sells its first office building in Romania to Globalworth Real Estate
Papalekas' Globalworth to build 105,000 sqm office compound in Romanian capital office hotspot
Real estate fund Globalworth buys industrial park in Western Romania
Greek real estate tycoon gets EUR 45 mln financing for projects in Romania
Papalekas also owns the Cathedral Plaza, Bucharest's most controversial office building, which he took over from an Israeli investor in 2013. The building has never been opened, as apparently it was built without a valid construction license. The building's owners and the Roman-Catholic Archdiocese have been fighting in court for years, as the archbishop claimed the building affected the Saint Joseph Cathedral which stands right next to it.
How much does it cost to demolish Bucharest's most controversial office building?
In December 2014, Papalekas was investigated by Romanian authorities for complicity to embezzlement, in a case targeting Romanian investor Dragos Bilteanu. In July 2015, the Romanian authorities formally released Papalekas from all aspects of the criminal investigation.
Greek businessman Ioannis Papalekas, called in for questioning in the Romanian financial companies embezzlement case
Greek investor Papalekas writes letter saying he's not guilty, confident Romanian prosecutors will reach same conclusion
Normal