Music and friendships: a view from violinist Stefan Tarara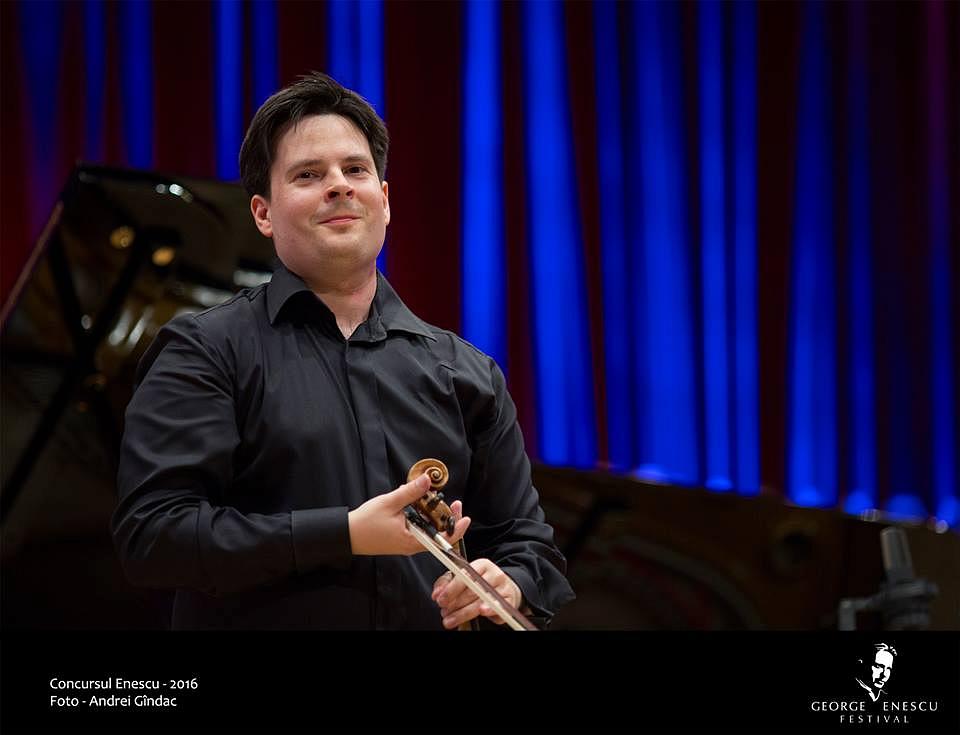 German-Romanian violinist Stefan Tarara was back with a concert at this year's George Enescu Competition, where he won in 2014. He takes account of the impact of the event and his track record since.
Looking back at the 2014 competition, how has the experience been?
Of course, there was a lot of stress first of all because I was focusing on the competition and there was a lot of work but I can indeed say it was a wonderful time. It is more about what the competition brought to me. It was a spring board and now I have more concerts, especially in the country. Due to winning the competition I was able to record two CDs, both with music by Enescu. I am friends now with Josu [e.n Josu de Solaun, the winner of the piano section of the 2014 competition] and Eun-Sun [e.n. Eun-Sun Hong, winner of the cello section of the 2014 competition], we performed together and we will record together.
It is amazing that the competition brought friendships, concerts and a boost I needed.
You are the assistant of professor Zakhar Bron in Interlaken, Switzerland. What draws you to teaching?
It is something I have been attracted to for a long time, for a number of reasons. The first one is that I enjoy sharing what I know, I like to help. The second one is that I learn a lot from teaching. I see everything a lot more structured, clearer and this comes from teaching. It also helps me with my playing on stage. These are the two things that make me enthusiastic about teaching.
I've been the assistant of professor Bron for three-four years now, I give master classes in Poland, in Switzerland. I'm starting in February at the conservatory in Bern, I will have my own class and this is really a great responsibility. They will be my students to take further and I like this very much.
What recording projects do you have at the moment?
Two CDs just came out where we [e.n. Ștefan Tarara and his piano partner Lora Vakova-Tarara] recorded the repertoire for violin and piano by George Enescu. The latest one is called "Childhood Impressions" and it covers the Violin Sonata No. 1, the Violin Sonata No. 2 and Impressions d'enfance. The first one, "The Sound of the 20s" was recorded immediately after the competition and it includes Sonata for Violin and Piano no 3 by Enescu, Sonata for Violin and Piano no 1 by Ernest Bloch, and Sonata for Violin and Piano in G major by Ravel.
We will also record a CD with the other winners of the 2014 Enescu Competition; we will record an Enescu trio and a quartet. The trio is a very special thing: it hasn't been recorded many times before, and it is almost never played because the notes weren't found, we play from the manuscript, the way Enescu wrote them. It is something I am very happy about.
You are a concertmaster with the Hulencourt Orchestra. What are some of the projects you have there?
There are the four elements that I need to do in order to be a complete musician: the soloist part, teach, chamber music and play with an orchestra. There is something to learn from each part. From playing with an orchestra I know better what is important when playing solo, where I can go faster, where I can go slower, where I need to be together with the players in the orchestra. Then, chamber music helps me when playing with an orchestra. Everything goes together. And Brussels, where the Hulencourt orchestra is based, is like a second family to me. I have been playing there for five years. It is a projects orchestra, so it is great that I can do the solo part and teach. Now we are establishing a second orchestra there, it will be called Philia Europa, but this is still ongoing.
Do you have a favorite spot in the country?
Bucharest is definitely my favorite spot, it is a city with so much energy and so much enthusiasm everywhere. I like it here very much and I hope to be able to return as often as possible.
Ștefan Tarara CV Highlights
Ștefan Tarara was born into a musical family in Heidelberg, Germany in 1986 and made his stage debut at the age of four. He was named Musician of the Year in 2008 and 2010 by the German music journal Neue Musikzeitung.
In 2015 he released together with his piano partner Lora Vakova-Tarara the CD "The Sound of the 20s" with works by Bloch, Ravel and Enescu.
He won first prizes at various competitions including the 2014 George Enescu Competition, the international violin competition Boris Goldstein 2015 in Berne (Switzerland), the international violin competition R. Lipizer 2011 in Italy, the international violin competition Valsesia Musica 2006, the international violin competition H. Wieniawski and K. Lipiński 2005 and the international violin competition Henry Marteau in 2005.
He has appeared as soloist with many orchestras: SWR Radio Orchestra, Münchner Rundfunkorchester, RTV Symphony Orchestra Ljubljana, Israel Chamber Orchestra, RTV Prague, Philharmonic Orchestra Bucharest, Stuttgart Chamber Orchestra, and China National Symphony Orchestra, among others. He has performed on concert stages such as: Philharmonie Berlin, Tonhalle Zurich, Salle Pleyel in Paris, Liederhalle Stuttgart, Frauenkirche Dresden and the Museum of Art in Tel Aviv, and at music festivals, including the Schleswig-Holstein Musikfestival, Salzburger Festspiele, the Verbier Festival, Prague Spring, Bach Festival Leipzig and Heidelberger Frühling.
Tarara regularly offers master classes in Germany, Poland and Switzerland. Since the beginning of 2014, he is Assistant to Prof. Zakhar Bron in Interlaken, Switzerland. Between 2010 and 2015 he was the first concertmaster of the Mannheim Philharmonic Orchestra; since 2012 he is the first concertmaster and soloist of the Hulencourt Soloists Chamber Orchestra.
He plays a violin by Nicolo Gagliano of Naples.
You can find his CDs at the Humanitas Kretzulescu bookstore in Bucharest or online.
Photo: Andrei Gîndac
Normal