EC president to Romanian PM: Return to a normal political discourse in the country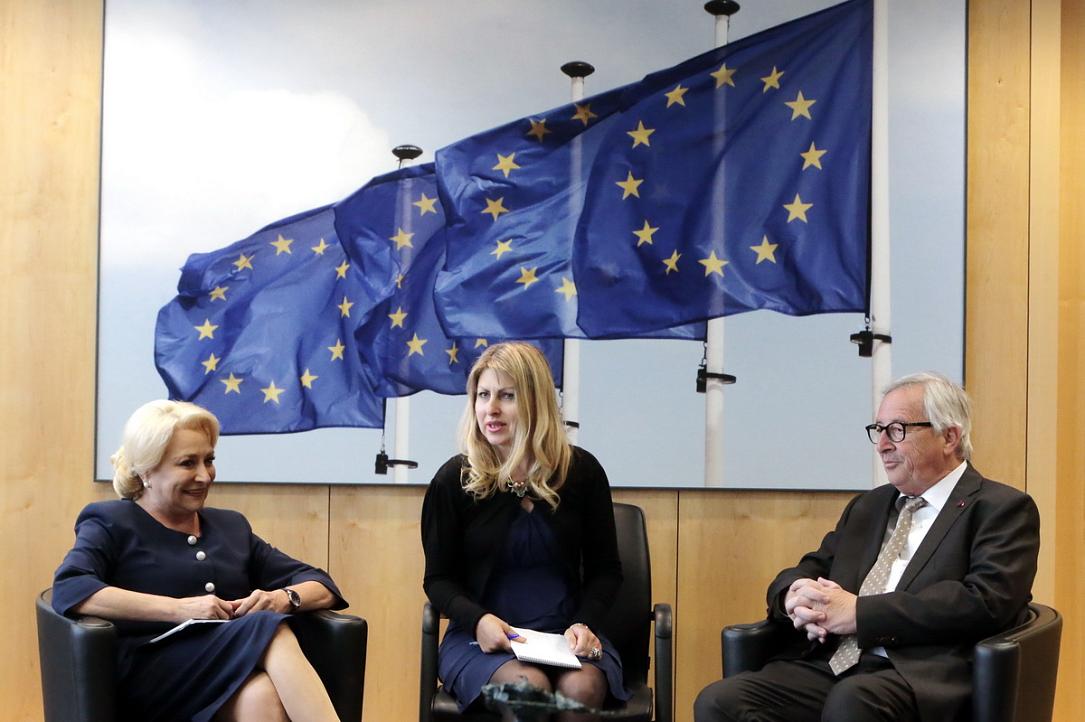 European Commission (EC) president Jean-Claude Juncker urged Romanian prime minister Viorica Dancila to work towards returning to a "normal political discourse" in Romania, as the country will take over the Presidency of the EU Council in the first half of 2019.
The two met in Brussels on July 10, during the Romanian prime minister's working visit there.
"President Juncker and Ms Dancila focused their discussion on the preparations for the Romanian Presidency of the Council in the first half of 2019, which will come at an important moment for the Union. They also discussed the Commission's EU budget proposal, improvements in EU structural funds support and economic policy. Regarding Romania's Cooperation and Verification Mechanism, President Juncker highlighted the Commission continues to monitor developments in the country and insisted that it is crucial not to backtrack on the progress that has been achieved," Christian Wigand, a spokesperson for the EC, said after the meeting, local Hotnews.ro reported.
"President Juncker encouraged the Prime Minister to work in favour of a return to a normal political discourse in the country, namely in view of the presidency."
Prime minister Dancila was on a working visit in Brussels on July 9-10, where she met with the EC president Juncker and first vice-president Frans Timmermans, and European Commissioner for Regional Policy Corina Cretu.
In a press release issued after the prime minister's meeting with Jean-Claude Juncker, the Romanian government said PM Dancila stressed the firm commitment of the Romanian authorities to ensure a successful mandate of the EU Council presidency.
"The two officials agreed on the need to ensure a general consensus to support the objectives Romania has set before and during the presidency of the EU Council, involving all institutional, social and political actors," reads the press release.
The Romanian prime minister also presented the latest developments in the reform and changes in the judiciary and "showed that the completion of the CVM (e.n. the Cooperation and Verification Mechanism) remains an important goal on the government agenda."
In an interview with local news station Antena 3, Dancila said the European leaders have been dissatisfied with the situation in Romania because there is no understanding and consensus at country level, local News.ro reported. She also said the EC president urged her to work better with the political factors in Romania and to avoid political struggles, as these shouldn't exist if Romania wants a successful EU Council presidency.
In Brussels, prime minister Dancila also met with Günther Oettinger, the European Commissioner for Budget and Human Resources, the diplomats of the Permanent Representation of Romania to the European Union, and Phil Hogan, the European Commissioner for Agriculture and Rural Development.
Irina Marica, [email protected]
(photo source: Gov.ro)
Normal