Twitter acquires Romanian start up Summify from former Google and Microsoft interns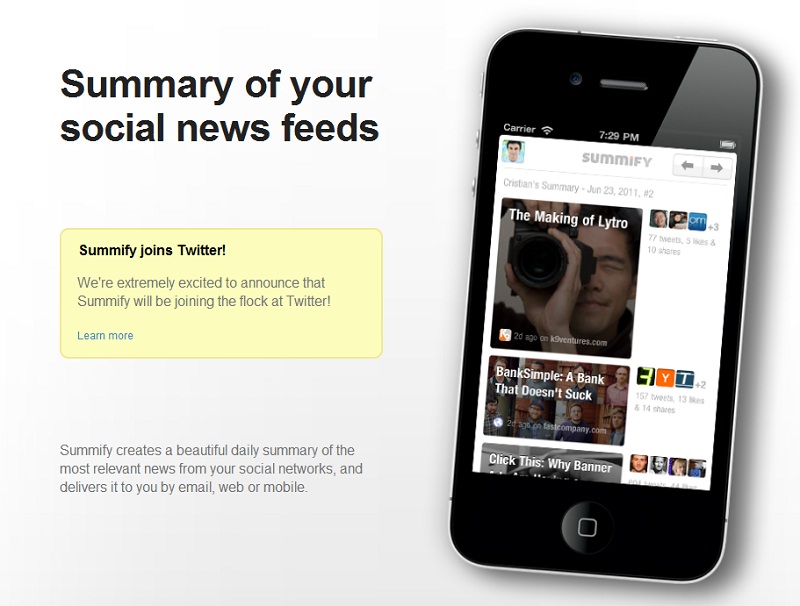 Romanian start up Summify was bought by internet giant Twitter. Summify announced the move via their blog and their team will be moving to San Francisco to work from the Twitter offices. The team of Romanians is currently located in Vancouver, Canada, where the local start up moved two years ago to join Boot up Labs. Summify was started by Mircea Pasoi and Cristian Strat, a team of two Romanian hackers and entrepreneurs, passionate about technology and Internet startups. They both turned down job offers from companies like Google and Facebook and moved half-way across the world to work on their project. Strat interned at Google twice, while Pasoi interned at Google and Microsoft. The two founders have also co-founded balaur.ro, a Romanian job search engine. The Summify team is now made of six people.
In their statement the Summify team say, "Our long-term vision at Summify has always been to connect people with the most relevant news for them, in the most time efficient manner." Twitter is described as the best platform to achieve these goals on a global scale. But what must be great news for Summify as a company has not been met with universal approbation by the users. Many Summify features will be closed due to "streamlining" and this has left Summify's users with mixed feelings.
Summify creates a daily summary of the most relevant news from the user's social networks, and delivers it by email, web or mobile.  Twitter is an online social networking and microblogging service that allows its users to send posts of up to 140 characters. Twitter was on track for around USD 140 million in revenue in 2011, up from a reported USD 45 million the year before. Analysts forecast its revenues would reach the USD 400 million mark by 2013.
Liam Lever, [email protected], Corina Saceanu, [email protected] 
(photo source: Summify's homepage)
Normal