Travel Planner: Timişoara's enjoyable, cosmopolitan air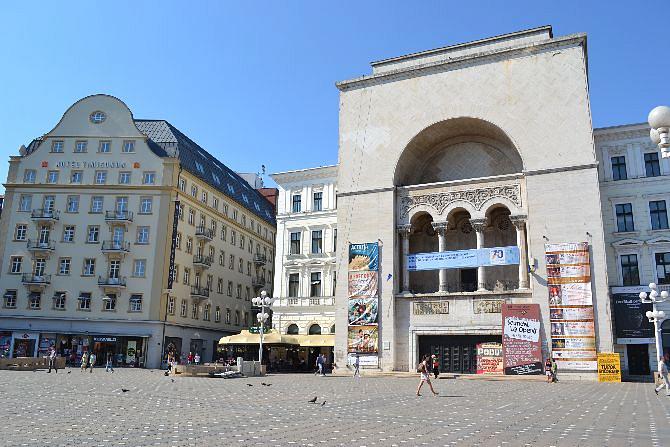 I hadn't been in Romania long, just a few months, when I first laid eyes on Timişoara. Arriving by train, I walked 15 minutes from the dingy gara, Timişoara Nord station, down nondescript Republicii boulevard and into the city center. I came around a corner, and there she was, Piaţa Victoriei (Victory Square), in all her splendor. I was smitten with her cosmopolitan air, plethora of outdoor cafes, manicured greenery and ornate fountains.
The enormous, pedestrian-only public square – rectangular, in fact – is bookended by the Romanian National Opera House and Timişoara's Orthodox Cathedral, a masterpiece with a 90-meter tower visible from much of the city. Still called Piaţa Operei (Opera Square, its former name) by many locals, this area is the hub of the city and is a proud symbol of the 1989 Romanian Revolution, which started here and rolled eastward across the country. Some 40,000 protesters crammed into the area during those intense December days that brought down dictator Nicolae Ceauşescu. Bullet holes still are visible in buildings there and around town, especially in nearby Piaţa Libertăţii (Liberty Square).
I ended up living in Timişoara for two years and still visit regularly. Though I find the oft-cited comparison to Vienna ("Mica Viena") a stretch, I remain a big fan of the city. Yes, there are countless, beautiful buildings from the Austro-Hungarian Empire, but many are in need of serious spiffing up – and that's been occurring with lately with regularity.
Generally, I find that Timişoara keeps getting better, in the amenities and infrastructure sense, but with it comes much digging and construction that currently mars the city, creating dust and traffic headaches. It's also become more crowded and parking can be challenging with seemingly more cars than ever on the streets. Still, there's a great vibe and when the major infrastructure projects are completed, there will be a new shine on the Romania's third-largest city. I just hope it doesn't lose its character, or too many of its slightly worn edges and charming nooks and crannies.
Timişoara is a major business and university town and not necessarily a tourist destination but there are several interesting things to do in addition to strolling and people-watching in Piaţa Victoriei. A must-see is Piaţa Unirii (Union Square), perhaps the loveliest spot in the city (sans construction). There you will find pastel-colored Baroque palaces, stately Catholic and Serbian Orthodox churches, along with hip cafes and lively bars. It's one of my favorite places to sit on a bench and soak up the city.
The Revolution Museum is also worth a visit, as sobering as it is to see the graphic images from 1989. Prof. Dr. Traian Orban, a revolutionary who walks with a cane from his gunshot wounds back then, might give you a personal tour if he's there.
Similarly, not far from the city center between Calea Aradului and Calea Lipovei, is the Cimitirul Eroilor (Heroes Cemetery), which has a stark monument and eternal flame for the Revolution's martyrs along with many graves from those killed in 1989. In the same cemetery, a keen eye will find Soviet Russian graves, each marked with a red star, from World War II.
A short walk from there takes you to Iulius Mall, one of Romania's largest shopping centers, full of upscale European and international stores, several cafes and restaurants including an American-style food court. The city's many parks, including the Roses Park, are outstanding, as is a stroll along the Bega Canal, where the city is expanding the walkways and bike lanes. Near the University of the West of Timişoara, Complexul Studenţesc is a fun place to grab a drink or bite to eat (plenty of fast-food shaorma and plescaviţa) though depending on your age it may make you feel old! Da Toni is an old-school, Italian-owned restaurant in the "complex" that puts out solid pizza and pasta – I've been going for many years. But on my last visit I was really impressed with relative newcomer Locando del Corso, 10 Maraşesti St., in the center, on a pedestrian-only street a few blocks from the Opera.
A few blocks away, La Bohême-délices français, 9 Ungureanu St., all decked out in pink and white, is a pretty albeit tiny bakery with authentic pastries made with by its French owner. A friendly woman, she randomly ended up in Timişoara after training with a Romanian woman at pastry school in France.
Back in the center, in Piaţa Victoriei definitely go for a cappuccino at Symphony Café, (right near the entrance to the Opera) a charming, sophisticated place though smoky at times.
Delicious gelato can be had at Segafredo Zanetti in between the Opera and the Cathedral.
Another solid dining choice, with well-prepared traditional Romanian fare, is Restaurant Tinecz, Calea Aradului nr. 51.
Perhaps my current favorite, which didn't exist when I lived in Timişoara, is Restauarant BioFresh, Blvd. 16 Decembrie 1989, nr. 8 (recently relocated due to construction in the center). In the pleasant Piaţa Maria neighborhood full of historic buildings, the restaurant offers hearty, mostly hot vegetarian dishes that satisfy even regular carnivores. The house wine is tasty and they offer a fantastic local beer, Terapia Gold, brewed by the cleverly named Clinica de Bere. BioFresh also offers vegetarian desserts, even some raw, vegan ones that may surprise you.
Drum Bun la Banat!
By Andy Trincia, guest writer
(photos by Andy Trincia)
Normal