Travel planner: Romania's Sapanta and the festival at the Merry Cemetery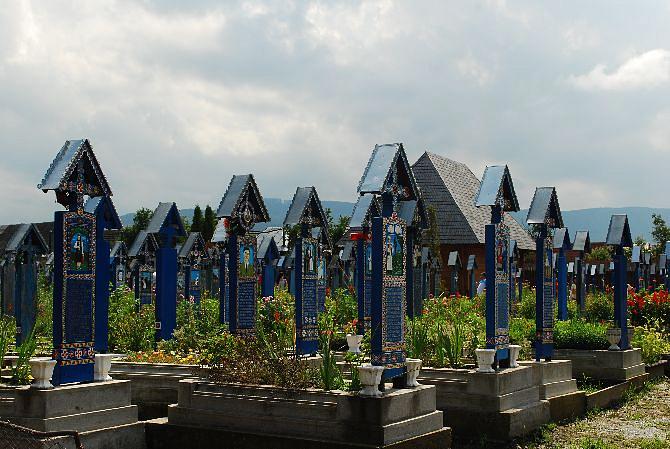 Guest writer Paul Wood traveled to Sapanta, home to the Merry Cemetery, in Northern Romania.
I took a taxi from Satu Mare to Sapanta. It took an hour and a half, the way was beautiful and it cost RON 200 which is just over EUR 40. But rural Romania is changing.
In August the villages were crammed with peasants who had emigrated and were returning for their summer holidays. Many of the villages were full of expensive houses built by people who had made money abroad.
Sapanta is famous for its merry cemetery, full of brightly painted tombstones with verses inscribed by a village craftsman, Mr. Stan, from the 1930s onwards with stories of the lives of the deceased. They have no literary value but are a wonderful piece of naive art and make me think of Gray's Elegy in a Country Churchyard and that peerless history of medieval village life in Catalonia, Montaillou.
The cemetery became a recognised tourist site under Communism and the tombstone maker claimed friendship with Nicolae Ceasescu. The tombstones are notable for the complete absence of references to religion.
We were here for the performance of Sean Davey's orchestral piece which sets many epitaphs to music. It was performed behind the cemetery itself. The occasion was haunting. The turnout was not as high as I expected and I was disappointed for Peter and the organizers though for myself I do not want a Sapanta crowded with outsiders.
Chilly and raining in the morning. Sapanta has WiFi and espressos. The old order changeth. I met many carpet makers, a farrier and other craftsmen and all say they love their work, which their ancestors have done for generations.
They all seem happy but say that their children have gone to high school and have book learning and won't carry on the craft. The children will get mortgages I suppose and credit cards. As I type this clumsily with my index finger the singing from the church reminds me it is the feast of the Assumption of the Virgin, a big festivity here, and I must go to Mass.
By Paul Wood, guest writer
(photo source: Wikipedia)
Normal