Travel planner: Maramureș: Where Romania comes home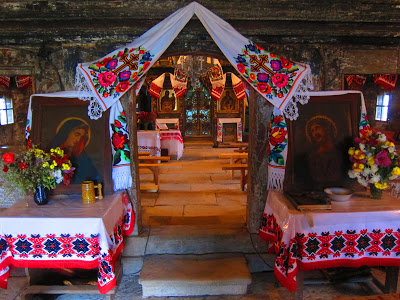 We left Cluj on a very damp Friday evening. The bus was supposed to leave at 8 pm but it didn't arrive at the station until 8:15 pm. Fashionably late, aka: Romanian time. We were lucky to get the two seats across the aisle from each other, it was a full-house otherwise. It wasn't a bad trip, but what sucked big-time was that the bus smelled as though it was made out of a giant air freshener, the kind you hang up on the car's rear-view mirror. My brain was nauseated but otherwise we made it out fine after three hours of driving up and down serpentine roads in the fog.
Part of what I learned during the trip was that when they (whoever 'they' may be) use the expression, 'plied with food and drink', they are referring to Romanian hospitality. I also found out that Maramureș doesn't have a particular regional dish because they are too busy perfecting the best Horinca (plum brandy) in the country. Nobody comes to Romania without getting a taste, and nobody visits Maramureș without learning what it's supposed to taste like. At its best, it rivals a good Cognac and that's kind of how the weekend started, three shots of the region's finest followed by a dinner of Chicken Paprika, Schnitzel, pickled bell peppers, and fresh home-baked bread, all cooked by my friend's mom who actually has a real job in addition to being one of the country's best cooks. I was in foodie heaven. Trust me, most Romanians don't think this is a big deal, but all this goodness is the result of years of tradition, tradition of which we have every right to be proud. Of course, that wasn't enough. We finished the feast with sweet cheese pastries for desert and a bottle of dry Feteasca Neagra. I tried to refuse feebly, knowing it was quite useless and I'd be better off using the energy I had left on chewing and swallowing our just desserts.
In the morning, after a very deep sleep and a copious breakfast of fresh cheese and cold-cuts with that same home-baked bread and garden tomatoes, we embarked on a day-long Maramureș adventure. Maramureș comprises the north-west of the country and is often considered to be the spiritual heart of Romania. Traditions that are long-lost in most of the country are still alive here in the countryside. It's not uncommon for people to wear traditional costumes as their 'good suit' at church, and lots of the local economy in the small towns and villages revolves around agriculture and other types of manual labor. This is a trend that has encouraged a wave of 'agri-tourism'. The thick fog ruined any hopes of drive-by sightseeing, but it didn't make our first stop in Şurdeşti any less beautiful. Maramureș is known for its old wooden churches, but Sts. Michael and Gabriel Greek-Catholic parish in Şurdeşti is also home to one of the tallest wooden churches in the world; its spire reaches 72 meters. It's no surprise that it's included in the list of UNESCO World Heritage sites.
A bell with a note that promised to deliver the key to the church should it be locked. A priest in a black cassock emerged from the home near the path leading up to the church entrance. As we gazed at the biblical scenes painted on the interior walls, like some  wooden Byzantine Sistine chapel, the priest told us that they're hoping to do some restoration this coming summer. The paint was very faint in places.
"Where do most tourists come from?" I asked him.
"You'd be surprised, but many of the foreign tourists are Japanese." He was right, we were all surprised. I later checked tripadvisor where one of the two reviews is in Japanese. The Google translation indicates the author felt some nostalgia for Japan. I can see there is a certain familiarity in setting to the large wooden Japanese Shinto temples. Who would've thought? The priest also went on to explain that the church was built entirely out of oak, using wooden pegs as fasteners instead of metal nails. We were impressed.
We then thanked the priest for his help and continued our walking tour around the property, most of it just a cemetery that looked as though its plots were chosen haphazardly. Many of the graves were so old that the inscriptions were barely visible. In the gloomy fog, the contrast between the colorful flowers on many of the graves and the craggy, barren, tree branches hovering overhead gave the place an eerie sort of beauty. We were the only visitors.
There wasn't much left to do, so after snapping a few photos, we headed back down to the car. Once in the car, I had a pang of conscience. I'd noticed a donation tray inside the church but pretty much ignored it until that moment. "Hold on guys, let me check if the church is still open." I bounded out of the car and jogged back up the path to the church. The door was closed but I thought I'd try pushing it anyway -it opened. Nice, I thought, and walked inside where I'd seen the tray. That's when I noticed the priest in the sanctuary, behind the altar doors, he was saying mass. If he heard me, he didn't show it. Very quietly I left my donation on the copper tray and turned to go. The door wouldn't close. I'd pull it shut and its weight would cause it to swing open again. Conscious of the noise I was making, I tried again looking for a way to hook it into the door frame. I was fumbling around so much it reminded me of those awkward scenes in a movie where the bumbling character tries to fix something but instead keeps making it worse. So I let the door swing open all the way, made a quick sign of the cross and got out of there, hoping God has a sense of humor and that the priest wouldn't catch a cold.
Our next stop was Cavnic, a former mining town turned ski resort. We weren't going there for the moguls but for the tubing. The rental station was abandoned with a set of keys still in the door. The hotel check-in desk was likewise staff-less. It was as quiet as the Overlook Hotel, and Johnny was with us.
Eventually we were met by the resort's manager whose daughter had been a high-school classmate of my friend. He told us tubing was out of the question due to the slippery conditions, but he called Oana (the daughter) who lived in a chalet on the premises. She kindly invited us in for a drink and we spent some time getting acquainted over San Pelegrinos. After taking our leave, we headed to Bârsana on a magic road. The fog had begun to clear and suddenly we could see the beautiful landscape that surrounded us.
"I think this is it." the driver said flipping the blinkers and stopping the car in the middle of the road.
"What now?" I said. To our amazement, the car started rolling up the hill. I was wondering, how did I not hear about this? It's certainly novelty newsworthy.I was told that there had been plenty of news crews around, but I guess none of the footage ever made it to Canada. No problem, I got to film it myself.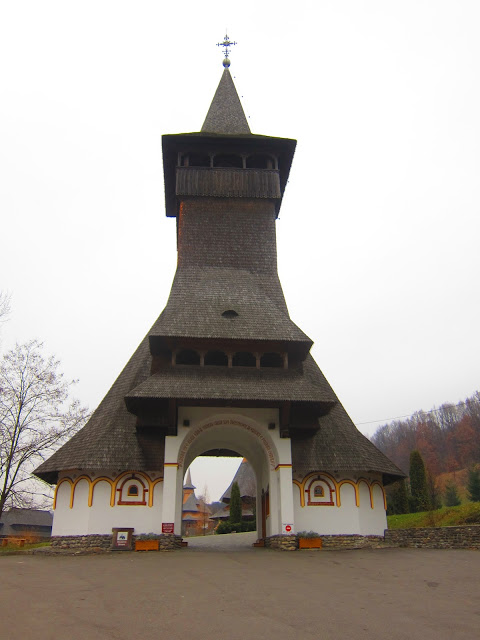 After that bit of excitement, we continued on to Bârsana, where we'd find another one of Maramureș' UNESCO listed wooden churches. The church sat in a complex with a number of other structures, most of them built after the revolution.  The setting was extremely picturesque and idyllic, not least because it was so clean and well maintained. Case in point, when we entered the church a nun was vacuuming the carpet inside and for some reason I got the feeling it wasn't just a once a day thing. One of the more interesting events during our visit was that shortly after our arrival, we stopped by a Plăcintă stand near the gate and noticed a couple of cars, including a slick black Benz, pulling in. Out of it piled five bearded monks, wearing their black robes and the Skufia atop their heads. I found the contrast so striking I couldn't help snapping a couple of pictures.
We left Bârsana for the last sightseeing stop of the day. It was about an hour away, past Sighet, a stone's throw from the Ukrainian border. It's one of those places that you really want to see when you hear about it. I'm referring to the one and only Merry Cemetery at Săpânţa, a place where the headstones are carved with little epitaphs that describe the person's life along with colorful images depicting, usually, what the person did in life. We went at a good time. The gatekeeper who collected the entrance fees was in a very talkative mood and, since we asked, he even took us to the workshop where he carved the headstones.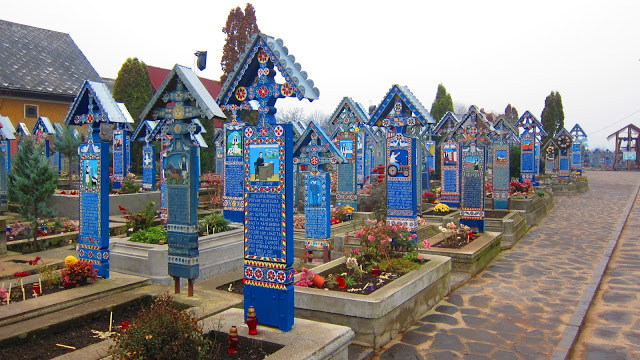 He told us that they only use oak wood and that the average headstone is completed in about four weeks. He was currently doing restoration work as many of the older pieces had deteriorated with time, but he was also working on a special one for his parents. He'd carved not only back and front, but added a pattern on the sides as well. He further told us about the specific geometry he had learned to use when carving the motifs and explained the importance of colors to the pattern applied. For example, a green may only go in a certain part of the motif and if it's painted elsewhere it isn't in keeping with the aesthetic aspect for which the cemetery is renowned. I wondered about the cold in the shop, but he didn't seem to mind, his hands bore the unmistakable marks of hard labor; they were thick and calloused and could probably bear the cold better than mine could wearing gloves.
"What about the epitaph, who comes up with that?" Sometimes, he told us, it's the deceased himself, if he knows he's got a plot in the cemetery. More often though, it's done by family members who present it to the sculptor alongside a photo of their loved one. He struck me as one of those people who's very proud of what he does and who is just as proud to get the opportunity to tell others about it. From what we gathered, he was a descendant of Stan Ioan Pătraş, but he dropped the names of so many uncles, brothers, and cousins twice removed that afterwards we all agreed we didn't know where he fit in exactly. Before we left he assured us we came at a good time of the year. It's full of tourists all summer he said, and it's much more interesting when you have the time to wander amongst the graves in peace.
Interesting it was. But sad too. For a merry cemetery it has its share of sad stories. One headstone depicted the death of a ten-year old boy struck by a train while he was out playing. Another of a young man who died at work. When it comes down to it, none of the epitaphs I saw actually made light of the gravity of the situation (except the one about the mother-in-law), and one could feel the human loss in each poem. I wished them well, those poor souls. As I read those few stanzas above each grave I almost felt I'd known the person and, in light of our respective positions, appreciated my own life that much more.
It was nearly 5pm and getting dark when we left Săpânţa. It had been an unforgettable Maramureș tour, but there was one more 'sight'. Dinner.
The place we were going to was a Trout farm, slash Inn, slash Restaurant located in a commune called Mara. As far as I was concerned we couldn't get there soon enough. We eventually found the place. It was nestled at the bottom of a dark, sloping forest and overlooked a pond. The air was crisp and fresh. We could hear a waterfall in the background. From the outside it looked like a medieval Inn near an old water mill. I felt as though we may as well have arrived on horseback. Inside it was deliciously warm. The wooden walls and furniture gave the small room a welcoming atmosphere. The servers wore long traditional dresses. When one of them came to take our order and I asked for a cheese and slanina platter in addition to our trout specials she looked at me and said "Mai, oameni buni..." Which literally means, "Hey now, good people," and which actually means, "Whoa, relax with your crazy appetite." Okay, so apparently the portions were big. I appreciated the honesty and told her to scratch that.
I'll say two things about the meal. The first was that it was delicious, starting with the ridiculously good home-made bread, the fresh and crispy cornmeal-breaded trout, the rustic mamaliga, right down to the mujdei. The second is that not a word was spoken throughout.
The server was right. There was no space for anything else. I couldn't even finish the beer. We left the Alex Happy Fish Trout Farm (Pastravaria Alex - Happy Fish) dreaming of soft pillows and horizontal resting positions. But it was only a dream. After a multi stage, multi location night of drinking we finally got home at 6am.
On the ride back to Cluj on Sunday evening (last Sunday) I couldn't help thinking some of the simplest things, like talking, eating, drinking, and being around people, can far outdo the experiences we're supposed to think we like best: watching movies, going to amusement parks, watching sports, clubbing, shopping, and the rest. There's a time and a place for all those, I'm not knockin' em, but they're never the *precious moments*. Not one of those experiences can add up to the feeling that you're truly home. In Canada, it was the precious moments I missed, but this is why I love Romania, because it's full of them.
By Matt Sampalean, Guest Writer
Matt was born in Romania and grew up in a world of ration cards and clandestine Radio Free Europe broadcasts. He emigrated with his parents to Toronto, Canada in 1991 where he spent twenty years before returning to Romania as co-founder of a technology startup. When he's not working he blogs about his experiences as a person with 'bipolar nationality disorder'. The views expressed are his own and do not necessarily reflect those of Romania -Insider.com.
Normal