Travel planner: Hunedoara's "fairy tale" castle is worth the trek or detour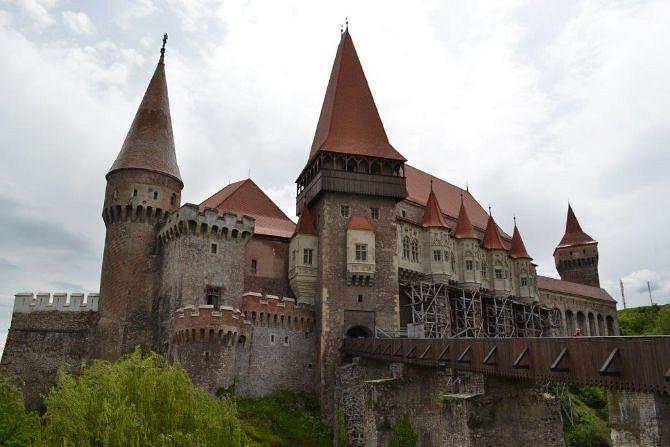 Hunedoara may not be Romania's most attractive city but its stunning 15th-century Corvin Castle (Castel Corvinilor) more than makes up for a few industrial blemishes. The castle is worth a special trip or easily merits the 14-km (9-mi) detour off the national road DN7 just east of Deva, should travels take you to the Transylvania region, also called Ardeal by Romanians. The expanding autostrada makes visiting Hunedoara even easier with freeway exits at Simeria and Deva.
In Romania, Hunedoara is best known, rather negatively, as home to one of the country's biggest steel mills, which peaked during the Ceaușescu era. The now privately run combinat operates at a tiny fraction of what it once was, so don't expect huge billowing smokestacks, but you will see some unsightly ruins of the abandoned sections of the plant on the way into town. But let's stick with the positive and get back to the castle. Full disclosure: Hunedoara is my wife's hometown and I've spent a lot of time there.
The "fairy tale" castle, on a quiet edge of town, is right out of central casting with enormous turrets with commanding views, a spacious courtyard, and even a long drawbridge over a moat (actually the Zlaști River). Simply gorgeous. Numerous movies, music videos and television commercials have been filmed there and the castle is a frequent backdrop for festivals, opera and other performances.
Construction on the Gothic castle began in 1446 by Ioan of Hunedoara, who was the Governor of the Kingdom of Hungary at the time. Various work continued on the castle for a few hundred years and even today it is in a constant state of renovation. A self-guided tour is easy to follow numbered sights, most of which are labeled in Romanian and English, with some Hungarian and German. Don't miss the "Legend of the Well" and the inscription by Turkish prisoners – still visible from the mid-15th-century – before their death. Stroll through the stunning Knights Hall and if you're lucky, the bearded Mr. Giovani will be there softly playing his vibraphone (similar to a xylophone). A professional singer and percussionist, he speaks some English and traveled extensively as a performer on cruise ships.
Regular adult admission to the castle is 25 RON (less than 6 euros) plus nominal taxes for photos and videos. Guides are available for a fee. More information on its site. 
The city center of Hunedoara is quite pleasant, especially in summer, when you can stroll along Bd. Corvin and visit its cafes. The newly built Romanian Orthodox Cathedral, Catedrala Eroilor, (the original one, also beautiful, is in the old city, Centrul Vechi) is worth a visit and it's situated in the lovely park, Parcul Tineretului, along Bd. Dacia. Across the street, Cofetăria Jasmin, has the best sweets and cakes in town.
If you spend the night, Maier Hotel and Hotel Rusca are recommended. For food options, La Crama, Bd. Libertăţii nr. 25, makes great pizza and it's convenient to the castle. It's had a few name changes lately but locals still call it "Crama" or cellar. Nearby is Restaurant Rustic, 4 Libertatii St., which also has a good reputation. Restaurant Scorpion, 6 Dacia Blvd., has solid comfort food, mostly Romanian dishes. For take-away or picnics, there's always the German grocery store Kaufland, (corner of Str. Avram Iancu and Bd. Dacia) which has great mici and "Thüringer" sausages (5 RON per serving) at an outside kiosk, plus anything you can imagine inside. For a quick snack, the Papy covrigarie at the corner of Dacia Blvd. and Mihai Viteazul St., is excellent for fresh, hot soft pretzels (1 RON each) with sesame, salt or poppy seeds, plus sweet versions too.
Drum bun!
By Andy Trincia, guest writer; photos by Andy Trincia. 
Normal