Today is a beautiful day, Martine Claessens said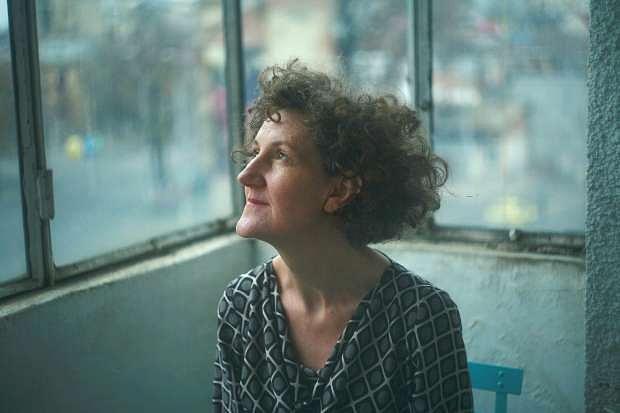 Two winter meetings with Belgian artist Martine Claessens who loves colors, silence and (secretly) peanut butter.
When I first met Martine, it was a chilly Tuesday afternoon, and quite unusually, I arrived earlier at our meeting place. I ordered a cappuccino and waited impatiently to meet this Flemish interior design artist who had been living in Bucharest for the last eight years, whom I had only talked to on the phone a few times. Each time I was a bit surprised about her voice and her tone, as there was no trace of formality. She seemed herself from the beginning.
It was her hair that I first noticed as she entered the cafe, happy, out-of-control frizzy hair, growing upwards. The eyes too seemed happy. You know the way smart kids look at you, like they understand you so well even if they are young and at the same time they have this serene look one loses when growing up? Martine is a 40 something grown-up who still has that look.
Soon after, she arrived, wearing a fluid, slip-on black dress, some loafers inappropriate for the minus temperatures outside. "Oh, I got fed up with my boots after wearing them for a week". A wave of strange words filled the air, like those speech balloons in comics, pointing to objects such as tea cosies, napkin rings, bread baskets, lunch bags, all the table accessories Martine designs, when she's not organizing interior design workshops or working on projects for residential houses.
In Martine's company you begin to understand that there is an entire micro universe around each single object. Take the tea. There are tea warmers, tea coasters and even tea trays. The tea cosies for example keep the teapots warm and it is thought that their popularity was brought by the Duchess of Bedford who had established the activity of afternoon tea in 1840.
The accessories are created on Martine's big working table which she found in Belgium in a shop where they recover objects from old houses. It's an old table where they used to cut fabrics, so it has a meter engraved in the wood and now it serves as Martine's creative space.
"It's my furniture from Belgium, which I took to Italy and then to Bucharest. I find it in a way strange that when people move, they start from scratch. I can understand it in a way, but for me some parts of the furniture are parts of myself," Martine said.
Covered with a jungle of objects, whose map only she knows and bathed in the northern light of the room, which is always fresh, just like a perpetual morning light, this 1.50m/2m seized tabled occupies almost entirely the room. There is some place left for three shelves, three pictures of flowers she took in Italy, a drawing of a deer and some other objects.
"My heart stayed somewhere in Italy," Martine told me at our first meeting. "I worked in Belgium for years and I always dreamed to go to Italy and then I had the chance to move. I lived there for six years. It's very close to me, as a person, the way of living, enjoying to cook and to eat."
While in Italy, a friend told Martine that she was working too hard and ought to take a break. "One day we were at the beach working and suddenly this friend told me: 'now I understand, everything you see can be inspiration'."
"It's not like you can close your mind and say, now I'm doing this, now I'm doing that. It's not like closing your books and going home. I always absorb ideas even if I'm not using them immediately," Martine added.
A few days later I met Martine again, this time in her apartment. When I entered the place, she was in her big balcony, photographing something above a coffee table. Behind the big frames of the balcony, one could see gray, cream-colored buildings and a big ad with Ryan Gossling, announcing the broadcasting of the movie Drive on some TV channel.
Martine's skinny body, leaned over to photograph a bowl of tomatoes, seemed absorbed by the bright winter light. "We had been photographing all day long, the breakfast, a cake I baked in the morning and now the lunch," she told me laughing. "The photos are for the table accessories project, called Join us for Dinner."
I got to see all the things she had told me about, but they all looked different than in my imagination. The working table was far bigger than I had imagined, the shelves were huge and stuffed with things, the whole apartment was simply flooded with light and the living room had a semicircular wall.
When I asked her if she ever had moments when hope got weak, Martine told me: "When I have these depressing moments, then I always remember to thank God and I feel better in half an hour. I start to thank that I'm healthy, I have food, I have a beautiful house."
She showed me some colorful tiny tea coasters she had done that morning. There were details of colors everywhere; the pale blue chairs in the balcony, the pastel pink sofa in the living room, the traditional carpet with pink and blue roses, the picture of a boy with blond, long hair, her nephew.
"When you work on residential projects as an interior designer, you listen to what people like, you try to integrate it and in a way you have some limits, because they already made some choices, but when you arrange your own house, it's much more difficult," Martine told me.
Seated at the table with Martine and a friend of hers, Laura, around three bowls of tomato soup and a big plate of salad made with oranges, blue cheese and beetroot, the conversation shifted from the differences between the European and the American identity, the now and there concept, to peanut butter vs. chocolate.
Laura was telling how the Americans are ready any time to cut off and start over and I couldn't help thinking about Martine who takes everywhere her furniture and her memories.
As I left Martine's apartment, I became aware that it was more quiet than on a regular Sunday afternoon. It soon started snowing, at first more timidly and then with determined snowflakes. I remembered Martine who just about half an hour ago was explaining us the difference between Flemish and Dutch, pronouncing in both languages the sentence "Vandaag is een mooie dag". It means "Today is a beautiful day."
By Diana Mesesan, features writer, [email protected]
(photo by Diana Mesesan)
Normal