Romania's "Why don't you come over, Brits" campaign wins top prize at European advertisement awards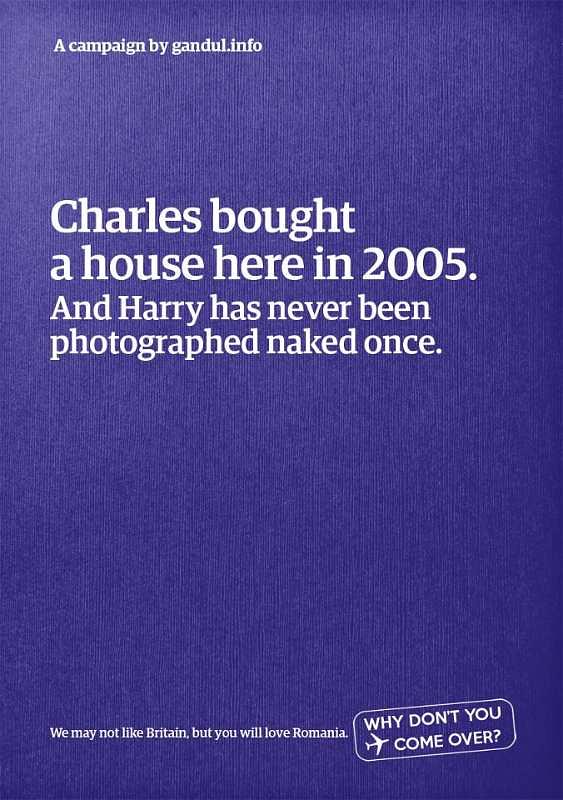 A campaign by Romanian online newspaper Gandul – which turned a British anti-migration drive into a Romanian tourism advertisement, has won first prize at the Eurobest awards.
The awards night, held in Lisbon, celebrated the best in creativity within the advertising and communication industry in Europe.
The "Why Don't You Come Over" campaign, run by Gandul.info and created GMP advertising Romania, took first prize in the PR category.
Prompted by a planned anti-migration campaign by the British government using the slogan "You won't like it here", GMP quickly developed a counter campaign, using witty posters such as:
"Half of our woman look like Kate, the other half like her sister" - a reference to British Princess Kate Middleton.
The self evident: "Our draft beer is less expensive than your bottled water" as well as
"Our air traffic controllers have seen snow before, they were unimpressed" - a stab at the chaos often caused at Heathrow airport when snow falls.
The campaign, with no media budget, not only helped get the British campaign cancelled, but also gathered 87 million page impressions and was reported by hundreds of media outlets abroad, generating an estimated EUR 2 million in free media coverage.
Politically the campaign also scored some points, with UK Labour politicians visiting Romania and "confirming" some of the cheeky posters' claims.
More about the Eurobest Winners here
Shaun Turton [email protected]
Normal