Romanian film review – Where the Money Is: Kapitalism – Our Improved Formula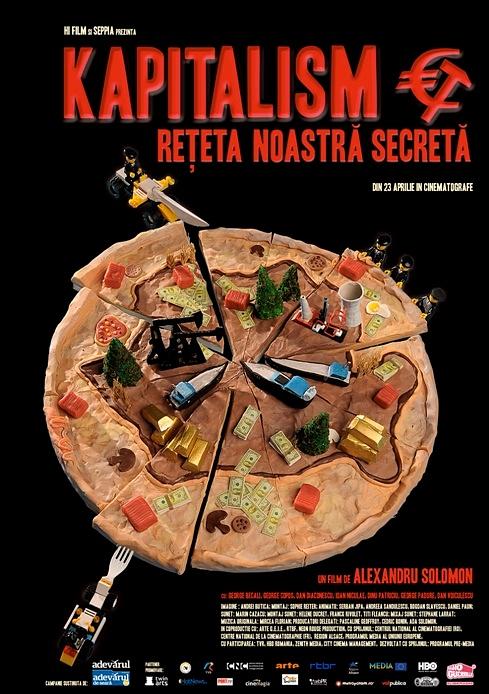 So far, 2017 has turned out to be an agitated year, making several questions acutely (and painfully) relevant: how did Romania get here, what does this mean, where do we want to go, and what are our prospects as a society. There is one film which delivers an astonishing set of answers for most of these questions. Alexandru Solomon's Kapitalism – Our Improved Formula (Kapitalism – rețeta noastră secretă) was released in 2010 and hasn't lost any of its bite or perceptiveness.
Kapitalism ventures to reconstruct how the very original Romanian form of capitalism took shape, and what its ingredients are in a country with such a high poverty level and a shamingly poor infrastructure, but with more millionaires than any other former Soviet Bloc country. The set-up is simple: it picks some of the most successful business men and politicians (almost all being involved in lawsuits for corruption) and interviews them on how they made the transition to being such big players right after the fall of communism. The conclusions reached are that they used already existing structures and mentalities to build up empires, and thus laying the foundations of what we know call (Romanian) capitalism, a system based on corruption, nepotism, and the lack of social responsibility. Relieved to have escaped a repressive regimes, nobody seems to have paid attention to the background of the few ones who rose to rule the freshly democratic state and ensured that they were untouchable in the system in which they thrived. To say more would ruin a film which is just as thrilling as it is eye-opening.
What is absolutely jaw-dropping to this day is the subjects' arrogance and lack of self-doubt when explaining how the (capital) world turns. At times they are almost endearing in their view of themselves and their actions, which is exactly what characterises a country in which corruption has turned chronic, making is a 'natural' day-to-day basic. That is why it is so often concealed as normal and benign, making it even more dangerous.
In order to make the link to the communist legacy even more poignant, Solomon uses a brilliant fictional device, making Nicolae Ceaușescu return to Bucharest twenty years after his death. At first he is shocked by the rampant consumerism but when he realises that most of his trusted persons are still in high positions and his legacy is being happily carried on, he seems to be set at ease.
All these facts and conclusions are revelatory, but what makes this film compelling beyond the answers it suggests is the questions it poses, especially at the end, when it dares to wonder who will pay long-term for this 'decadence' and how.
Kapitalism – Our Improved Formula is out on DVD in all major shops (Cărturești, Diverta), as well as available to order on the Cărturești online shop and Amazon.
By Ioana Moldovan, columnist
Normal