Romanian film review – Sleepless in Cluj: TIFF 2015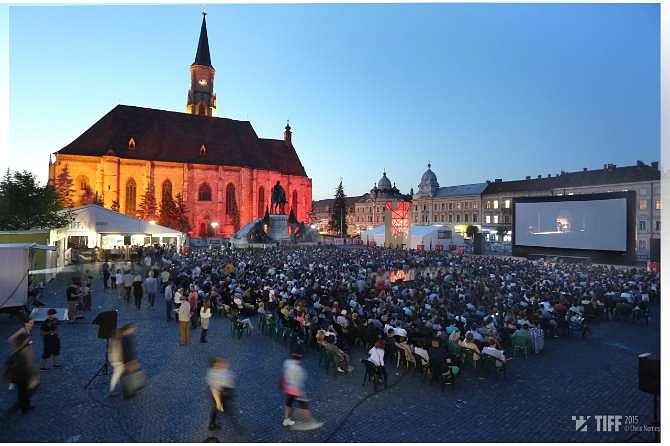 So many films! This was my constant thought while running from one cinema to the next in order to tick as many titles of my list. This year's edition of Transilvania International Film Festival (TIFF 2015 - 29 May – 7 June) has apparently been the most successful one in terms of sold tickets and as usual its selection could make every cinema-lover faint with joy. Lost nights and early morning are seldom as beautiful as in Cluj.
Among the many sections, the Romanian Days are an established part of the fest and this year they showed an impressive number of productions from the last year. Independent of their quality, it shows a promising growth in the number and genres of domestically released films.
The winner came as no surprise: Corneliu Porumboiu's endearing Comoara/The Treasure is a warm, amusing and poignant tale of two hopeless guys looking for a treasure. Comoara is currently in cinemas and a more detailed review will follow very soon.
The jury could have also picked its exact opposite (and I would have assumed they would since Porumboiu's film is good but not as brilliant as some of his previous work), Radu Muntean's cerebral and perfectly executed Un etaj mai jos/One Floor Below, an emotionally restrained and admirably calibrated study of a man who knows something about a murder and conceals the facts from the police. A study of personal and social responsibility in contemporary Romania, the film is also a thriller with a great cast, perfect script, and pitch-perfect camera work. The only flaw I could find is that it's too detached at times for its own good.
Other mentionable titles include the flawed but intense indie debut Lumea e a mea/The Word Is Mine (a raw coming of age story set in a unnamed coastal town). There were also some forgettable films, an insufferable one (Autoportretul unei fete cuminți/Self-Portrait of a Dutiful Daughter) and a little shocker with a bonkers idea and a hilarious execution: the first Romanian found-footage horror film (as its maker chose to label it) Be My Cat: A Film for Anne, in which a crazy fan tries to convince Anne Hathaway to star in his film by showing her his directorial skills, aided by three unsuspecting actresses. Things take a turn for the creepy and the gory and a certain scene made almost half of the audience leave. The other half stayed with their jaws dropped. There was a lot of laughter though and I have to say director, writer and actor Adrian Țofei is a true original.
Some of the documentaries were just as interesting, from Oana Giurgiu's gorgeously designed and lovingly documented tale on the history of Romanian Jews Aliyah Dada (a must-see) and Răzvan Georgescu's more conventional but thematically revelatory story of German ethnics sold by the Romanian state in the 1970s and 1980s (Pașaport de Germania/Trading Germans) to Alexander Nanau's phantastic Toto și surorile lui/Toto and His Sisters, a touching story of three Roma siblings trying to get by while their mother spends her last months in prison.
The winner of the shorts competition, Andrei Crețulescu's Ramona was one of the few stand-outs, a technically immaculate tale of revenge with a killer (pardon the pun) soundtrack. If Ramona was the most thrilling, then Andreea Vălean's foul-mouthed Nu-i există-n lumea asta/There Is Nothing in This World, about two very old and very different friends meeting in a bar, was the funniest. I also enjoyed Andrei Tănase's Vacanță la țară/Summer Break, a classically told, well-written, shot and acted story about two teenagers bored at their grandparents' in the countryside and endowed with a bit too imagination.
My personal highlight was Mircea Daneliuc's 1972 short film Dus-întors/Round Trip, a visually impressive and narratively nail-biting glimpse at a group of people spending a hot day by the lake. This film has more skill and thrills than many long-feature genre pictures. Daneliuc, an uncompromising, non-apologetic filmmaker whose early films are vibrant, intelligent classics (and miraculously not butchered by the censorship) was dedicated a special retrospective and while I'm not his most ardent fan (his 1990s films leave me cold), it was a pleasure to watch his first movies, including his best-known title, Proba de microfon/Microphone Test (1980), a fresh, funny and wise story of a mad love affair, blending masterfully documentary and fictional aesthetics. Not to mentions it's also cool as hell.
TIFF will screen a small retrospective at Elvira Popescu cinema in Bucharest, from 17 to 21 June and if you're curious about some of these titles or the foreign ones shown in Cluj, this is your chance.
By Ioana Moldovan, columnist, [email protected]
(photo courtesy of TIFF, copyright: Chris Nemes)
Normal