Romanian film review - Of pets and men: Domestic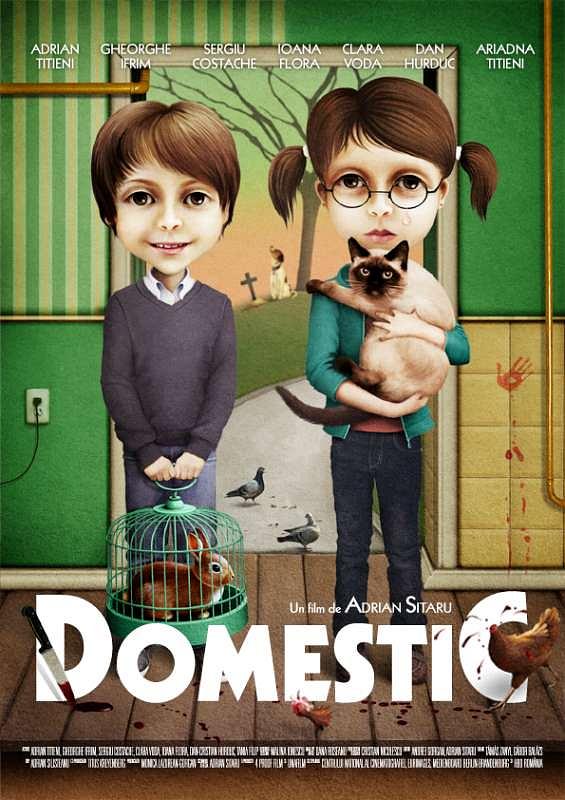 Adrian Sitaru has been a busy man, with the 2011 multi-award-winning Best Intentions, the ongoing  TV series Drifting, and finally his latest feature being shown in Romania after touring international festivals. Which is very good because Mr Sitaru always has something interesting to say. This time about our relationship with animals. That's right, those beings usually missing from recent Romanian pics, or maybe seen in the background and on people's plates.
Domestic focuses on the inhabitants of an apartment building and their animals, whether this means pets or simply dinner: a mother brings home a live hen without knowing who has the stomach to slaughter it, a father sees his son's rabbit as a Christmas dinner delicacy, a stray dog makes everybody's blood boil, and a cat wonders between life and death. A pigeon and a turkey have some nice roles too.
The family dynamics are discreetly shown through the humans' thoughts on animals. Sitaru works his previous short films into the narrative, most obviously his brilliantly funny Colivia/The Cage as well as the less-known but equally good Lord, both stories of ordinary people and their pets. The times have been changing however, people are better off and apartments less shabby. And while this may lessen the charm and warmth of the stories, they are still beautifully told tales.
Domestic moves smoothly between drama and comedy, making you smile for ninety minutes straight, even if not always for the happiest reasons. It is clever, witty (even if sometimes a bit too much for its own good) and well-acted. And the debate on which animals are too cute to be eaten will surely make you think, if not go vegetarian. This little film is a labor of love, which comes across in every frame and every character, be it two- or four-legged. Go watch it, you will be charmed.
The film's screening schedule can be found at Cinemagia.ro.
Have a look at the colorful trailer below:
And to get you in the mood, here's the lovely Colivia, albeit only in Romanian:
By Ioana Moldovan, columnist, [email protected]
Normal