Romanian becomes best selling young artist in the world in 2014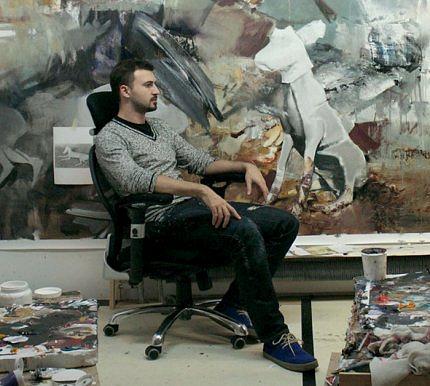 Romanian painter Adrian Ghenie (37) was the best-selling young contemporary artist in the world this year, according to a ranking made by artnet.com.
The art platform has examined a total of more than 18,000 living artists whose works have been offered for sale by auction houses in 2014 in order to find the artists achieving the greatest price increases over the initial high estimates.
Artists were evaluated by two criteria: the first, the maximum difference in US dollars, represents the greatest spread between a single lot's high estimate and its price realized at auction, while the second number represents the average spread between the price realized at auction and each lot's high estimate when all of the artist's lots are taken as a group.
Adrian Ghenie came first on both criteria. He achieved the maximum difference between the estimated price and the selling price for one painting, of USD 1.84 million, as well as the highest average difference for all his auctions in 2014, of USD 301,000. He sold 10 paintings this year.
Ghenie's highest valued painting was The Fake Rothko, which sold for GBP 1.42 million (some USD 2.43 million) at an auction organised by Sotheby's in London, in the beginning of July this year. The painting had an estimated price of some USD 600,000.
End-October, Ghenie sold three other paintings for a total of some USD 1.75 million.
Adrian Ghenie was born in 1977 in Baia Mare, Romania, and graduated in 2001 from the University of Art and Design, in Cluj-Napoca.
Ghenie's paintings reference a number of sources such as news, media, classic films and social media sites, often depicting figures that appear gnawed and slashed, blurred and speckled. His work has been widely exhibited, including at Tate Liverpool, San Francisco Museum of Modern Art and Fondazione Palazzo Strozzi in Florence.
(Photo source: Tim Van Laere Gallery)
Want more news like this? Sign up for our free daily newsletter and stay up to date with anything Romania.
Normal