Romanian actress Ana Ularu receives 'Shooting Stars' award at Berlin Film Festival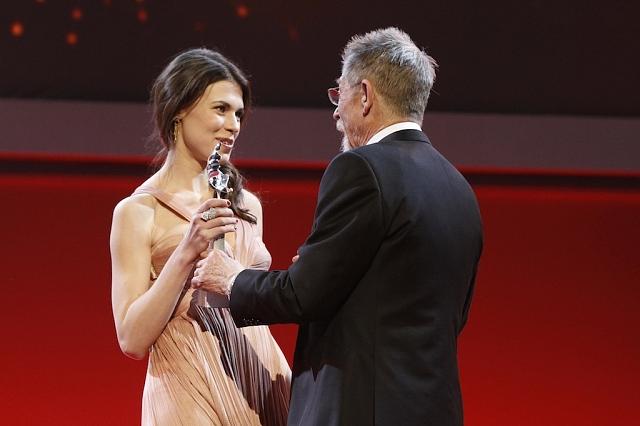 Romanian actress Ana Ularu, 26, is one of Europe's most promising young actors. British screen veteran John Hurt recently handed her the 'Shooting Stars' trophy at the Berlin International Film Festival.
The jury's comment was: "With 'Outbound', Ularu not only carries an entire film on her shoulders but does so with a complex, difficult character in convincing, magnetic fashion. Steely yet vulnerable, she possesses an amazing and adaptable physical presence, and eyes that really do serve as windows to her soul".
Born to a family of cinematographers, she also won the critics' best actress award at the Locarno Film Festival in Switzerland in 2010 for her role in 'Outbound' (Periferic). She has appeared in movies such as 'Italiencele' (The Italian Girls), 'Turkey girl', 'Lost and found' and 'Hartia va fi albastra' (The paper will be blue), as well as in Francis Ford Coppola's 'Youth without youth'.
Besides Ana Ularu, the trophy has also been won by Hilmar Gudjónsson (Iceland), Bill Skarsgård (Sweden), Jakub Gierszał (Poland), Adèle Haenel (France), Anna Maria Mühe (Germany), Antonia Campbell-Hughes (Ireland), Max Hubacher (Switzerland), Riz Ahmed (UK), and Isabella Ragonese (Italy).
Romania was part of the Berlin Film festival for the fifth year in a row. Romanian director Radu Jude's latest film, 'Everybody in our family,' was selected in the Forum section of the Berlin International Festival and its worldwide premiere was at the 62nd edition of the festival. Another Romanian film, "Diaz – Don't Clean Up This Blood", by Daniele Vicari, starring Monica Barladeanu and Ana Ularu, was presented in the Panorama Dokumente section.
Irina Popescu, [email protected]
(photo source: Romfilmpromotion.ro)
Normal