Romania through the eyes of an Austrian analyst: The perpetual promise is starting to deliver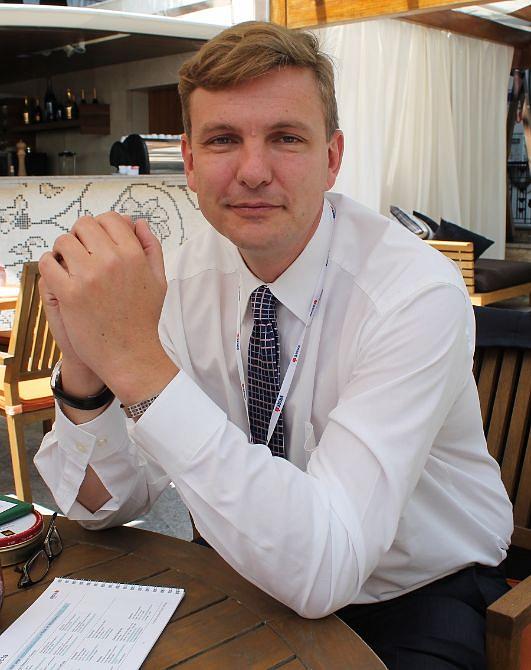 Romania has seen great improvement as a country and as an economy in the last 17 years, but from the portfolio investors' point of views it never got to deliver its full growth potential. However, that is starting to change as the Romanian government shows its commitment to continue the privatization program started last year, which might help the Romanian capital market find its way to the emerging markets' league, Erste Group's Henning Esskuchen, Head of CEE Equity Research, told Romania-Insider.com.
In Bucharest for an annual investors meeting organized by Erste, the analyst took the time to talk to Romania-Insider.com about the development of the Romanian market and its perspectives.
Esskuchen first came to Romania in 1997, when he was not yet working for Erste, and stayed here for some months. He has seen the country going through dramatic changes for the better since his first trip here. At each of his visits to Romania he noticed a leap forward for the country.
"When I first came here I loved Romania because it was really an emerging market. At that time you had the stray dogs, but then things started to change at great speed. One indicator for me was the street going downtown from the airport. First time when I came, it was kind of like a lower road somewhere in the country side, nothing to the left and to the right. Every time I came back you had new businesses set up all of a sudden, you had an Ikea there," Esskuchen recalls.
Then the road construction started (the two passage ways in Baneasa and Otopeni – e.n.), "which was really a pain as long as it lasted. But for me that road was an indication of Romania's development and there was really a strong boost," he adds. He remembers how he came here in 2003 and was amazed to pass by a Maserati showroom. "There is something going on," he said to himself at the time.
But one of the biggest changes he's seen in Romania in these last 17 years was in Bucharest's Old Town, which now puts the Romanian capital on the same level as other European capitals.
The first time he came, there was no night life in Bucharest, and not many places to go to. "You had the Irish pub and then there was this bar between the national theatre and the Intercontinental," he says. "And yesterday I went there to find a place which could be anywhere in a European capital. You have pedestrian areas, you have cafes, you have young people hanging out, you have these white collar guys hanging on their mobiles. It's like any other European place. And comparing that with what I saw in the beginning, it's a dramatic change. Of course this is Bucharest and not the entire country, but still it gives you a feeling that there is something going on," he explains.
The perpetual promise that was never delivered 
To some extent, this reflects the trajectory of the Romanian economy in the last 17 years, during which the country saw its GDP grow from some EUR 30 billion in 1997 to over EUR 140 billion in 2014. A growth which was largely based on credit, while the capital market remained small and underdeveloped, with a market capitalization of some EUR 20 billion, for local companies only, and average daily transactions of less than EUR 10 million. This is why international portfolio investors never got to benefit from this growth and why Romania is still behind other countries in the region, such as Poland, who always get the most money and attention from investors. And this is why for a foreign analyst such as Esskuchen, Romania is "the perpetual promise that never got to deliver", which is not a great selling point for a market.
"Our take on Romania right now is basically that the country itself has always been a story of great promises, strong outlook but for a very long period it didn't really deliver on these promises," says the analyst.
End-1996, the Bucharest Stock Exchange had a market capitalization of USD 17 million, and by summer of 1997, it had reached a capitalization of USD 700 million. "But then there was this issue with the repatriation of profits. It took ages and ages and it didn't develop and interest faded away," says Esskuchen. "There was always great outlook, the second largest country in the region after Poland, good convergence story and all of these, but there was never really a chance for institutional investors to partake in this because things never became really tangible," he explains.
However, he believes that things are finally starting to change. After two important stock exchange listings last year, those of electricity producer Nuclearelectrica and of natural gas producer Romgaz, foreign investors seem more interested in what the Romanian capital market has to offer next.
"That story, we think, changed beginning last year when we finally saw that Romania started delivering on these promises," the Erste analyst goes on. He refers to the government fresh in office, and its four year term to do things, to the start of privatizations, to market liberalizations. "It was a consistent case," he adds. "In order to make privatizations you had to liberalize gas prices, so as to make companies attractive. So it all started to move. You had these large IPOs, you had Romgaz where we participated and this year you have Electrica. So the promise became tangible, it started to deliver. This is the story we see and this of course creates broader interest."
External tensions might hamper growth 
Unfortunately, the tensions at Romania's eastern border, with the conflict between Russia and Ukraine somewhat cast a shadow on the entire region, which also affects the Romanian market, due to its illiquidity. "When this kind of things happen there's a top down impact for the entire region but it usually impacts the smaller, less liquid markets. They are also the last to recover when things go well again. Because people are more hesitant to get in a market with EUR 9-10 million daily liquidity," says Esskuchen.
Still, he believes that Romania can gradually get out of this situation, of being the first market from which investors leave and the last they return to, by continuing its privatization program and by making it easier for foreign investors to access the market by cutting down on the red tape. This might get Romania the emerging market status from MSCI in the following years, which would make it the more attractive to international investors. However, the process will be long and difficult, and very sensitive, Esskuchen believes.
It would also help if Romania's economy kept the growth trend which started last year, when the country's GDP grew by 3.5 percent. In the first quarter of this year, Romania's GDP also grew by 3.8 percent compared to the same period last year, which was the highest growth in the European Union.
"If there are no major external disturbances anymore, there is a good chance for the current trend to last in the following years. Right now we have a pleasant situation for emerging markets in Europe which benefit from the recovery in the euro zone. For Romania we have good growth development, which finally started to be reflected not only in exports but also in domestic consumption. As long as this continues to grow on balance with a reasonable current account deficit in a very low inflation environment, is a very good starting point," Esskuchen stated.
Erste estimates that Romania will post a 3 percent GDP growth this year which is a pretty strong number in the region. Only Turkey and Poland are in that range, according to Erste's estimates.
Back to the stock market, Erste's analyst sees Romanian investment fund Fondul Proprietatea (BVB ticker: FP) as one of the main interest points for investors, along with utilities and energy companies.
"Romania is more of a growth case, but on the stock market we have more defensive dividend stocks, with upside. It needs a few more words to explain the story. But as long as interest rates remains as low as they are, there is a really good spread for dividend stocks to remain attractive," he concludes.
Andrei Chirileasa, [email protected] 
(photo copyright: Romania-Insider.com)
Normal