Romania-themed gifts to give this Easter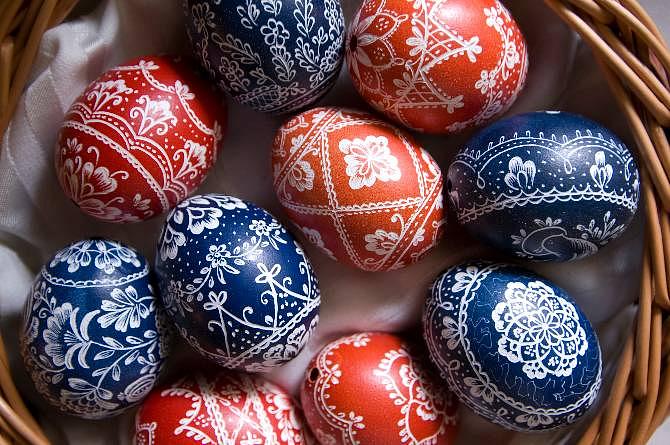 The Easter holidays usually have less of a gift-giving side than the winter ones, with the focus traditionally on gifts for children. Still, for those looking to make the occasion a presents opportunity one, here are some suggestions of Romania-themed gifts that can also serve as a souvenir of the country.
Painted eggs
The tradition of painting eggs for Easter is alive and well in local households, but the art of painting eggs with intricate models is mastered only by a few these days. If you are looking for the ones painted with traditional models, you can encounter them at the Easter fairs taking place in Bucharest these days or at retailers such as traditii.ro or artizanescu.ro.
A Romanian wine
Romania ranked first in the European Union for the number of vineyard owners in 2015, and Dealu Mare is one of the country's most famous wine-growing districts. You can find various types of local wines at local retail stores or the dedicated wine-bars in Bucharest. For the full experience, many local wineries organize on-site tours and night stays in various regions in Romania.
Here are some options of wine dealers and wine and vineyards.
Romanian Design
Locally-made and designed clothing, jewelry furniture, toys, stationery, ceramics or decorative objects can be found at the platform ROD, a project of the Carturesti book store chain. You can find these items either in the Carturesti online store or at several of its locations, including, in Bucharest, at Verona or Carusel.
Alternatively, you can visit the upcoming Romanian Design Week, which takes place after Easter.
Tickets to a festival in Romania
The list of international music names announcing a performance in Romania is expanding each day, in addition to some well-established festivals covering a variety of genres and preferences in music, theater and film. Many of these events take place outside of Bucharest, offering the opportunity to see some other parts of the country as well.
To help in making a decision, here is a list of cultural events and concerts and festivals.
Romanian photography
For those aspiring to see as much of the country as possible, some photographs taken throughout Romania might prove the impetus to pack the bags and get going. The project teleleu.eu, of photographer Cosmin Bumbuţ and journalist Elena Stancu, documents various aspects of Romania and offers a postcards subscription service for Romania, Europe and America.
More about it here.
Romanian art themed toys
Non-profit Minitremu looked at the works of Romanian sculptor Constantin Brâncuși and brought his art to a tangible and accessible dimensions for kids. The toys are miniatures of the Endless Column or the Table of Silence, and are made of beech wood, and painted with non-toxic paints and ecological varnish.
More info on how you can order them here.
A Romanian novel
Contemporary Romanian literature has been translated more in recent years so numerous options are available. A new release in English is I'm an Old Commie! (Sunt o baba comunista). The 2007 novel by Dan Lungu follows Emilia, as she faces up to her illusions of life in Ceaușescu's Romania, against the background of a gloomy post-communist present. The novel has been translated in 12 other languages, including French, German and Spanish.
The novel can be found here.
Normal