RO entrepreneurs: Bargains in knowledge, not money, and a world of learning from each other, with TimeBank Romania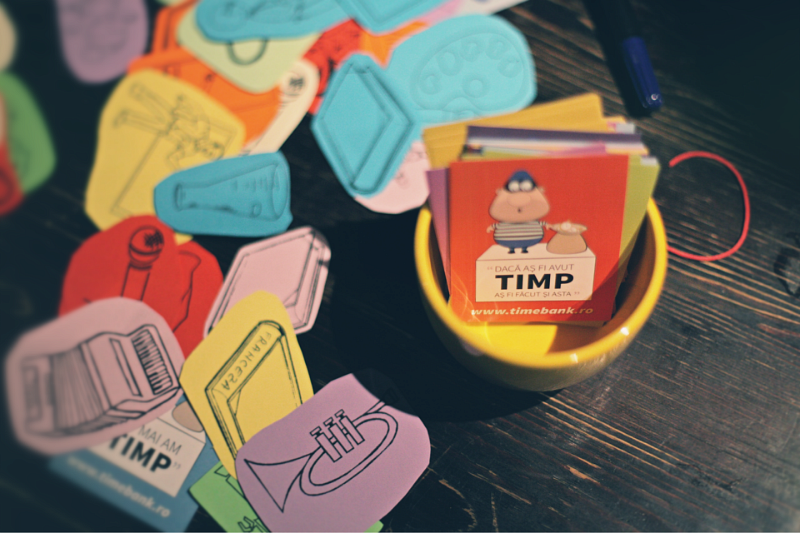 Guest writer Maria Oana discovered TimeBank, a project created by four young Romanians. TimeBank introduces the concept of bargains in knowledge, not money: "Diana" will teach "Dan" German for an hour and he gets to teach "Cristina" tango for another hour. In return, "Cristina" will teach "Diana" how to bake for another hour. Multiply this circle several times and you will understand TimeBank.
Today we meet Ioana Roxana Zamfir (in picture, below), an enthusiastic native of Iasi who brings an innovative idea to Romania and proposes bargains in knowledge, not money. Her project, TimeBank Romania, is on the rise, promoting learning from each other. Ioana describes herself and her project as a "innovative tech-geek that likes to learn a lot of new things and TimeBank Romania is the way of learning anything you want, with whom and whenever you want to, for free".
On the choice of many youngsters, between entrepreneurship and employment, she says this was not a conscious choice. "I don't yet consider myself an entrepreneur nor could I say I ever imaged myself as one but I am working towards becoming one." What makes this project ever more interesting is its social entrepreneurship side, "working towards becoming something big that helps society and brings innovation in education. Along with that, we caught along with the idea of becoming a proper startup and I guess that would make me an entrepreneur, but we're still working towards it."
It is computer science that Ioana has been involved in since high school so her educational background comes in handy when working on TimeBank. "In developing timebank.ro, the background of all co-founders was essential".
A start-up is no mean feat and the first endeavor is often an unsuccessful one. Overcoming a failure is easier with mentors nearby and Ioana confesses that she "learned a lot from Iulian Boia, who used to mentor me in highschool when I started my first informal youth group called "Teenz Iasi". That was her first experience with trying to fire up things that were not moving, leading a team, organizing events. "He was always there to help me fix "crisis situations" and what I learned from him still helps me in what I do [...] Our project consisted in personal-development "classes" to our colleagues and later organizing all kinds of fun events that made our computer-science high school a bit cooler. I was the leader of Teenz Iasi for about two years but the end of it was a bit disappointing as I failed to properly pass on the knowledge as for the project to have continuity."
The innovative idea of a time bank had its roots at a conference in Turkey. "In the summer of 2010, when I went to the 5th World Youth Congress in Istanbul, we had a workshop and I got to teach a lawyer from India how to dance samba and in return I got a ticket with "1 hour" on it. So I won myself some time to learn something else." It took her about a year to get back to the idea of timebanking, as she found myself in the situation of wanting to learn something and not having the money or teacher for it. "The solution was to find someone who could teach me what I wanted and in return I would teach him something. But the odds of such a match made in heaven would have been quite low, so I started thinking about a community and how easily that community would be created if people took contact which each other on an online platform," Ioana says.
Creating 21st Century Romania
She first put the idea on paper as "an idea to create the 21st century Romania" for participating at a summer school. It got her to the summer school, the place where she first pitched her idea. After the summer school ended, Armina Stepan, another participant in the summer school, contacted her saying she really wants to be part of this, if this timebank is going to happen. And so it started. "The name was pretty much randomly chosen; someone said it and we thought "OK, this sounds good". We later did some research and discovered that timebanking existed at a global level but we were already onto something so we named ourselves TimeBank Romania but we only do "timebanking" on a learning-teaching/educational level. From there, Armina and I brought a friend along and our first two web developers, Andrei Mustata and Ciprian Cociorba and so timebank.ro started to take shape."
Time and... a bit of money
As any startup, it will take up as much time as the creator is willing to put into it. Ioana mentions starting work in the autumn of 2011 but it was only a year later that concrete plans were made. "The version of the website that is online now was created in about two months, before the launch of TimeBank Romania took place in Bucharest in November 2012."
Without governmental help or EU funds requests, Ioana says the co-founders put personal money into this endeavor. The first outside contribution came through the Romanian American Foundation and TechSoup Romania after winning the Restart in Education Competition. "Those were our first USD 5,000 and we are now looking for new funding possibilities. Meanwhile, I also won an award for writing the business plan of TimeBank Romania and we are waiting to receive another EUR 750 . It is not much but we are planning to seek funding so that we can further grow the project.[...] We are always interested in potential partnerships with companies and we plan to expand the timebanking offline communities at national level, as currently most of our users, volunteers and events are in Bucharest and Iasi," Ioana concludes.
By Maria Oana, guest writer
(photos: TimeBank on Facebook, LinkedIn)
Normal