Romanian cycles the Americas, reaches 'End of the World'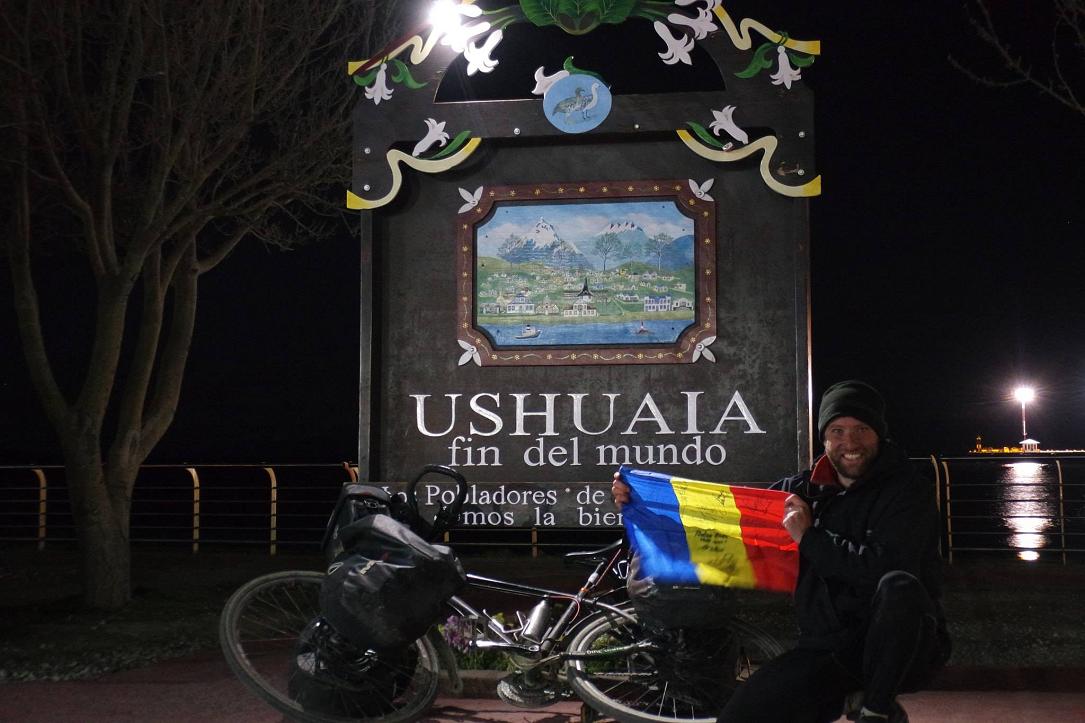 Romanian-Canadian Radu Păltineanu has reached Ushuaia, the town in Argentina nicknamed the "End of the World," on October 22. He thus ends a three-year long cycling expedition through the Americas and becomes the first Romanian to have crossed the continents of North and South America by bike.
A software engineer, Păltineanu moved to Canada together with his family when he was a child.
On August 5, 2015, he started his cycling expedition from Deadhorse, the Prudhoe gulf, in Alaska, taking the Pan-American Highway, a network of roads totaling about 30,000 km in length and known as the world's longest "motor road."
Păltineanu pedaled 34,554 km and sailed another 4,100 km on the Amazon river. He crossed Alaska (United States), Canada, US, Mexico, Guatemala, Belize, El Salvador, Honduras, Nicaragua, Costa Rica, Panama, Columbia, Venezuela, Brazil, Guyana, Suriname, The French Guiana, Peru, Ecuador, Bolivia, Argentina, Paraguay, Uruguay and Chile. He also reached the Chihuahua dessert, climbed the Pico de Orizaba, the highest mountain in Mexico, and crossed the jungle in southern Mexico and Guatemala.
Trailer Cycle the Americas (3) from Ioan Roman on Vimeo.
In 2013, Păltineanu was part of a team that crossed a large part of Scandinavia and Eastern Europe, over 2,400 km in total, to alert on the mining project proposed in Roșia Montană, in western Romania. He also started a project called 7 Volcanic Summits, where he climbed Mount Damavand, the highest volcano in Asia (5,671 meters).
Păltineanu plans to return to Romania to write a book and make a documentary on his adventures while crossing the Americas.
He previously explained that the CycleTheAmericas expedition was a way of pursuing his passion and of finding himself.
"I have four bags with me and I am happy because I can see the world. Some people value the financial, I value experiences more and seeing the world like this. These are personal choices each has to make," Păltineanu told Agerpres in 2015, at the start of the expedition.
(Photo: Radu Păltineanu Facebook Page)
Normal