Pastor Bill Tully makes a difference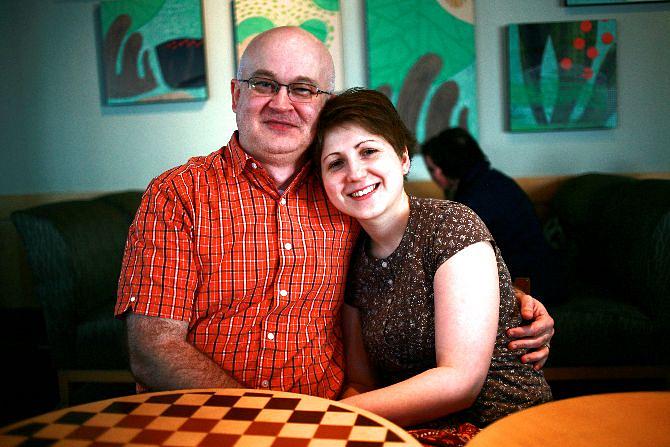 A long ride, in search of the meaning of life, with a few stops: basketball, missionary work or a Skoda user manual.
On a Monday evening, I get to meet William Tully - or Bill - pastor at the International Church of Bucharest. The place where we exchange stories is a noisy cafe, crowded with teenagers who flirt, tease each other and drink coffee making their way into adult life.
"You're born the year I graduated high school," says Bill . He's referring to 1987, the year he lost the most important basketball game of his life and found himself forced to answer this tricky question. What was life about, if it wasn't only about basketball or about his parents' divorce? In two years, he'd come on a short missionary trip to Romania, a few months before the Revolution, just on time to get to witness how things looked before. The answer to his ardent question began to take shape. I started thinking that maybe there is a bigger purpose for my life.
But until that last year in high school, Bill was just a regular teenager growing up in Indiana state, outside of Chicago. He was crazy about sports, particularly about basketball, and even if he was regularly going to church, he wasn't particularly keen to discover the bigger meaning of life. "When we lost the championship, I really believe God used that to change my focus. Basketball was everything to me. My parents having split was very difficult, and then having that championship lost, I felt like everything was taken away from me."
After his first year in college, he met some people who were involved in ministry projects across borders. That's how he first came to Romania in 1989 - a 19 year-old boy who wanted to explore, to figure things out. "When people here tell me Romania hasn't changed, I just kind of shake my head a little bit, because, you know, I can tell you from my experience that it has changed and it has changed a tone."
But after returning to the US, though impressed by his exposure to this other part of the world, he didn't want to continue the missionary work. "I wasn't that type of people that had a romantic vision about living in another country. I came the first time cause I was a young kid who was curious. Once I saw what Europe was, I said, ok, it was nice, I'd be supportive of people who do it, but it wouldn't be me."
For the next ten years, he stayed in the USA. He was ordained in the state of Texas where he was an assistant minister. Then in 1999, a man from his church asked him to go back to Romania, on a ministry project. Bill agreed, but more out of a sense of duty and less out of his desire. He was still thinking that this was not what he wanted to do.
"I really didn't want to come, but today I wouldn't do it any different. Now that I'm here and I see the life God has given us, I love it and I never dreamed that I'd be so comfortable in a foreign culture. But it took me a while to come to that."
By "us" Bill refers to himself and Nati, his wife, that accompanies him at our meeting. In September they'll be married for ten years.They got to know each other because her father, a pastor in the Republic of Moldova, was one of the men Bill was working with in one of his missionary projects. Nati is a gentle young woman, with short hair and childish features. She inspires confidence and warmth, even in the way she caresses Bill's arm. And even though he is 15 years older, they share the same kindness and good will.
"Life is not without problems", Bill says. "The thing is, when problems do come, how do we handle them?" His job as the minister in a church is not only to pray with people, but to teach them how to handle their specific problems, and to be able to grow through them.
"If you don't solve problems when they happen, the next day another one comes up and they add and add. Nati and I, we had problems, yes. But we never had a problem that ever went from the day it came up until the next day. We had nights when we didn't sleep at all because we stayed until 2,3 in the morning to solve our problems. We sat and we talked about it."
Bill says he has counselled couples that were literally days from divorce. "I asked them, will you let me try help you? And after 3, 4 months of counseling, they put their lives back together and they are still married to this day."
Some months ago they started a church club on Saturday mornings, that is trying to help the children of the Roma families living near the church. "They are the forgotten people in this city. A lot of people go by like they don't even exist. So we started this club, and children come by, they play games and sing songs. Honestly, when you're able to help a child, there's a joy, a depth of meaning, a satisfaction, that you can't just get by doing something else."
Basically, the Bible gives people all the necessary instructions to live their life happily. "When I want to find out how my Skoda operates, that's the car I drive, I need to get into its box and pull out the little book that says user manual,. When I open it up, it will tell me how the car should operate. In the same way, since God created you and me, He's gonna tell me best how I'm supposed to operate."
But sometimes the Bible can get confusing and so does life. And this is where a priest, a minister or a pastor comes in. They should be able to deliver the teachings of the Bible in a practical way, so everybody could understand them and use them in their daily life. "When Jesus was here he didn't teach us in a high-minded, hard to understand way. Love your neighbour, or love God from all your heart, he says. We all know what that means. Sometimes we get these simple principles and we complicate them. "
"I'm a simple guy", BIll says. "I come from a farm community in Indiana, my dad was a businessman and built a large company, but he was the son of a farmer. My mother is the daughter of a farmer. I come from a farm community outside of Chicago. But then a farm boy from Indiana gets to make a difference in the capital city of Romania."
"In the state of Texas where I was ordained, a small church has 1,000 people. Churches there are huge. There is a church is Houston that has over 40, 000 people, like a stadium. But it's not the size of the church. I want my life to matter, to make a difference in other people's lives."
By Diana Mesesan, features writer, [email protected]
Normal