Mill ideas: a Romanian couple's labor of love and crafts at Moara de Hartie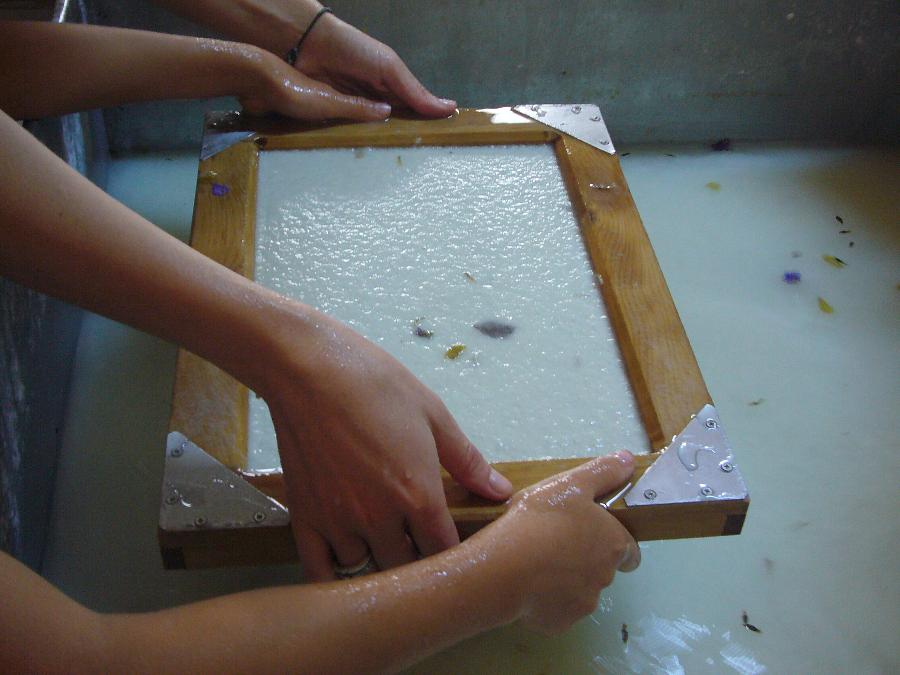 A Romanian couple decided to follow their passion for books and set up the workshop-museum Moara de Hârtie (The Paper Mill) close to Bucharest, in Comana, with a focus on handmade paper. In time, they developed various other projects. Now they are getting ready to open Satul Meșteșugurilor (The Village of Crafts), an initiative meant to keep traditional crafts alive.
Comana, a village and commune in Giurgiu county, a little more than 32 kilometers south of Bucharest, is known for being the home of the 'Delta near Bucharest', of the peonies reservation, of the Comana monastery and of the memorial house of Gellu Naum, the Romanian poet, novelist and children's writer.  It is also the place couple Dana and Ion Georgescu found for their first project, Moara de Hârtie.
"We wanted a quiet place, away from Bucharest, where we could build our paper mill. Our story needed such a place. We searched and searched and we reached Comana," Dana Georgescu recalls. With a professional background in HR and consultancy, the two took the road to setting up their own project from a personal interest in the area, discovered at classes taken during their free time.
What followed was a period of more prospecting and looking for the actual site. "We knew for a fact that our place was there but we couldn't find anything for sale." But something eventually did come up and in 2011 they started building the workshop-museum. Afterwards, they moved all of the equipment they were storing in a small space in Bucharest and started working, step by step.
"It is our dreams that we want to accomplish here, at Moara de Hârtie […] We want to create a space where people like us, who are also looking for something else, who want to get out of Bucharest and discover these crafts, can come and relax and feel good. This is how the idea of the Moara de Hârtie came up," she explains about the small workshop-museum, accommodating old printing and binding equipment.
It is called a workshop-museum for two reasons: 'workshop' because activity takes place there and the equipment is largely functional and 'museum' because of the old equipment, which cannot be found in use anymore. "We thought about getting accredited as a museum […]. We don't want people to come to us like they would to a museum and we will never be a regular museum. Moara de Hârtie is our life story and where people come to discover their own stories."
They didn't start with a budget for acquiring equipment. Instead, they borrowed money and took a loan. Only a couple of pieces are donations. Among the equipment found here is a book binding press that belonged to the Universul printing house. "It sits with us like a museum piece, we don't use it. We took it because we liked it and we thought it would be better to be with us than end up as scrap."
However, Moara de Hârtie doesn't do a large print run. "We don't print, we're not a publishing house. We print a little for our visitors." A type of focus more suited to traditional paper mills, where paper was made but no printing carried out.
Handmade paper brings recycling in focus
Those taking part in the workshops organized at Moara de Hârtie learn how to obtain handmade paper out of paper that is collected, ground, turned into a paste and then, with the help of some sieves, into handmade paper. "We currently organize workshops for children and we like telling them about recycling, about paying more attention to the environment. At the same time, by taking part in the workshops, they make paper and take it home. It is a very good way of making them understand how to take care of the environment," Dana says. They have tested other methods of making paper, including out of cotton, jeans, but they currently work with recycled paper. Various other elements can be added to the paper. Cărțișor, the 'mărțișor' (trinket) they launched this year, has petals or green grass added in the paper out of which it is made. "We added coffee, we experimented with many things, all sorts that give color to the paper and make it more interesting," she explains. "A lot of experimenting can be done but we didn't focus on production and we aren't focused on that. We gradually started a small production but our story is not about producing objects out of handmade paper."
Happening at the mill
After Moara de Hârtie was set up, the workshops started to take place and the couple began developing various projects around or involving the initial one. "Bit by bit, we completely fell in love with Comana, we discovered some extraordinary people here and we thought that we would like to do more. Not just for people coming there but precisely here, for the people living here."
And so, various other initiatives started to take shape. One of them was meant to get children and young people acquainted with the European culture of print. Titled 'The Young Rediscover the European Culture of Print,' it was financed by the EU through the Youth in Action program and aimed to disseminate the importance of the invention of print. A printing press similar to the one of Johannes Gutenberg, who introduced print to Europe, was built and printing workshops were held for school-aged children in Comana. "Children enrolled in the Comana school always took part for free in our paper workshops and we said: let's do more."
As part of a different project, rolled out together with the NGO Pact pentru Comunitate, they made lighters out of paper and vegetal residues, to put inside the stove. Pact pentru Comunitate (Pact for the Community) offers support to local communities to implement projects and to business initiatives that come from community members. Another project, ArtiZânele, is promoting Romanian folk motifs, which are reinterpreted and then printed on recycled paper. These products are made in a larger-series and include greeting cards, agendas and bookmarks. This spring, Moara de Hârtie also launched Cărțișor, their own 'mărtișor' (trinket), a miniature book, with covers made out of handmade paper and the inside sheets out of recycled paper, carrying various verses.
The most recent project taking place at Moara de Hârtie is Satul Meșteșugurilor (The Village of Crafts), which is seeing the construction of a small village which aims to highlight crafts and their importance. They cover wood manufacturing, smithery, reed weaving, pottery, weaving, traditional milling, and the processing of fruits, vegetables and medicinal plants. Located next to the Moara de Hârtie, the Village is being financed by Innovation Norway, through the 2009-2014 Financial Mechanism.
"With it, we were proposing to build several crafts workshops where we would involve people in the community. […] We want to give a chance to both people and crafts and prove you can still make a living out of crafts in this day and age."
The village will be open for visiting, which will be one of its revenue sources and Moara de Hârtie will be part of it because it fits the overall concept. The production itself - what will be made there - and the workshops for visitors will count as other revenue streams. "We thought that out of all of these we would be able to support the activity of the craftsmen working there."
The mill that will work in Satul Meșteșugurilor was brought from the north of the country. "It is an old mill which we will reassemble here. It will be an entire adventure but we are used to this," she explains, remembering how another piece of large printing equipment brought from Germany nearly tilted the truck that was moving it from Bucharest to Comana in the summer of 2011.
Both children and adults are welcome at the village. "Satul Meșteșugurilor is a project thought, at least on my part, especially for children. I want to put them in contact with crafts, having had the experience of Moara de Hârtie, and I want them to discover themselves," she says.
The various activities happening at the mill also take place in other languages, like English or French, and visitors from outside of Romania are not unusual. "We've had visitors from over 10-12 countries. Visits are upon request, usually when a group was formed."  But starting this summer a visiting schedule will be on, while workshops will remain by appointment.
Why is it important to pay attention to crafts? Dana shares her personal experience: "It is where we draw our roots from. There are certain things that are part of us and which we need to rediscover. I for one, since we started Moara de Hârtie and since I started dedicating myself to this project, I rediscovered myself. I think that when you start dedicating time to a craft and want to know it better, you end up knowing yourself better."
By Simona Fodor, Associate Editor, [email protected]
Photos: Moara de Hârtie
Normal