(P) Questfield School announces its annual Cultural Celebration Day!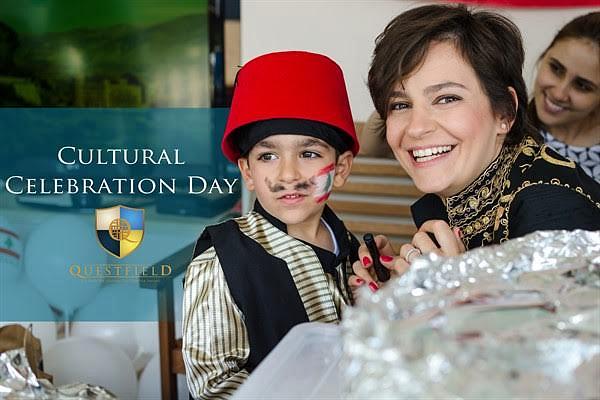 On May 20th, between 3:00 P.M. and 4:30 P.M., along with over 150 children, parents, teachers, partners, and stakeholders, we have the pleasure of inviting you to celebrate together the international culture of over 12 countries and regions worldwide. Every year, at the end of May, Questfield School hosts Cultural Celebration Day, an event with a tradition of 9 years already, an event which, year after year, gathers more and more people.
The event revolves around the concept of a community good time. Cultural Celebration Day is organized as a fun picnic with flags, national costumes, traditional food, drinks and music, activities with prizes for parents and children, corresponding to the cultural diversity of the children in our school.
Children will present various traditional dances typical of various countries, such as Passo doble, Zorba, oriental dances, tarantella, havana naghila in a colorful dynamic show, a true delight for parents, grandparents and all the participants. The traditional national specialties will surely be beyond everyone's expectations as participants will have the opportunity to taste Italian, Greek, German, British, French, Indian, Greek, Bulgarian or even Turkish delicacies. We shall learn the secrets of Venezuelan culture, we shall enjoy an African show and delight in many songs urging people from everywhere to celebrate the differences and value their similarities, regardless of culture, color, religion or beliefs.
Romania will, of course, be represented at its own stand. We shall welcome the guests with traditional warm dishes, just taken out of the oven, and with traditional handcrafted items.
The event aims to bring together annually the community of parents, children, teachers, partners, special guests and visitors interested in our educational programmes, to promote multiculturalism and cross-cultural openness, to deliver a single enthusiastic message of togetherness, intended to model for our children the balance, joy and perspectives of a collaborative world, in which every individual is recognised and valued beyond his or her cultural, religious or national options.
Each year, the parents from our community, participating in the event, confessed with emotion that this community event has connected them even more with the idea of multiculturalism and that it was a pleasure to belong to such an engaged community of parents that contributes to it so enthusiastically, as well as to see the children so curious in finding out more things about other cultures and traditions. This cultural curiosity has the professed purpose of building tomorrow's open model of a new world, a world that is sensitive and respectful towards all national and cultural values and specificities.
We kindly invite you to take part in Cultural Celebration Day and discover a few things about different cultures, meet other expats from Bucharest, spend some wonderful time in an international atmosphere and find out more about Questfield School's programmes. We shall sing, try a few dance steps and taste traditional dishes, true moments of enjoyment and appreciation for both children and adults.
And since words do not have the power to fully disclose the beauty, dynamism and color of Questfield's Cultural Celebration Day, in a context of internationalism and fun, we take this opportunity to invite you to have a look at the photos from the previous edition of the event, on our Facebook page.
The series of Questfield open events continues with Open Day Event on June 25th, when the Summer School program officially opens its doors!
We are waiting for you all at Cultural Celebration Day!
More information about the Cultural Celebration Day and registrations here.
About Questfield
Questfield is an educational institution authorized by the Ministry of Education and Scientific Research of Romania with its own uniquely designed educational concept and a curriculum based on the British model. Since 2003, Questfield has grown into an innovative educational concept that comprises a pre-nursery programme, a nursery school, a primary school and a summer school. Questfield's short-term plans include the development of the primary school up to high school level.
This is a project that has been developed between 2003-2016 due to the expertise in the field of education of its founder, Fabiola Hosu and the motivation and involvement of its transformational teachers and enthusiastic team, becoming a successful model, a benchmark in the private education field.
Partners: City Compass Media & Romania-Insider.com, My Romanian Store, Maruca Atelier, Oxford Education Center
Author: Diana Nicula, Communication Coordinator at Questfield School
(p) - this article is an advertorial
Normal