(P) MVP Academy batch of 2016: 17 tech startups with global potential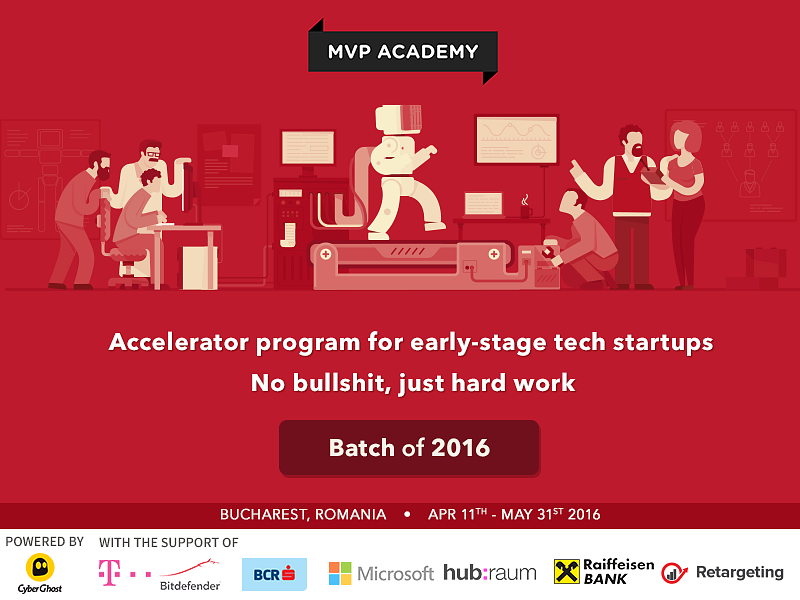 17 tech startups with global potential will be accelerated in the third batch of MVP Academy. During the program, they will have access to unique development opportunities and will work together with industry experts to build successful products and businesses at global scale. The batch of 2016 is presented online on the program website.
The 17 startups selected in the third batch of MVP Academy accelerator build tech products in agrotech, cleantech, ehealth, consumer hardware, developer tools, marketplaces, mobile apps, electrical vehicles or SaaS software. More than half of them already generate revenues and/or have at least one active client/pilot.
Robert Knapp (Co-Founder & CEO, CyberGhost), Cosmin Ochișor (Business Development Manager, hub:raum), Mihai Sfințescu (private equity/venture capital investor), Carmen Sebe (angel investor) and Bogdan Iordache (Managing Director, MVP Academy) were part of the jury that made sure THE most promising startups make it into the program. The evaluation process was done by taking into consideration criteria such as the team fit and experience, the market size & trends, the market validation & traction, international potential, impact, as well as the overall feasibility of the product.
The startups that are now part of MVP Academy batch of 2016 are:
5About: Quiz game that enables users to discover fun facts and share them with friends as slick infographics;
Bunch: Mobile app that helps event organizers deliver a great networking experience to their attendees;
CBN IT: Web automation system that helps silos owners monitor their crops in real time from the comfort of any web browser;
Checkmobi: Affordable & easy to integrate services to verify mobile numbers that combines SMS & VoIP with innovative Missed Call methods under white label SDKs;
DevDefault: Tools to create and deploy chatbots that can deliver information and engage with users;
Energy Solaris: Game-changing solar air technology for heating, ventilation, and cooling, that helps eco-conscious building owners save energy and make indoor air healthier;
Eventya: Platform that helps destination marketing and tourism organizations build, marketize and monetize their own mobile apps where they can share what's new in a local community;
Grobyk: Platform that helps companies create a team knowledge base by engaging teammates and helping them create, explore, and read insights;
Hartapescar: Web and mobile platform where the community of fishermen can promote and share information on new fishing destinations;
InkyDeals: Daily deals website where freelancers and small companies can find amazing digital resources at insane discounts;
Listplorer: Mobile social platform where users can create, share, collaborate, and search for personalized lists of recommendations;
LiveTickets: Platform that helps users deploy their own personalized ticket shops to sell tickets simple and easy;
ReFlex: Movement recognition sensors that change the way patients recover after injuries, enabling more revenues for physiotherapists and helping insurance companies save money;
Scooterson: Intelligent electric kick-scooter that uses a unique combination of cloud & smartphone technology with big data analysis to understand and enhance the rider's experience, while maximizing energy efficiency and safety;
TinTag: Platform that allows manufacturers to integrate asset tracking technology in their products;
TypingDNA: Typing biometrics cloud API & tools for intelligent apps that allows the user to login based on his typing patterns;
Woogie: Voice enabled hardware device built to be an afterschool assistant and in-room buddy for 6 to 12 years old kids.
"The level of the MVP Academy applicants has grown consistently over time – almost all the companies selected in our third batch have already launched their products or preorders for them will be available soon, and lots of them are already generating revenues, some of them consistent. We see more and more hardware products, as well as hands-on applications of technology in industries such as agriculture and healthcare, products that have a direct positive impact on the users' quality of life. We congratulate all the applicants for MVP Academy 2016 and we are eager to start working with the teams that made it into the program and support them in their efforts to build global products and businesses!", said Bogdan Iordache, Managing Director, MVP Academy.

MVP Academy accelerator will wrap up at the end of May with Demo Day, event where the startups will take the stage and pitch their products in front of a relevant audience. This is a great opportunity for them to start discussions for new financing rounds and/or potential strategic partnerships.

(p) - this article is an advertorial

-->

Normal

-->