(P) Get informed and inspired in Romania! Join the Expat Fair - The Meeting Point for Internationals living in Bucharest!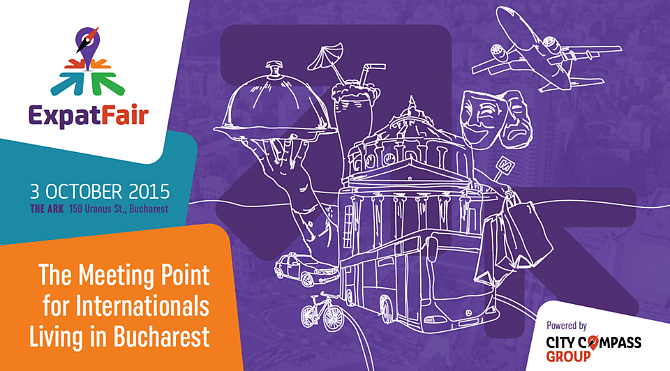 Integrating into a new country can be difficult, therefore we have some great news for you! On the 3rd of October 2015 you are invited to join the first Expat Fair in Romania and experience a full day of information and inspiration for expats & internationals living in Bucharest, and the first large-scale meeting point for internationals and services tailored to their needs.
Your smooth integration into a new place happens when you are well informed when you meet quality people and enjoy the Romanian lifestyle with them and when you have access to the insights and specifics of a culture.
You will experience all these at the Expat Fair, and start to feel at home in Romania!
Things to do at the Expat Fair:
Get ready for an immersive dive into the Romanian culture! Go around to discover the stands of different service providers and their special fair offers, get informed, join the workshops, meet new people, experience, and taste!
At the Expat Fair, newcomers can learn about housing, employment, banking, tax, schooling, healthcare, Romanian culture, and lifestyle.
More experienced expats and long-standing residents, as well as newcomers can enjoy food, entertainment, networking sessions, informative workshops and access to a wide range of groups and clubs.
Organizer & Partners
The Expat Fair is organized by the City Compass Group – a 'feel at home in Romania' service provider for over eight years, with top quality English-language media - online & print, customized city tours and team building services and intercultural consulting.
The founding members of City Compass started off as expats in Bucharest themselves and have been serving this community since 2007. The City Compass team has an international background or involvement and an interest in supporting expats and their families, and can help you out by using their personal and professional experience.
This one-of-a-kind fair will take place at The Ark - a historical building in the former neighborhood of Uranus, close to the House of People and next to the old flower market.
AmCham Romania is the official supporter of the Expat Fair 2015, together with other confirmed partners such as: American International School of Bucharest, Deutsche Schule Bukarest, Bucharest Homes, Nomenius, Club Snagov, PQB, Smybox. The event is warmly supported and endorsed by several embassies, expat communities and corporations that gather a large number of expats.
Find out more here and on the Facebook page.
(p) - this article is an advertorial
Normal