(P) Atra Doftana or Premise of Excelence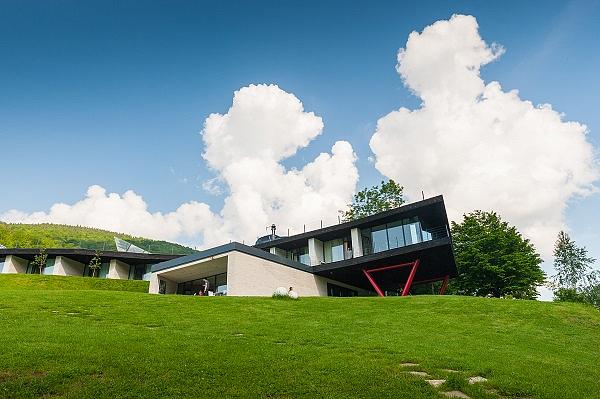 If you've got tired of the same old resorts on Prahova Valley and you want to take a breath of fresh air, you only have to take another turn.You will discover incredible sights, a much hoped serenity and friendly people with warm hearts. At an altitude of almost 700 m, you can already feel the mountain air.
Surrounded by Baiu and Bratocea-Grohotisu mountains, the Doftana Valley is a green jewelry with old houses and rustic sheepfolds. The whole are is surrounded by wild forests, pastures and rare vegetation. The Paltinu dam gathers all Doftana rivers into the impressive Paltinoasa Lake. All this plus being the place with the most number of sunny days in a year, make the Doftana Valley a little piece of Heaven on Earth.
In the middle of this lays Atra, the place where behind each door there's a lake front view. Atra is one of the top class architectural venues in Romania, many times awarded by the Romanian Architect Order.
With the rooms hiding in the hill, lake and forest view, this is the place where you leave the city at the door and enter to charge yourself with beauty. And beauty it's all you'll find here, starting with the architectural form, the surrounding landscape and the beautiful interior design.
For those who enjoy exploring and learning new things, ATRA is the perfect destination.
Corporate events
With kayak, windsurfing, biking and off road tracks, Atra is the perfect place for a teambuilding that will pull the plug off from the corporate noise.
Also, if you just want to move your office in a mountain space for a day or two, take this as an opportunity to spend the most pleasant working day, away from the city, into the heart of peace, quiet and serenity. Our main meeting room can host conferences and workshops and has the perfect view towards vacation.
Social events
Because you are surrounded with beauty at all times, here you just feel that your time has more time. Time to take photos, time to paint, time to read and listen to your music, time to explore mountains and hills for the sake of exploring or for the sake of walking and absorbing all the beauty. Every weekend at Atra we will have a different kind of event prepared for you.
What do you have in mind?
Atra is the perfect place for romantic evenings, friends reunions and small ceremonies. If you are planning for a summer event, the 50 seats space can be extended into the green area. There's also place for a camp fire – the perfect element for a charming mountain feel.
The gourmet restaurant
Atra is the perfect place to come just for dining in a relaxed environment. While choosing one of our international courses or taste the Doftana traditional cheese platter, you have the hillside and the nature to keep you company. They cover you in green and hide you from the outside stress in a world built for those who know how to seek it.
While you dine here, dine peacefully. Let your troubles go on the river bed. Choose your meal with curiosity. And remember, every flavor gets stronger and more pleasant in the fresh air. While eating at Atra you eat with all your senses.
Our Chef, Ionut Gagiu, came to Atra after long experiencing the art of cuisine in every form and every corner of Europe. Always very passionate about cuisine, he was Juan Amador's protégée, one of the best 50 chefs in the world. Under his guidance, Chef Ionut had the chance to lead the kitchen of Heritage restaurant. Today, his dishes get noticed through the contrast of textures, taste and perfect chromatics.
Even more, as much as he loves to cook he also loves to tell the story of every dish, because all that he prepares is not just a meal, it's a journey.
Those who visited ATRA know what we're talking about. Those who didn't, they should hurry up and book a reservation.
Along with the beauty of the sights, we dare you to have a taste of the kitchen beauty, a journey full of carefully assorted local and exotic textures and taste. Food connoisseur or just food lover, at Atra you will find the perfect dish for your taste: light salads as an easy starter or bold appetizers while waiting for the creamy soups, main dishes covered in meat or vegetarian dishes with Italian flavors. Whatever you choose, everything will always be perfectly paired with the best French wines that highlights the essence and close the culinary voyage.
Those who at least once visited ATRA know what we are talking about. Those who failed, well, they should start planning their trip right away.
(p) - this article is an advertorial
Normal