(P) 24/7 Dental Clinic – an Israeli business model in Bucharest; "Come as you are"!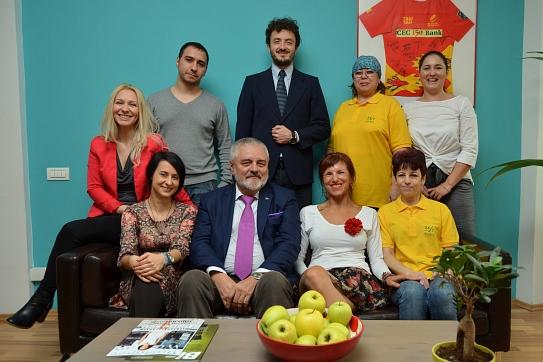 Opened in 2013 as an international concept based on Israeli  know-how, with an original partnership between a Danish expat and a Romanian repatriated dental surgeon, 24/7 Dental Clinic developed as a healthy business in a complex local medical market. The location – in Bucharest's Old Center, right at the beginning of Lipscani Street and the 24/7 availability, as well as the professional level and the friendly environment were from the very beginning strong indicatives for the success- which is a evidence  now.
Dr. Lorelei Nassar, CEO and the principal surgeon at the clinic, was born in Romania and lived 15 years in Israel. Her medical formation includes a 10 years program in Poryia Hospital – Israel, with 4 years in High Risk Unit and another 6-year  Buco-Maxillo-Facial Residency , numerous other seminars in Women Leadership, Entrepreneurship in The Israel Small and Medium Enterprises Authority, as well as professional trainings in Medical Hypnosis, Psychology Degree and MD in Implantology.
Some 10 years prior, she established a national representative of dental implants  in Romania/AB Dental, together with her  re-rooting process in a Bucharest of economic crisis, building a scientific prestige while training other doctors in Implantology, lecturing in national and international congresses and operating in several dental clinics all over the country. As a natural evolution  at 24/7 Dental Clinic she is not only the reputed surgeon treating the patients with warmth and professionalism, but  also a mentor for numerous other dentists who are coming to learn new surgery techniques and how to use the best technologies in the field. Because this is also an asset at our clinic – the newest dental and surgical devices, as well as a precise and ergonomic approach.
The Israeli model involve a dental team with doctors of several specialities, while each one of them is doing what he knows best: Dr Nassar, dental implants , bone surgery  and reconstructions, Dr. Al Ghieb,  prosthetics, dental and facial esthetics, Dr.  Malitza, periodontology  as he is teaching also at the University, Dr. Stefan - orthodontic appliances and Dr. Ionescu all other dental treatments, from cavities preparation to root planning and so on.
Our patients are talking first of all with our reception while getting the anamnesis, and with the consultation they are eligible for a complete dental treatment plan, based on their complains and priorities. The treatment schedule is constructed in an ergonomic way, doing as much in one session as it is requested in order to finish as soon and as well as it possible – because our patient's time is very valuable. Actually , we believe the 24/7 Dental concept "comes to bring you time " – as we are treating patients until late in the evening , as well as during week-end on a regular basis.
One of our  priorities is dental tourism – we have been practicing this since the very beginning, with a very good feedback and wonderful results. We have patients from all over Europe , as well as Israel, the USA and Canada. They are very satisfied that we are doing all the arrangements for them, from picking them up from the airport and getting them to a nearby hotel, to taking care of them after surgery or arranging sight-seeing or shopping sessions,  if wanted. We can use intravenous sedation for  extended surgical procedures, as well as nitrous oxide for anxious patients or even medical hypnosis, in several treatment sessions .
As we already mentioned, we are using the latest medical technology in the field: Biolase laser, PRP / PRF devices – known as Vampire therapy  for surgical, gingival and facial injections, whitening appliances, Hyaluronic and other fillers for oral mucosae and facial applications as well, and many others.
We are proud to speak about our medical prevention intercedes. The 24/7 Dental Clinic is involved in several projects for dental prevention, organizing workshops in several institutions, offices and schools, making dental evaluations for employees and holding open discussions about  dental care, social importance of the smile, non-verbal communication and so on. We are also involved in several charity projects with ACSIS  and SOS Satele Copiilor foundations and DGPMB – Bucharest Police Force, acting as fundraisers, participating in their group programs and treating children pro bono at the clinic for usual dental complaints, as well as acting as career orientation platform  or motivational training resource. It is a joy to work with those special and gifted children and their mothers, and we have a lot of satisfactions during the whole process.
So "Come as you are" means indeed come as you are; we will welcome you with a good team, in a homie clinic, with warm tea and good, fresh coffee anytime! Call us on (+40) 747.53.82.88 or visit us at 34 I.C. Bratianu Blvd., 4th floor, apt/int 12, 3rd District, Bucharest, ROMANIA.
Drop us an email anytime: [email protected], and check our website 24-7dentaltourism.com for more information.
(p) - this article is an advertorial
Normal