Over 2,000 armed troops participate in large-scale military exercise in Romania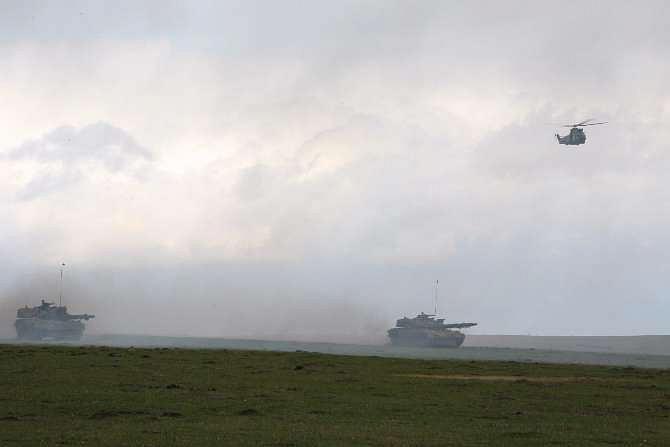 Romania's Minister of National Defense Mircea Dusa and General Sir Adrian Bradshaw, NATO's Deputy Supreme Allied Commander Europe attended on Tuesday, April 21, a large-scale military exercise in Smardan firing range, Galati County.
The exercise was organized during the Distinguished Visitors' Day, part of the international exercise Wind Spring 15.
"We've seen an impressive deployment of forces today, with the participation of over 2,000 troops and 400 armored carriers and tanks. Troops from Romania, USA, UK and Moldova participated in the exercise. As commanders have reported, the combat missions have been completed. This exercise was about improving fighting techniques and the participating states' military interoperability," said Mircea Dusa.
The Wind Spring 15 exercise, conducted in Smardan firing range, Galaţi County, and the Air Administrative Center in Mihail Kogalniceanu (CAAMK), Constanţa County, until April 30, brings together 2,200 armed troops and military equipment from UK, the Republic of Moldova, Romania and the USA.
The aim of the exercise is to train troops from NATO member or partner countries, to maintain the operational capacity of structures and to meet specific NATO and EU interoperability and standardization requirements, according to a Ministry of Defense statement.
Wind Spring 15 includes command exercises, live shooting and solving complex tactical situations.
The exercise is part of a series joint training exercises conducted in Romania and abroad within the Atlantic Resolve operation.
Irina Popescu, [email protected]
(photo source: Ministry of National Defense; photo: Vali Ciobirca)
Normal