Ludwik Sobolewski's juggling act at the helm of the Bucharest Stock Exchange. Will he land on his feet?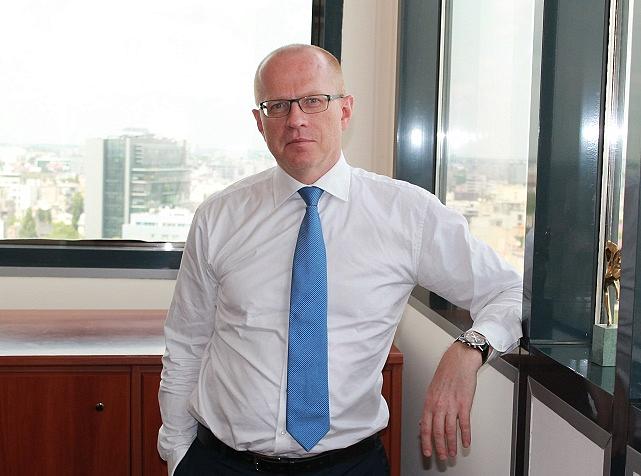 From the window of his corner office on the top floor of a tall building in Bucharest, "the most ugly and under-capitalized office of a European exchange's CEO", Ludwik Sobolewski is looking at the skeleton of the office building across the street, which burned in 2009. It is a constant reminder that in Romania it's easier to build from scratch than to rebuild.
It's rare however that he gets a free moment, as rebuilding the Bucharest Stock Exchange (BVB) is far from the usual eight-hour job, but rather a full time mission which can easily take over all of his available time. "Every day is different," says Sobolewski, who can't complain about routine.
His days are usually packed with meetings: with investors, with brokers, with the market regulator, the shareholders, then the board, state officials, and also internal meetings with his team.
When he's not talking or listening to people, or passing on instructions to his staff, Sobolewski, a lawyer by formation, reads documents, regulations and drafts of regulations and thinks about how to simplify things and make it easier for investors to place money on the Bucharest Stock Exchange.
"The regulations of the Romanian capital market are a bit like the Romanian language, which is very difficult," he says with a smile. He does smile sometimes, but he rarely laughs. "I can understand why you had great philosophers like Cioran, because it's a language for deeply thinking people and it should not be simplified. The regulations of the capital market, on the other hand, should be simpler."
In the first year of his mandate, he changed quite a lot of things in the way the local capital market operates: new indices, new trading hours, new trading blocks for local shares, new transparency and reporting rules for listed companies, lower fees. He also pushed for a lot of changes in the post-trading, in the unseen mechanisms of the capital market, which are supposed to make trading smoother and less risky for investors and market participants.
But even more importantly, he managed to convince Romanian decision makers to join his efforts of improving and simplifying capital regulations. The Romanian Government, the Financial Supervisory Authority and Romania's National Bank together with banks, brokers, institutional investors and law firms, all rallied to the BVB initiative to eliminate the systemic barriers which have for years blocked the creation of a modern capital market in Romania.
"Someone told me that things cannot be changed so fast in Romania, but I now have some examples that things can be changed quite fast," Sobolewski says one year upon taking his mandate in Romania. It takes a very determined man to convince everybody to leave personal egos aside and to work with everybody else towards a common goal. Sobolewski is not only very determined, but also very firm in his beliefs, a true "alpha male", as he described himself in one of his first interviews for the Romanian media.
His work brought him allies as well as enemies. Some people were unhappy with all the changes he implemented in such a short time and openly criticized him for his "authoritarian" management style. Criticism has not stopped him from implementing his program.
"I see many good forces who are interested in building this market, in having a modern capital market in Romania, and in that we are on the same page. At the same time there also people in charge who are resistant, who would like nothing to happen. I don't know why, because a modern market will be better for everyone," he says. Sobolewski is however more optimistic now than he was one year ago, when he came from Warsaw to Bucharest to take the new job.
"Before I arrived here I was quite optimistic. After I landed here I realized that this market is much smaller than I thought. But it is small for a reason, not by chance, not by accident. I quickly became aware that development is not dependent only on simple marketing and calling investors and issuers and telling them <<please be interested in this capital market because it's something good>> because it wasn't so good and it needed to be developed," he recalls.
Everyone expected him to bring new companies and new investors to the market, to be a sort of miracle – maker. But, he says, the lack of private listings is not a cause of underdevelopment but a consequence of other reasons and until those barriers will be removed, private companies and new investors will not come.
"Building the market is not as easy as approaching investors and private companies and asking them <<will you be so kind?>>, because they will not be so kind. We must show them that this market can create opportunities for them."
This is the message he passed forward to local decision makers along with another one, which is that the development of the capital market is not important just for the BVB, or for the brokers, but also for the whole economy, which really needs an alternative financing mechanism.
He's also been keeping close to international investors, some of whom he knows since back in 2006-2013, when he was CEO of the Warsaw Stock Exchange.
"I'm using all possibilities to get people with money involved in Romania, more or less the same that I used to do in Warsaw. But there the advantage was that the market was much larger and the perspective for international investors to make money was much more direct," Sobolewski says.
"Here the market is small and has many obstacles. But I can play a different note and show them that the Romanian capital market is a growth story. Even the fact that Romania is a frontier market is an advantage, but it is important to pass on this message: <<Romania is a frontier market, but it will become emerging>>, to show them the growth case. They need to see a plan for development and clear signs that this plan is put in place," he adds.
The job of getting these multi-billion dollar funds to come to Romania is really hard as the average daily turnover of the Bucharest Stock Exchange is little over EUR 10 billion compared to more than EUR 200 million on the Warsaw Stock Exchange. So he has to come up with a solid investment case to lure them in.
The ultimate goal is to have foreign institutional investors come to the market, because their money will increase liquidity and safety and this will attract local money as well, from individuals and local funds. "We need external money, because we have too few internal resources." His ultimate goal, which became his obsession during the last year, is to increase the trading volumes to a level that is comparable at least to Budapest or Prague, if not Warsaw.
What Sobolewski does is much like juggling: he has to keep all the balls in the air at the same time and to keep them moving, because if he drops one, he would have to start over. "At the same time, I have to keep stability standing on my own feet, I have to be watchful for the price of the share of the BVB and keep my shareholders happy," he says. "That is why I think that running a stock exchange is very unique, because we have that many counterparts: issuers, big and small, intermediaries, banks with custody, professional investors and retail investors, we have also IT providers, central infrastructure (Central Depository), regulators, decision makers."
A strong and motivated team to back him up is very important. "I found that kind of people at BVB and I'm very positive about the people who work here, especially after some changes and restructuring that was done last year. They are very competent, knowledgeable people; they only needed projects. They needed green lights that, yes, we will make changes, we will do different things. They needed occasions to show their capabilities."
It's not always easy for people working for him, he admits, as his day never ends at 6:00 PM. He usually continues to communicate with his team even after he leaves his office. "My work day officially ends when I leave the office, which is very rarely before 7:00 PM, but I remain connected. I don't want to be too intrusive with my colleagues' private life, but they very often communicate with me very late. I always have mixed feelings about this because I don't want them to feel pressured that they also should be all the time connected, but I'm also happy that I have this sort of people who are really fully committed. I think that work also brings them pleasure, it's not only something that they have to do."
The Pole likes to stay very close to operating problems and usually pushes things in order to have them done sooner rather than later. "I don't only handle some management of the personnel. My style of management is rather centralized. I have a lot of communication. I realize that this market is small, I don't have 200 people but only 40 people. But the flow of messages is very intensive to that degree that I decided to switch after years to Blackberry because it has keyboard and it is easier and faster for me to write messages. I'm connected all the time and it takes a lot of time."
It's not unusual to see him working on his Blackberry even at dinner, if he has an important message to respond to. Even on holiday he can't part with his work. "When I went skiing for one week in February, I reorganized my work in a way that allowed me to ski during the day, and respond to emails in the evening. Normally I don't realize how much that takes, but then I realized that it took me around four hours in the evenings, starting at around 8 PM, only to write emails. This is something that I constantly do, because if I don't do it for one or two days, then I have a lot of arrears, or it becomes extremely difficult and people wait, so the proper running of the company really requires this."
With such a high workload, Sobolewski rarely gets the chance to do his running in the evening, although he rented an apartment close to Herastrau park especially to be able to do this. Even so, at 49 he's really fit. The little spare time he gets he spends playing squash with some of his colleagues, watching TV to keep up with the news or with his fiancé, a beautiful Polish actress.
But for now he wouldn't want it any other way, he confesses. "I had this reflection recently: what if I were running a company that has an established market position, that has no challenges every day and no broader mission but to make money, and where I could be a manager in the simplest sense? I could come every day to the office, have some meetings, have lunch with one of my colleagues, then come back to my office, read two more reports and leave the office at 6 PM because I have tennis at 6:30. And on Fridays I would leave even earlier because I have golf. Would that make me happier? But then I thought that probably it would be really boring for me."
He sought the challenge in every job he had so far and managing the Bucharest Stock Exchange proves to be the biggest challenge of them all. He's not only looking to increase trading volumes, which is the quantitative goal of his mandate, but also to establish the BVB as a leader of opinion, and as an institution that co-decides the strategy for the capital market, a very pro-active organization that defines what should be done and works on what needs to be done, not just a trading platform.
This is what he wants to leave behind as his legacy. "When I arrived here and after that I heard that this is the last chance to build a capital market in Romania. At the end of my mandate I would like to hear that this was achieved, that the chance was not wasted."
By Andrei Chirileasa, [email protected]
(photo by Andrei Chirileasa for Romania-Insider.com)
Normal