James Longshore's initial 'cheat sheet' before the Oscars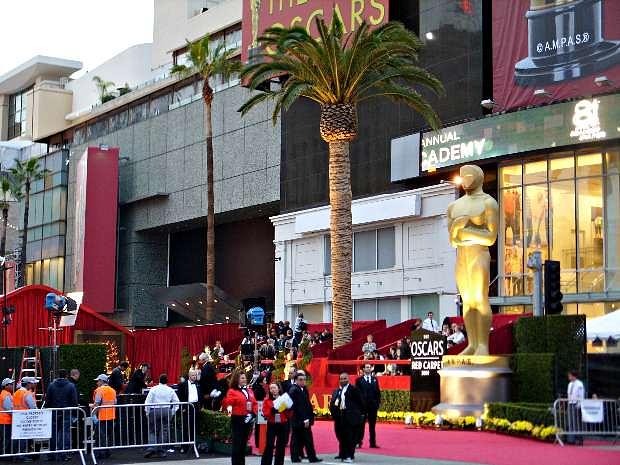 Guest writer James Longshore writes his very first Oscars 'cheat sheet' for Romania-Insider.com, ahead of the March 2 start of the famous awards.
The Oscar ceremony is a well known event around the world now. Billions of people from across the world watch the ceremony. And nothing else represents Hollywood for the world like The Oscars.
As you may or may not know, I started writing reviews of American movies for Romania-Insider.com this past spring. You can read more about how I ended up in Romania in the first place here. I will be writing a series of reviews of Oscar nominees as we approach the big ceremony. I have already started with my critique of Golden Globe Winner Cate Blanchett's performance in Blue Jasmine, which I think is the front runner in the Best Actress category this year.
And that's the most fun of it all. Picking the winners. We call it "handicapping" the race. I have many fond memories of Oscar days, like how every year my mom would bring a list of the nominees to me at school after the announcement so I wouldn't have to wait past third period!
Allow me to enumerate my qualifications as a judge. I know the business. Well. I have been reading The Hollywood Reporter since I was nine. I am a follower of Scott Feinberg. I am a life long actor, from the age of seven, with training and credits in writing, directing, and producing. I've watched movies in the Academy screening room with members of cast and crew of Oscar winners, like Jodie Foster, for example, with whom I watched "Silence Of The Lambs". And of course, my mom always let me stay up to watch the ceremony. Whether or not I fell asleep was up to me. I usually didn't. So the first of my two cheat sheets will be from the gut. When we get closer, I will analyze deeper based on both seeing the movies, what coverage I have read, and my own expert intuitions. And the fun will be to see how it changes, and how close I get. But don't call your bookies just yet. This first sheet is just for fun, and will be based on my first impressions and what I have heard so far.
Sadly, these days the quality of the film matters the least, it seems sometimes. There are so many other factors. Winning the Oscar is a campaign now, because movies are so subjective. So it's about finding the right tone of your publicity, finding reasons to get press, where and how many "for your consideration" ads you place, throwing and attending the best parties, what other awards you win, your standing in the community, box office, timing, image, who gives the best gift bags of swag. So you have to weigh all these factors in selecting your choice when making a cheat sheet.
There have been a lot of major changes in Oscar policies over the past decade, in response to the changes in the industry, because everything happens faster and there's so much more product. I mean, nine movies for Best Picture? How can you even see all of them? Well, there are a lot of long-standing relationships to cultivate, and favors to be returned, and industry leaders to be supported. And the nominations are announced so early these days, because of the attention all the other awards shows get now. I can imagine that some voters don't even get a chance to see all the films in time for the nominations. But the ceremony is late this year, March 2. Which is good, because there are a lot of movies to see, nominees who need publicity, and press to manipulate. So let's get started!
Okay, we will cover all the major categories briefly, starting with Best Adapted Screenplay: This is a tough one. I need to see all the movies. Before Midnight is third in a trilogy, so it may get rewarded for all three movies. Captain Philips is a strong screenplay, but it would need to win Best Picture as well, I think, and for that it's a long shot. I think Philomena is the lame duck. 12 Years A Slave and Wolf Of Wall Street are the ones to beat for best pic, so they have a good shot at this prize. In that contest, I lean towards 12 Years A Slave. Best Original Screenplay – Dallas Buyers Club is a strong screenplay with a straight forward story, and may get this as a consolation prize, and I think it is between this and the always reliable Woody Allen's Blue Jasmine. But then there's American Hustle. I have to see the movie, but my gut says this may take it as an upset to Blue Jasmine.
Best Supporting actress: I root for June Squibb in Nebraska, as she is a friend of an old family friend who has been a struggling actress for years, and I would like to see her rewarded. As for winner, well, Jennifer is an industry darling, but she just won best actress last year, Julia Roberts is a token of appreciation nomination, and though Sally Hawkins was very good, my gut says Lupita N'yong'O in 12 Years A Slave. Just the kind of performance Oscar likes to reward. This could change.
For best supporting actor, Jared Leto is the one to beat. He completely transforms himself, and plays a sympathetic freak. Bradley Cooper could take this too, as it is time for Hollywood to reward him, and sometimes consolation prizes are given from this category, but most likely upset, I think, would be Barkhad Abdi in Captain Philips.
For Best Actress, I say this one is between Sandra Bullock in Gravity and Cate Blanchett, but, as I said, Cate is the one to beat in this category. For Best Actor, it's between DiCaprio for Wolf and McConaughey for Dallas. Everyone wants DiCaprio to win one already, and he pushes the envelope, no pun intended, in this role. But Golden Globe Winner McConaughey completely changes his look, plays against his type, and plays a heroic sympathetic character that beats the odds, Hollywood's favorite. So Matt's the one to beat for Best Actor. Unless 12 Years or American Hustle sweeps.
Best Director. I lean towards David O. Russell – it's his turn, but that would mean a possible Best Picture win for American Hustle. Right now, 12 Years A Slave is the front runner for Best Picture, so Steve McQueen could win, making him the first black man to win this prize. And Gravity could pick up steam. My gut says David O. Russell.
Best Picture: Tough call from about five of these nine. It's so hard to listen to my gut with so much analysis swimming through my head. American Hustle or Dallas Buyers?
FINAL INITIAL GUT LIST:
Best Adapted Screenplay: 12 Years A Slave

Best Original Screenplay: Blue Jasmine

Best Supporting Actress: Lupita N'Yong'O

Best Supporting Actor: Jared Leto

Best Actress: Cate Blanchett

Best Actor: Matthew McConaughey

Best Director: David O. Russell

Best Picture: Dallas Buyers Club
So, there we go. Follow my reviews over the next few weeks and I'll be back the weekend before the ceremony with my final cheat sheet. I will leave you with a fun fact about the Oscars. They used to be held on Monday. Why? Because back then theater was still relevant and held in high regard, and Monday theaters were dark, it was their day off, and theater actors could participate. Why is it on Sundays now? Because the broadcaster of the Awards, ABC, wanted it moved to Sunday, the biggest advertising night of the week, so they could make more money, and The Academy gave in to their demands. Ahhh, the times how they have a-changed…
By James Longshore, guest writer
Normal