This is a PRESS RELEASE. To publish a press release on this website, email [email protected]
Press Release: City Compass Media and Officerentinfo.com the first office & warehouse search platform in CEE launched real estate classifieds section on Romania-Insider.com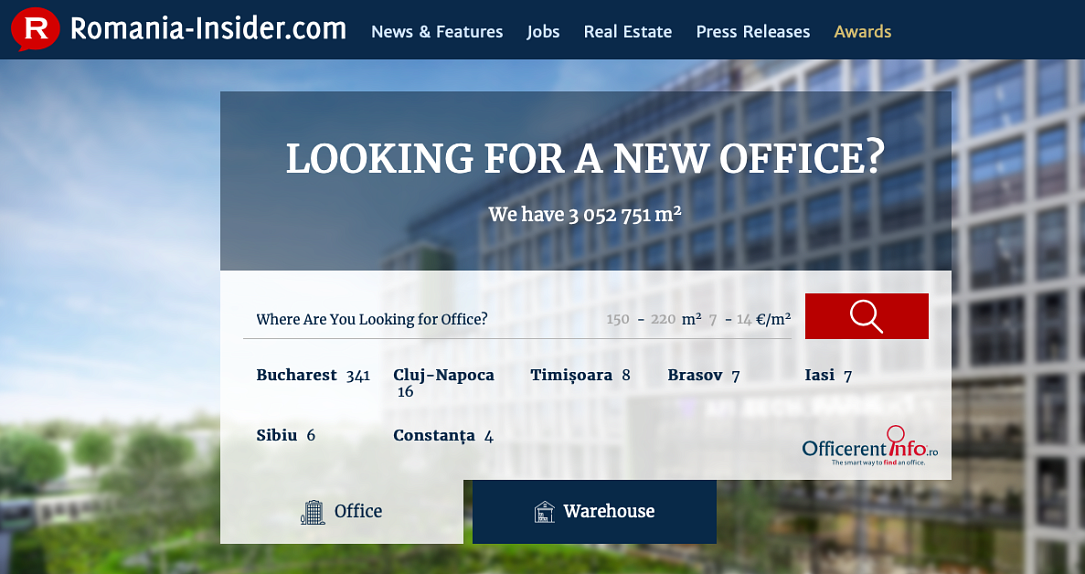 Bucharest, February 14, 2019 
City Compass Media, the most read foreign language media publisher for Romania and Online Real Assets (Officerentinfo.com), the first search network for offices & warehouses in CEE, have joined hands in launching the new Real Estate classifieds section on Romania-Insider.com.
 "Readers from all over the world have been asking us for real estate classifieds from Romania, which is a booming real estate market. Our readers, be them top managers, investors or potential investors, look to our website not only for reliable and up to date information, but also for potential investment targets. The real estate classifieds and our dedicated weekly real estate newsletter complete the host of information and services we provide to over 2.5 million readers every year, and we're proud to have such a strong partner for this type of content," says Corina Chirileasa, Managing Partner of City Compass Media and founder of Romania-insider.com. 
With the new section launch, Romania-Insider.com also redesigned its website with the help of Online Real Assets. 
The next step in developing the real estate section will be to integrate the residential classifieds segment as well.
"We are very glad to partner up with Romania-insider and spread the Real Estate news and classified listing through their readers. Romanian real estate market is a hot topic and we have designed a platform where tenants and investors can reach office & warehouse owners directly. We are also very proud for the trust of City Compass Media in giving us the opportunity to redesign their new website," says Vincent Vallois, Co-Founder and CEO of Online Real Assets. 
From now the reach of offices and warehouses availability will be accessible of www.officerentinfo.ro / www.warehouserentinfo.ro & www.romania-insider.com/real-estate.
About Online Real Assets
Online Real Assets is the only CEE digital company fully dedicated to the real estate market. The innovative one-stop-shop online approach provides solutions from commercial listings through officerentinfo.com to lead generation, website building, virtual reality (UP2VR)and a Chat Bot solution designed for real estate market. Its community application, Space flow, is connecting tenants and turning building information into a "vibrant place where everything and everyone in the building's ecosystem converge".
Its unique tools are turning traditional offline marketing into online marketing strategies and platforms, helping property owners raise occupancy and find new buyers more efficiently. 
Website: www.onlinerealassets.com
Facebook: OnlineRealAssets
About City Compass Media 
City Compass Media is the publisher of Romania-Insider.com, the most read news and features website in English dedicated to Romania, with 2.5 million readers a year from all over the world. Launched in 2010, Romania-insider.com has become the most reliable source of information from Romania for investors, managers, expats, foreign journalists, ratings agencies, Romanians abroad. 
The team of journalists from Romania-Insider.com also provides subscribers with a premium press review bulletin in English. 
The media company also publishes a travel and expat guide in English, City Compass Romania: Bucharest & Beyond, with yearly editions. 
In January 2019, City Compass media took over the Bucharest edition of LePetitJournal.com, the main media for the French community. LePetitJournal.com/Bucarest is the best read among 69 LePetitJournal.com  international editions. 
Contact Romania-Insider.com – Corina Chirileasa, Managing Partner, [email protected]
Normal