IMF managing director to hold speech in Romanian Parliament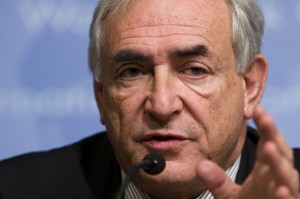 Dominique Strauss-Kahn, the managing director of the International Monetary Fund (IMF) will pay a one-day visit to Romania on March 30. He will then meet the Romanian president Traian Basescu, prime minister Emil Boc, speakers of the Senate and Chamber of Deputies, Sebastian Vladescu, the Minister of Public Finance, and Mugur Israescu, the Governor of the National Bank of Romania. Strauss-Kahn will address the Parliament and the Academy of Economic Studies.
He will be accompanied by Marek Belka, Director of the European Department, Jeffrey Franks, Mission Chief for Romania, and other senior officials, the IMF has said. He will also held a press conference at the end of the visit.
Dominique Strauss-Kahn took over the IMF helm in 2007. Strauss-Kahn was previously a member of the French National Assembly and Professor of Economics at the Institut d'Etudes Politiques de Paris.
Earlier, he served as Minister of Economy, Finance and Industry of France from June 1997 to November 1999. Strauss-Kahn holds a PhD in economics from the University of Paris. He also graduated in law, in business administration, in political studies, and in statistics.
Romania has signed a two-year stand-by agreement with the IMF for a financial aid package to support the country's economy during crisis.
Normal