The delicious success of a Romanian restaurant in Paris
A Romanian restaurant opens its doors in Paris. Not long after, the famous magazine Vogue adds it to its list of hot food spots in Paris and the idea of bringing Romanian cuisine to the French capital proves to be a real success. How did that happen?
Paris is the European city to go to for foodies. The French capital's high interest in gastronomy is more than well known, the city offering both residents and visitors a wide variety of restaurants and foods, always staying up to date with the latest trends in gastronomy. That's one reason why some may say that it's tricky to open yet another restaurant in Paris, as the city's offer covers most (if not all) of the world's gastronomy – from American to Russian, Thai or Vietnamese. However, Ecaterina Paraschiv decided in 2018 that the French capital was ready to try the taste of Romanian food and opened a restaurant named Ibrik Kitchen there. And she won the bet.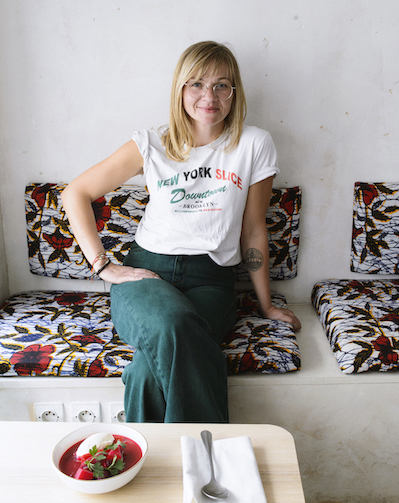 Ecaterina Paraschiv was born in Romania but moved to Paris with her parents when she was six and a half years old. She continued her studies and made a life there, and even worked as a lawyer for about 8 years. However, she never forgot her home country, Romania, which she still visits as often as possible. She is mainly attracted by the rural Romania and its traditions, and the tasty food this country has to offer.
"I spent a lot of time in Romania even after I left, I am very fond of this country and I felt the need to somehow find my origins," Ecaterina Paraschiv told Romania-insider.com.
With many memories from Romania still fresh in her mind, she decided to give up her life as a lawyer and do something else, more dear to her heart. She started by opening a café in Paris in March 2017, called Ibrik Coffee. Things went very well with this venue so she decided to diversify things and give Parisians a real taste of Romania. That's how the project of the Ibrik Kitchen restaurant started to take shape about one year after the café was opened.
Ecaterina Paraschiv covered the investment in Ibrik Kitchen, of around EUR 450,000, but an important partner in this project is Bogdan Alexandrescu, a MasterChef Romania finalist and one of the most appreciated Romanian chefs of the moment. He oversees things at the restaurant and is in charge of the menu alongside chef Ovidiu Malişevschi, who also made an important contribution to this project.
The restaurant opened on December 1, 2018, Romania's National Day, and, shortly after, famous lifestyle magazine Vogue included it on its list of five top Parisian restaurants to try. The news traveled fast to Romania, where the local media raced to cover the story. And it was just the beginning of an unforeseen success, as journalists from around the world, as well as Parisians, Romanians living in Paris and tourists started to come here to see for themselves what's with this new restaurant. And most of them liked what they found.
Today, the 40-seat restaurant welcomes, on average, about 70 clients per day, who come here mainly for traditional Romanian dishes such as mici (short sausages without casings) or sarmale (a mixture of rice and minced meat rolled in cabbage leaves), and the delicious desert papanasi (a kind of doughnut served with fruit syrup or jam and sour cream). In short, stars of the Romanian cuisine served in a "more chic" way, as Ecaterina Paraschiv says.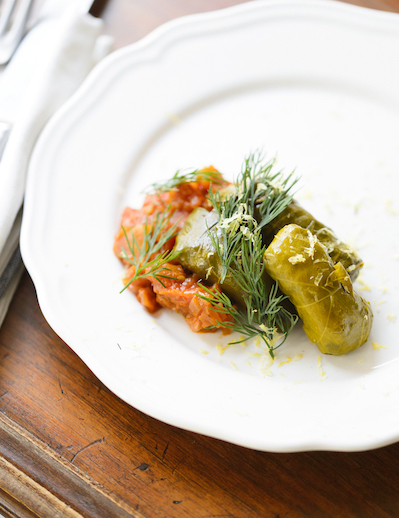 But where did this success come from? One explanation would be that the French are ready for culinary diversity, they are ready to try something new, and Ibrik Kitchen is definitely something new, Ecaterina Paraschiv believes. The restaurant not only serves a different kind of food but it was also arranged in a way that creates an authentic Romanian atmosphere.
"I brought some items from my mother's village in Bucovina, I brought a handmade carpet made by my family, a mask, and some paintings made by my father. I did a real historical research (just as Bogdan did on his side) on decorations. The idea was to make something more than food, to tell a story that is more important and much more interesting than what you eat," Ecaterina Paraschiv explained.
Then, unlike what happens in Bucharest for example, fine dining is no longer a trend in Paris, where people started to look for something more exotic and at the same time authentic. They now prefer to go to places "with a real message," places that have stories to tell and that serve quality products, they like to support businesses that seem honest, according to the Romanian entrepreneur.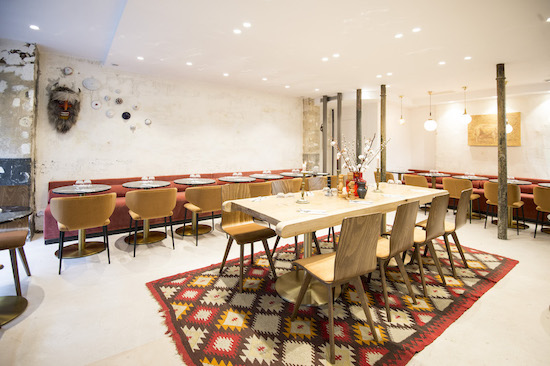 And, as nothing was left to chance, the name – Ibrik – also has a story, which once again comes to show Ecaterina Paraschiv's strong connection with her Romanian roots. Her grandmother back in Romania liked coffee, but not any type coffee - the one brewed in an ibrik was her favorite. And, when Ecaterina Paraschiv was a kid, her grandmother made her believe that she can read the future in the coffee grounds. A perfect recipe for keeping a child entertained while creating memories never to be forgotten.
"That's where all this story about the ibrik started from, but my connection with coffee is deeper than that. I remember the meals my parents used to organize when I was little. Of course, in those days, the coffee was hard to find. It was a real luxury to have a bit of real coffee. I remember the smell of coffee coming in the room as the guests took their seats at the table, I remember all those moments that, in fact, are very nostalgic."
As for the entire purpose of opening a Romanian restaurant in Paris, Ecaterina Paraschiv says that the plan was not only to introduce the Romanian cuisine to the Parisians, but also to promote Romania and its values.
"Our goal is bigger than gastronomy. Our goal was to open a Romanian restaurant at European standards, at Parisian standards, to show them that even if we are a small country and are badly spoken here in Paris, we have a culture, a wealth and some values that deserve all the interest. We wanted to tell the Parisians not to judge us too fast."
The Romanian entrepreneur also plans to open a bakery in Paris, which would follow the same idea – taking Romanian foods to the French capital. She also dreams of expanding her business to Romania, planning to open a restaurant in Bucharest. However, this is a rather long-term plan, as she is still looking for an investor.
Irina Marica, [email protected]
(Photos: courtesy of Ecaterina Paraschiv; photo credit: Pierre Lucet Penato)
-->
Read next
Ibrik Kitchen, a restaurant two Romanians opened in Paris, has been included by Vogue on its January list of "5...

Normal

-->