Fallacher, Orange: High demand for smartphones and growth of mobile internet use fuel increase in first quarter of 2014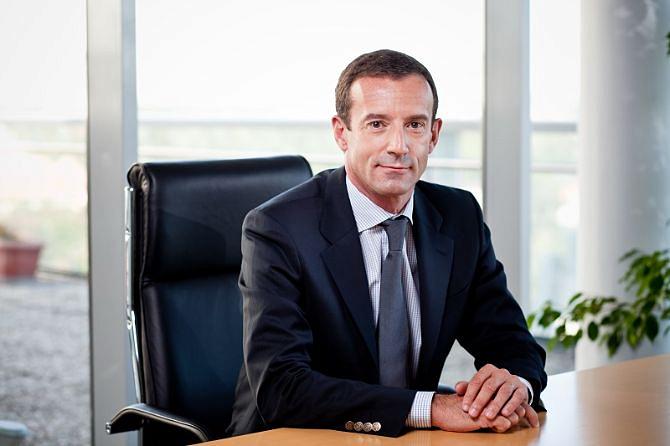 The mobile internet consumption grew by 44 percent in the first quarter of 2014, pacing up with a rising demand for smartphones and bringing up Orange Romania's revenues by 4.9 percent to EUR 230 million in the first quarter of this year. Orange TV and the fourth generation of services and speeds (4G) remain a key-focus for Orange this year, says Jean-François Fallacher, Chief Executive Officer of Orange Romania, in an interview for Romania-Insider.com.
What are the main challenges that you're facing as a country manager of Orange Romania? What are your goals for the next period?
The Romanian telecom market is very dynamic, competitive and holds challenges in terms of value protection and growth opportunities. We see changes in the EU market and in the Romanian market and a lot of pressure from the regulatory side as mobile termination rates are decreasing and this is challenging.
I believe that it is important to listen and understand customers in order to give them what they need at the right time. A year ago we launched Orange TV, recently extended our 4G network to sustain the growing internet consumption and we also launched some innovative services - Orange Passpoint, just one recent example, is a solution offering easy SIM-based access to Orange hot-spots.
In the near future we will concentrate on this direction, continuously investing in our network.
Orange witnessed a growth of 4.9 percent to EUR 230 million in Q1, what were the drivers for this growth?
Our growth was led by the growing mobile internet consumption, we see it continuing on the same ascending trend, it recorded an increase of 44 percent in the first quarter of this year, compared to the same period in 2013. This evolution is closely linked to the increasingly larger number of customers that choose to use internet on their mobiles and the growth of smartphone sales by 45 percent, mostly together with a postpaid tariff plan, in the first three months of 2014 compared to the first quarter of 2013. One of the factors behind this increase is the rich portfolio of smartphones, more than half of which are 4G compatible, available at affordable prices.
What are the investments targeted for 2014?
In 2014, network quality and overall customer experience remain our priorities. We strongly believe in service convergence and in the digital services' potential, we have an important asset with 3G and 4G coverage and, for 4G, we have plans to extend it. We plan to offer our customers the possibility to discover the maximum potential of 4G technology. Staring April this year, they have also the possibility to test the next generation technology, 4G+, in 8 Orange shops from 6 different cities: Bucharest, Brasov, Cluj-Napoca, Timişoara, Iasi and Galati.
Another project in which we will invest a lot in 2014 is Orange TV, as we see an increasing appetite for this service. To give an example, for Orange TV Go, we have 3 times more users in May 2014 versus September 2013 and the number of sessions tripled in the same period. We will focus to initiate new partnerships, enrich the offer of content on request (video content, video subscriptions on demand and registered TV content) available on tablets, smartphones, laptops and TV. We believe that the change in consumer behaviors towards mobile content will contribute to 4G adoption and will be encouraged by it.
What are the main key performance indicators for this year? How about the next period?
In 2014 convergence and digital services are key pillars for our strategy. We will conclude new ways to bring personalized offers, with complete services on smartphone, tablet, desktop or laptop.
In 2013 and this year so far we have preserved our commercial performance and consolidated position as leader of the Romanian telecom market, while maintaining our operational efficiency.
Which are the results of your work at that you're really proud of?
There are many things we have accomplished in the past years and also many to come, but I will try to mention just a few: the licenses for spectrum frequencies that will allow us to offer high quality services across the country in 2G, 3G and 4G networks; 4G launch and deployment - offering high speed and low latency, making mobile internet comparable with fixed internet; Orange TV, making Orange Romania a full communication services provider, addressing the customers with a complete offer, 3P services on a single invoice; Orange as Top Employer as Orange people represent the core of our organization. You can have good products, offers or services, but people are the one who really make the whole difference.
Which are the main clients and contracts that you've contracted so far this year, and which are the main works for this year?
In the first months of this year Orange Romania reached the objectives proposed for this period. I am very proud of our business-to-business team as they have managed not only to increase our portfolio with new important accounts but also maintain our existing base, offering them integrated, fully customized solutions for their business. For example, today 80 percent of all banks active in Romania are Orange clients, 70 percent of all insurers active in Romania are Orange clients and 60 percent of top 30 retailers in Romania are Orange clients.
What are the main differences regarding Romania, as compared to other countries, in terms of its main resources, way of managing things and doing business?
When I started working in Romania, I was impressed by the people, by their professional competence and expertise. The difference compared to other teams is in the fact that these capabilities are doubled with the dedication, incredible efforts and enthusiasm to make things happen and make them right.
What do you like and dislike about Romania?
Romania is a beautiful country, I saw many nice regions. The regions I was the most impressed about where Transylvania and the eastern part of the country, the Danube Delta.
I really appreciate the warm, energetic, ambitious and hard-working people I met in Romania. The success of Orange Romania is due to the team and I'm a very lucky person having such colleagues, which are not only well prepared, but also very fond of Orange values and very focused on customer experience.
If we talk about the business environment, it is very competitive and challenging, as I said, and this keeps me focused and open and I like that. Of course, I would also appreciate a little more stability and I'm keeping my confidence that the authorities will take the right measures in order to ensure the long-term investments in such a always renewing industry as telecommunications.
By Bogdan Tudorache, business writer
Normal