Hotspot Romania. 110 km on bicycles.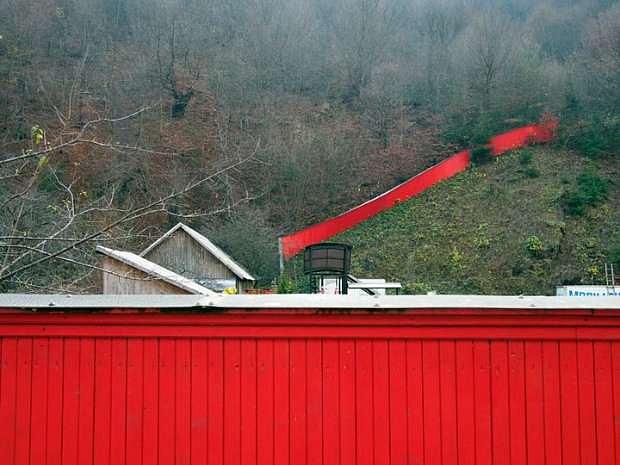 The country we roamed for 2 days up and down the hills is as colourful as it is charming, especially when you speed down the slope. Scrutinized while climbing, though, its charm tends to fade away. We came across the following: some cool, unfenced landscapes (you could choose whichever direction you felt like, letting freedom pierce through your coat right to the flesh), a car market enveloped in meat rolls smoke and a black Merc which almost ran us over. Behind the wheel, there was this standard roughneck with a cigarette hanging at the corner of his mouth.
We also ran across people with a taste for beer early in the morning, some homemakers on the job, a good-natured saleswoman who waited on us with little cups of watered-down coffee, peasants gazing at scattered ruminanting cows, disheveled yards, helter-skelter coops and chattels. We beheld inane post-revolutionary architecture, with round windows on useless turrets and gypsum lions flanking stainless steel gates or, my favourite, the house with a red fence stretching out nowhere into the woods.
We bumped into the monumental statue of Avram Iancu, where our national hero looks like a stamp on a notary public's desk with a concrete pedestal underneath over 2 metres high.
Then, we encountered yet again lights and some fairy-tale scenery, only to catch sight, a little further, of a huge mountain where all trees had been razed to the ground. We ate bread freshly taken out of the oven and stuffed peppers in some good-hearted people's home. Later, we would be acquainted to the Rolls Royce of cheese and butter pies, about which all you could say was a common-place such as "they melted in your mouth", which was actually no cliché at all, but rather the naked truth.
Our wheels sped through muck and dung piles on village roads. Since we didn't have mudguards, we obviously got splashed all over, even on the face, inasmuch as you could swear Gicu and I had broken out with freckles. It didn't matter, though, in the least bit.
Next, past a certain bend, we suddenly felt autumn gave way to winter, as we left the mild October air behind to come up against a different, polar blast, doubled by a bad omen fog while from above it was snowing oblong, yellow willow leaves which stuck to the moist asphalt as if at wait for Kingdom come.
Afterwards, while on the highway, we had to deal with the Sunday hysteria of the motorists going home on the background of all those villages snoozing in warmth and meaninglessness, where, while pedalling, you could catch a glimpse of advertisements such as: The Iozefini Bakery, "Back in 5 mins., I live nearby" (posted on the Culture House window), Fairies' House Bed and Breakfast, The Floreşti Aqua Park, Broilers for Sale, Vote for…
Finally, returning to the wonderful city of Cluj, we found ourselves wriggling under bridges, on sidewalks through shopping bags, amidst people walking their dogs, be they fat, skinny, furry or whatnot, among daddies hopelessly trying to learn how to rollerskate and blocking, with their drunk penguin movements, the only bicycle track available in the area or by dazed kids playing tag somewhere near a statuary donated by our friend, the Korean people, not far from a red telephone box donated by the London police and a huge yellow Dutch clog donated by some no less friendly random IT company.
Then we woke up and fell back to reality, going about our business, but not before making a stop at a cosy place to have lunch and a couple of Milanese quality cups of coffee.
By Voicu Bojan, guest writer
(A film by Gicu Şerban with a soundtrack by Gogol Bordelo, photos by Voicu Bojan)
Normal