The right moment to be active for the Czech Center: from culture to human rights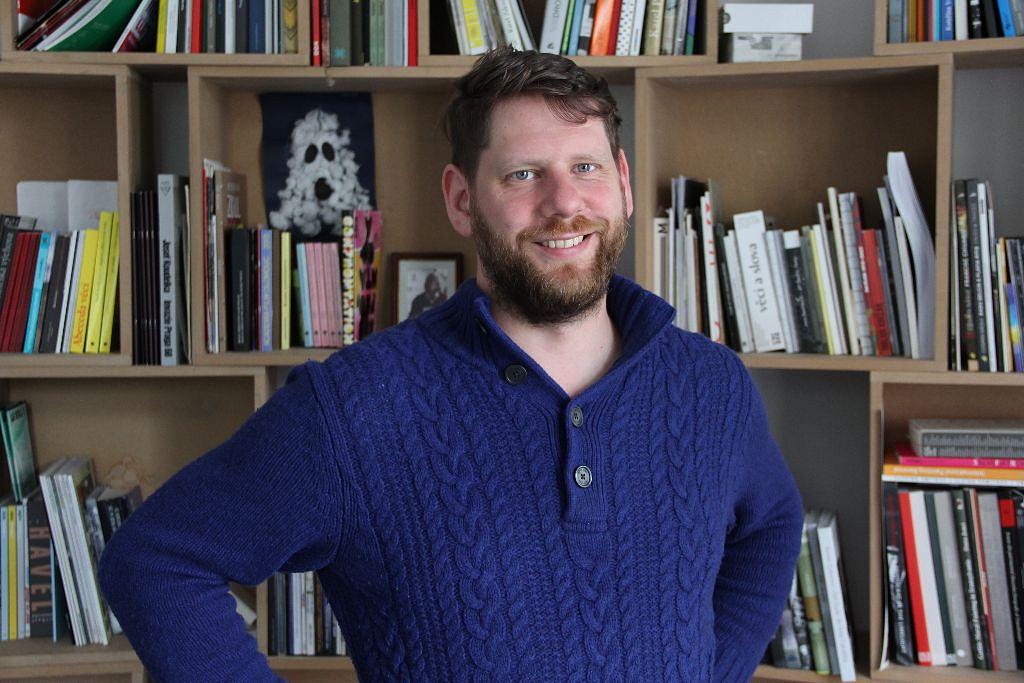 František Zachoval took over as director of the Czech Center in Bucharest in March 2015. In an interview to Simona Fodor, he shares his first impressions of Bucharest and some of the projects the center has been developing recently.
This year the Czech Center opened the Future Museum, an open platform where projects are selected through an open-call for artists in Romania and the Republic of Moldova, and the Artmap application, which presents smaller but significant cultural events taking place in the two countries.
When you moved to Bucharest, were there aspects or details of the city and the lifestyle here that you found unexpected or impressive?
Well, before taking on my mandate I visited Romania several times. In 1999 as a hitchhiker, then in 2009 during a very short sabbatical from the Academy of Fine Art in Prague. And finally, in 2011, I spent one month in the country. This month was decisive because I also started to work with Romanian artists. I would say I got used to the Romanian customs before I started working for the Czech Centre. From a social perspective, I didn't expected such a huge gap between the middle class, laborers and very poor people, and the huge gap between Bucharest, cities and villages. What I find very impressive is how people are handling their free time and enjoying the evenings outside their homes.
What did your first work with local artists involve?
At the Academy of Fine Arts in Prague I coordinated the series of the lectures and consultations between the students and curators. One of the guests was art historian and curator Stefan Tiron, who also took a part at the international conference on Exile in Prague. I also worked for one year at the invitation of the [e.n. Bucharest-based] artistic group the Bureau of  Melodramatic Research, which presented two film essays at Školska 28 Gallery. And now I am continuing my interest in Romanian visual art because we've [e.n. the Czech Center in Bucharest] just started a new initiative: the Future Museum, an exhibition place for local artists.
Is there a role for the arts and culture scene to assume in relation to the gap you are mentioning?
The art and access to this space should be for everybody and everywhere. Unfortunately, you don't have here an efficient regulation which will endorse or start the development of the standard cultural life out of the big cities such as Bucharest, Cluj, Timisoara or Sibiu. Therefore we've just opened an exhibition about Vaclav Havel in Craiova, instead of Bucharest, where you can find all facets of art.
When we are talking about social issues we move into the field of human rights. We perceive ourselves as a mediator between these camps. For instance, we are collecting and donating clothes for very poor people. Many of our beneficiaries officially don't exist. These people can't receive basic treatment. The official authorities are inactive. So our behavior is a method through which we want to inspire.
Speaking of your interest in the Romanian visual art scene, could you elaborate on some of the names and trends you find interesting?
It depends always on the perspective and on the context. If we use a classical taxonomy, then engagement art is very powerful and innovative. For instance, the now worldwide-known platform Art-leaks was co-founded here in Bucharest.
If I were to talk about artists or theoreticians who are also active at an educational level, than I would like to mention Iosif Király who is not only one of the most important artists but also an important teacher. Many young and now important artists went through his supervision. A very similar phenomenon takes place in Iasi where, under Matei Bejenaru, Cătălin Gheorghe and Cristian Nae, I would say a specific approach of the young artists was formed.
It's been two months since the launch of the clothing collecting container project. How has the public's interest in the project manifested so far? Did it match the initial expectations you had of it?
First of all, at the start of the project we were not sure if citizens would accept this kind of initiative. Before the container we were delivering some aid to a Balkan route, which was not so warmly welcomed. Secondly, if we are talking about how to help and how to improve human rights, this is a right moment to just be active, to share your energy instead of complaining. Until now, the container helped more than two thousand people. The beneficiaries were mostly kids and people with disabilities. And not only in Bucharest but also in Ialomița or in Dâmbovița.
CV František Zachoval
František Zachoval is an arts and culture manager, publicist and artist. In 2006 he co-founded the digital archive of contemporary art Artyčok.TV. He was a member of the Department of Art History at the Academy of Fine Arts in Prague (2009-2014) where he was responsible for the organization of theoretical subjects at the Digital Laboratory. In 2010 he founded the publishing house The Karte, devoted to artists and theorists from Central and Eastern Europe. (Source: futuremuseum.ro)
Interview by Simona Fodor, Associate Editor, City Compass, [email protected]
Photo: Vlad Dumitrescu
Normal