Foreign students descend in Western Romania on trip to discover the country beyond Dracula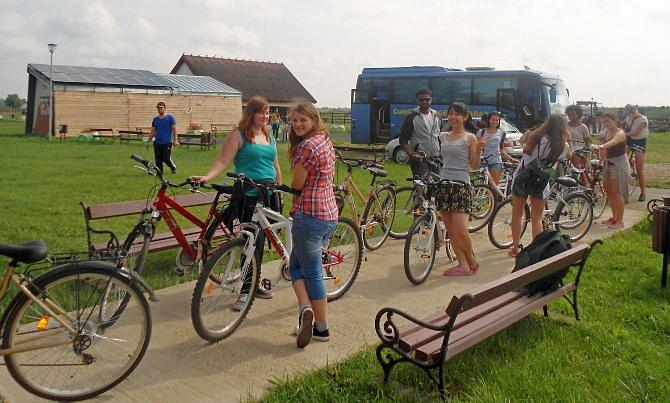 Foreign students from 11 countries visited this week the surroundings of Arad city in Western Romania, as part of the international project "Discover Romania Beyond Dracula".
Organized by the Romanian branch of AIESEC, the largest students' organization in the world and financed by the Romanian Ministry of Youth and Sports, the project wants to show foreigners Romania's beauty.
The itinerary planned between July 20 and August 31 covers three areas of the country, the first one including the cities of Arad, Craiova, Oradea and Timişoara.
The group of foreign students arrived in Arad in the beginning of the week, visited the city and the next day went outside the city.
Their first stop was at the region's only Buffalo Farm, built in Pecica in 2012 and extended last year with a modern Visitor Center. After visiting it, they used the bikes offered for free by the farm to make a trip in the town and to the nearby woods.
Students from countries like Canada, Pakistan, Brazil, Belarus, Turkey or Portugal stopped at a Romanian Orthodox Nuns Monastery, located in the forest, 6 kilometers away from Pecica.
After the trip, they returned to the Buffalo Farm, where they had slices of the famous local bread spread with lard and onion, a typical snack of the rural cuisine.
The students, who took a lot of pictures, will share their experiences in Romania on their personal blogs and social media accounts.
Some of the photos will also be displayed at exhibitions organized in Bucharest, Cluj-Napoca and Timişoara.
We wrote about this project earlier here. 
Also read our story about the Buffalo Farm near Arad. 
By Paul Sinka, guest writer 
(photo by Paul Sinka)
Normal