Film review: This is the end - Mommy, I'm homesick!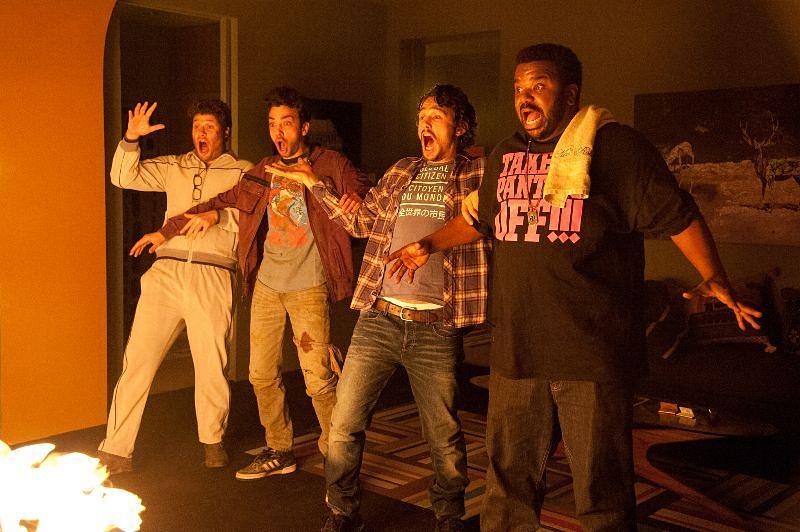 As some of you may be aware, those who have read my previous reviews (read James' previous reviews here), or my expat profile (read it here), I lived in Los Angeles for seven years running a production company. And boy, did "This Is The End" make me homesick! It is chock full of Hollywood references. That's not to say that only those who have lived in L.A. should go see it. It is a refreshingly ego-free star comedy that is funny throughout.
"This Is The End" is an apocalyptic comedy based on a short film by Seth Rogen, Evan Goldberg and Jason Stone Called "Jay and Seth Versus The Apocalypse". In this movie the young stars of today play themselves. The story goes that Jay Baruchel comes to visit his best friend Seth Rogen in Los Angeles. Seth convinces a reluctant Jay to go to a party at James Franco's house. The party is rudely interrupted by Judgement Day fires and earthquakes, right when the In-N-Out burger truck is just 10 minutes away! (That's a very L.A. reference – look it up, folks!) Most of the celebrities in attendance, like Rihanna, Jason Segel and Aziz Ansari, fall into the pits of hell, leaving only James Franco, Seth Rogen, Jay Baruchel, Craig Robinson, and Jonah Hill, to fend for themselves in Franco's newly built fortress. This leads to a lot of smart satire. Oh, and then Danny McBride shows up to rock the boat.
I was expecting an indulgent star fest, not an ego-free comedy. But in this film, everybody is very brave and humble. Many of them play amusingly against type. Super dork Michael Cera as a rambunctious cokehead. Vulgar, immature Jonah Hill as a caring, vulnerable teddy bear. Then some of them exaggerate their image, like James Franco as a self-satisfied post-modern artist BoBo. The orchestration of these characters is very clever, and the script is tight. It ends as it begins, and everything is brought to its logical conclusion. All the celebrities are game to assist, unafraid to let their characters' fates also come to their logical conclusion.
What made me homesick were all the Los Angeles references. The In-N-Out truck. The Carls Jr sequence. And when they got to the eternal debate of all Los Angelenos, whether to take Cahuenga Pass or Laurel Canyon driving from the Valley to Hollywood, I felt home. The dialogue is all very natural and conversational. And there are many other amusing debates on a variety of topics, like the Holy Trinity, and who looks most likely to rape Hermione from "Harry Potter".
In addition to specific L.A. references, there are a ton of movie references, from "Dirty Dancing" to "Terminator 2". These guys all grew up on pop culture. Their ideas and philosophies are based on movies they watched. It got me thinking about the difference, being here in Europe, between American movie culture, and the perception of American movie culture in Europe in this age of globalization and the international film market, in which American movies still dominate. It's an interesting dichotomy. Europe has only been exposed to and sold on the Hollywood movie culture as far as the big studios sell it to them, because studios are the only ones with the power to distribute in this market. So unless you search it out, the perception is primarily influenced by how the studios choose to sell their movies. There are a lot of influential and meaningful films that Americans grew up on, indie and studio, that many Europeans have never heard of and don't understand how they influenced the culture being marketed to them today. Whereas, Americans know a lot of movies which were indie or released before globalization, or didn't win any awards or were released in small theaters or on DVD. If you are one of those people who have explored and studied the American movie culture of the past forty years, like my friend Oana who convinced me to see the movie with her, then go see it and like me, you will be pleasantly surprised.
The directing, a collaboration of Mr. Goldberg and Mr. Rogen, is self assured and confident. Sequences are imaginative and movie clichés are used to great effect and at the right moments. Each character's plotlines are original, have substance, intersect well and are given the right amount of time, like "Grown-Ups", a similarly star filled comedy, should have been. The effects are convincing and cool. A lot of nice shots. The film was shot by a guy named Brandon Trost, who I went to film school with. He almost shot a short film I almost produced in film school. Believe me, there are a lot of "almost" projects in Hollywood. He's also been to Romania, as cinematographer for "Ghost Rider: Spirit Of Vengeance", shot here in 2011. I had been impressed by the camera work in the film, and so it was nice to see his name at the end credits, because previously he had only shot cheap, bad sequels, like "Crank 2" and "Ghost Rider", which had particularly bad cinematography. I was proud.
I know it seems I am reviewing this movie through my own prism, but that's how I experienced it. Overall, it has very funny jokes that everyone will get, especially at the party, and entertaining discussions amidst the chaos. So I encourage you to go see it and look up the references, or I welcome comments below about how you experienced it.
By James Longshore, guest writer
Normal