Film review: Elysium- A world we are headed towards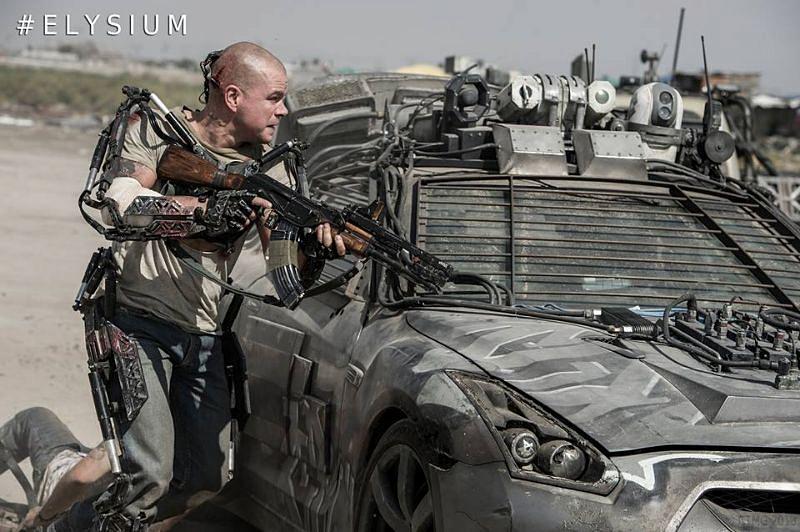 When the opening chords of the score for "Elysium" began, I thought "Uh-oh, sounds exactly like Pacific Rim". Which it does, admittedly. But beyond that, this movie about a world beyond the stars is nothing like it. Elysium is finally an action movie with an engaging storyline.
"Elysium" is a sci-fi allegory for our time, pointing the way towards a possible future. In this way it is a little Kubrickian and slightly reminiscent of "2001: A Space Odyssey", updated for our summer blockbuster era. The film is written and directed by Neil Blomkampf, whose previous hit film "District 9" was also an allegory for our society. But where "District 9" was just a metaphor for our treatment of each other, this film looks ahead to an all too probable outcome of the direction we are taking as a society. This is humorously and convincingly illustrated in some early scenes with Matt Damon's character, when he is confronted by authorities and a very wooden parole officer. Believe me, having lived in New York and Los Angeles, there really are parts of America where it is already like this!
"Elysium" concerns a not too distant future where the rich inhabitants of Earth have left because the atmosphere has gotten too unhealthy, and they now all live in outer space on a colony called "Elysium". The Earth remains inhabited by the poor. The story is about a guy with a history, played by Matt Damon, who needs to get to Elysium really, really badly. I won't say why, or more than that, because my reviews have been, well, reviewed and I have been informed that maybe I have a bit too many spoilers, so…I admit, I don't often read reviews in advance of movies I want to see to avoid spoilers myself. Anyway, Jodie Foster plays the boss of the Homeland Security Agency of Elysium, in what is another of the movie's smart use of the concept to make statements about how governments and authorities conduct themselves these days. This storyline has the trappings of classic Shakespearean regal tragedy, though I found the conclusion to Ms. Foster's characters plot line a bit unsatisfying.
The enjoyable part of Neil Blomkampf films is that the human drama takes precedent in the story, keeping the viewer engaged. The plot is not predictable and paced to keep the viewer interested in what will happen next. Mr. Blomkampf uses visual techniques in the film to slow down the action so the audience can follow it. The sound design has some really nice moments. It is used to effectively convey a character's experience at some times, and at others, used in the background to develop the world. It makes you feel like you are there, thus making the world more convincing. When used during the battle scenes, it evokes a visceral gut reaction. And the music gets better too.
All the actors are very good. Matt Damon as always is committed and charming. Jodie Foster is in command and as usual, finding the nuances in her character. I think Mr. Blomkampf pays a great deal to the actors performances, knowing that this can help us relate to the world we are being sucked into. The supporting actors play their roles with pizzazz and flair.
I'm telling you, the future this movie envisions is already here in many ways. That is what makes the film so compelling. The way the rich spend their time on "Elysium". The way the authorities treat the citizens of Earth. The way the corporations profit from misfortune and show indifference towards anything but profit. The ghettos and the criminals trying to survive and thrive. The desperate immigrants, or shall I say, emigrants. Much like "2001: A Space Odyssey" was a depiction of a logical progression in the evolution of technology, and mankind, "Elysium" argues that we are already halfway to the world it portrays. Though "2001: A Space Odyssey" may seem somewhat quaint now, it remains a prescient vision as well as an appropriate metaphor for human evolution. "Elysium" is not only prescient, it seems almost a little quaint too because so many aspects of this world are already all around us.
Both the story and the action sequences co-exist in this movie, unlike the rich and poor. The sly commentary on our modern society is amusing. The sci-fi clichés, about believing in yourself and doing something special and destiny, are all present, but presented in some pretty visual sequences. Mr. Blomkampf is respectful of the audience by making the action easy to follow and the story engaging. Mr. Blomkampf should be appreciated for his classic use of the sci-fi genre as allegory. A worthy successor to "District 9", and for those of you not yet aware, an important warning!
By James Longshore, guest writer
Normal