Film review: Before Midnight - Third time still charming?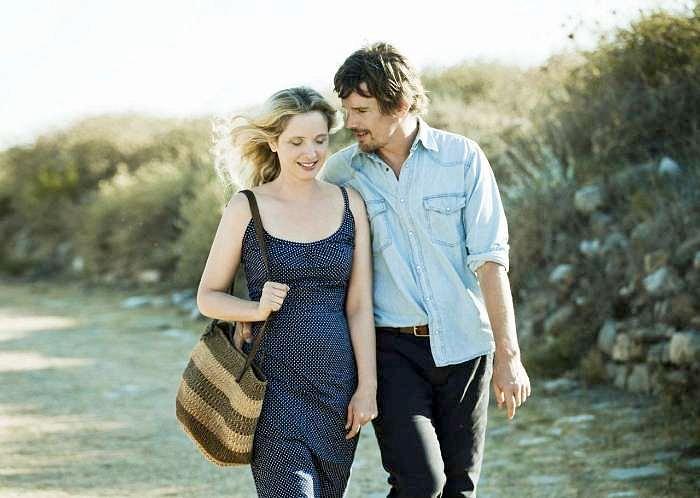 Before Midnight is the third in a now 18-year old trilogy that includes Before Sunset and Before Sunrise. The films have a devoted audience who enjoy following the star crossed couple, Jesse and Celeste. What is most fun about these movies is following these same characters, played by the same actors, and watching their evolution. They grow as human beings, unlike your typical threequel, when they just plop the characters into a "slightly different" situation.
It's a natural progression, the storyline of this film. In this installment, Jesse and Celeste are not quite married, but they are living together now in France. Jesse has divorced his wife, and is the proud father of a set of twins with Celeste. Jesse's only regret is that he has had to leave his child behind in Chicago with his ex-wife, just as the boy is entering manhood. This is the subject of most of their arguments, and this is what makes the film interesting. It makes it distinct from the other films. If in the other films, the couple were somehow always pulled toward each other, in this film they are struggling with being pulled away from each other. This gives the filmmakers the chance to explore themes they had not done in previous films. And so sometimes the film is a cute, romantic comedy, a great date movie, with a sharp wit and smart jokes and adorable moments. And sometimes it gets tense and tedious, and heart-breaking, much like true love. So while those moments can seem slow paced, they accurately reproduce the experience. I certainly could relate to Jesse's feelings, as an American who has changed his life and moved to a European country to be with his love. (read my expatriate interview here).
The film is basically six long sequences. The couple drive through Greece with their daughters, stopping along the way to see some friends, and of course, take a few semi-romantic strolls together. There still remains the easy breezy conversational flow and rhythm of the earlier films, but the subject matter is different. Instead of being in love, the couple reflect on their love. The camera follows them assuredly, in long tracking shots that allow us to focus on their exchanges. Director Richard Linklater places some nice atmospheric shots in each scene, to give you a sense of the setting and make you feel like you are really there, like not translating the Greek spoken in some quick insert shots or the background. He also chooses perfect settings to underline each sequence's theme, for example, when they open up to each other, they walk through spacious Greek ruins. And when the harsh realities of their relationship are closing in, they are in a cramped hotel room. The movie is filmed digitally, on an Arri Alexa, and although I am a film stock purist, the image had an attractive clarity to it, and the digital did not distract from the scenery nor the look of the film.
Like The Hangover Part III (read my review here), at this point the actors, Ethan Hawke as Jesse and Julie Delpy as Celine, are professional and confident in their portrayals. It is almost as if you are watching the actors be themselves. And in fact, as Linklater pointed out during the Q and A with Mr. Hawke and the director following the premiere screening of the film, the actors and the director wrote the film together. And as Linklater also emphatically shared during the same Q and A, they rehearsed the scenes many times before shooting, so while the dialogue seems very natural, much to many peoples' surprise, it is not improvised. Other than that, the Q and A did not have too much deep film making discussion. In L.A., the filmmakers feel they are amongst colleagues and give more detailed answers, whereas here they feel like it is just another far away publicity junket. Of course, it doesn't help when the questions are like "I've been to Los Angeles and, dude, what's up with those super big sodas at McDonald's, man?"
All in all, I enjoyed the movie. A nice alternative to all the big, flashy movies out there right now. It was definitely my favorite of the three. It was interesting to see the next logical step in their relationship play out. Both the audience and I laughed out loud a lot. Full disclosure: At the time, I didn't see Before Sunrise and I didn't really get into Before Sunset because I was 15 when it came out and wasn't engaged by the conversation. But I completely related to their pressures and conflicts in this film. They were very realistic, and I appreciate the actors' bravery in confronting them. And if the talking got a little tiring, it was ok, because we got what we call an intermission thirty minutes into the film, because the projector couldn't take the heat and broke down for a while. At least they played the credits.
Which leads nicely into what maybe will be the last time I have to go over my word count. As you regular readers know, there has been a recurring epidemic of projectors stopping during the credits in Bucharest, most recently at Glendale Studio Cinema during World War Z (read my review here). Well, we followed up our complaint, and maybe the tide is turning. The manager of Glendale apologized to us, and told us that he would dock the pay of the projectionist and fire them if it happens again. Harsh, yes, but an example must be made, I guess. They also offered us our money back, but this is not about money. Anyway, I want to extend my appreciation to the management of Glendale Studio for addressing the matter and joining the good fight. I thank them for their apology, and let you, the audience, know that it may soon be safe to return to the cinemas.
Before Midnight, starring: Ethan Hawke, Julie Delpy Directed By Richard Linklater
On at: Bucharest – Grand Cinema Digiplex, Grand VIP Studios, Hollywood Multiplex, Movieplex Cinema Plaza, The Light Cinema, Cinema City Cotroceni, Cinema City Sun Plaza
By James Longshore, guest writer
Normal