Film review: A little "Blue Jasmine" in all of us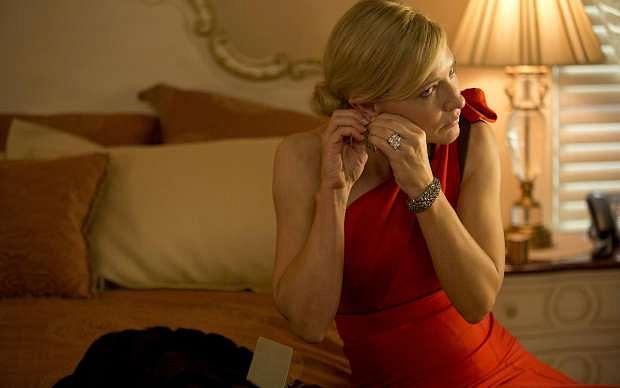 Happy New Year to you and yer kin! I hope 2014 will be a magnificent year full of entertaining and remarkable films. I hope to even make one of my own. But first, it is only appropriate that with so much attention focused on the awards contenders, that we take a look at the best of the eligible and most likely to be the nominees or winners of the season.
That is why I am reviewing Woody Allen's "Blue Jasmine", and more specifically Cate Blanchett's performance, which I think is a front-runner for best actress at the Oscars this year. It is the first in what I hope to be a weekly series on this year's awards contenders.
"Blue Jasmine" is Woody Allen's latest film, and he makes a glorious return to America, jetting narratively between the coasts, as he did with "Annie Hall", except this time it is San Francisco and New York. He also contrasts the lifestyle of the new American middle class, which is to say, upper-lower-middle class, like "The Simpsons" are, and the wealthy lifestyles of the socialites and hucksters of the upper class in America.
As a native New Yorker, it struck me as a sort of perspective on the whole Bernie Madoff affair. Like, "what would become of Bernie's wife after he was thrown in jail?" For those of you who don't know, Bernie Madoff was a Wall Street financier hedge fund investor, who ran what is known as a "Ponzi Scheme". A Ponzi Scheme is when you use money from one investment to pay fake returns on another, then get new investors and use the money from their investment to support the pay outs on another. None of the schemes are actually making any money. Bernie actually made off with all of it. The whole thing collapsed just before the financial crisis in 2008, and Bernie was arrested and a lot of people lost their money. Alec Baldwin plays the archtype of this role a little younger and with a great deal of wit and charm belying his sliminess.
But let's focus on Ms. Blanchett's performance, because this is her show, and quite a few odds makers are placing their bets on it. First, let's talk about the character. Do you ever wonder about those well dressed but crazy ladies who walk down the street talking to themselves or trying to strike up conversation with you? Ever wonder what their story is? I always wonder how they got there. This character seems to be Mr. Allen's attempt to answer that question. And in doing so, he creates another famous, classic Woody Allen heroine. A modern-day Annie Hall. Or Blanche Dubois even. And he needs a fearless actress to play this role.
Cate Blanchett plays it super charismatically. She is certainly committed to the performance, even when it's her character that should be committed. She is so manipulative and so smart and so well-articulated that you find yourself rooting for her, or at least understanding her actions enough to empathize. Her commitment to her words and her dialogue is what helps Mr. Allen's narrative structure, which we will discuss in a moment, work and stay so compelling instead of confusing, as you are never quite sure who she is talking to, if anyone at all, but her delivery keeps the curiosity fresh. It is obvious that Ms. Blanchett had to take a lot of time to understand and interpret all the subtleties of her dialogue, in order to keep us engaged and so that her logic becomes, well, logical to our less warped brains.
She builds the character almost effortlessly, without us seeing its development, and this takes a great deal of technique, skill and intellect. Then you have to hide that work and make us feel we are watching a real person. Ms. Blanchett achieves this. Lord knows I know people like this. That is why the Academy may honor her for this performance, because of the understated display of technique, skill, and intellect.
As for the movie itself, it is a masterful screenplay that needs to be watched a few times. And it may also, deservedly, be nominated for best original screenplay this year. The story is complex, as the narrative is too, but at the same time seems deceptively simple. The morality questions it raises are very relevant to our times. This is a classic Woody Allen movie, jazz soundtrack, credits and all, yet what makes it different is how modern it is. It's a sad commentary on our current state of affairs. The dialogue is superb and crackles realistically.
The narrative keeps you guessing just enough to keep from being confused. Is it a memory? Is it present day? Is she talking to someone? Is she alone? Is she in public? Mr. Allen masterfully sets this conceit up from the opening sequence. There is excellent orchestration of character and the performances are all unique. You see how all the characters have a little Blue Jasmine in each of them.
Stay tuned for my further analysis and reviews of Awards contenders leading up to the big 2014 Oscar ceremony. See you next time!
By James Longshore, guest writer
Normal