Expat interview: Savoring life the French way in Yveline's Romanian jam jars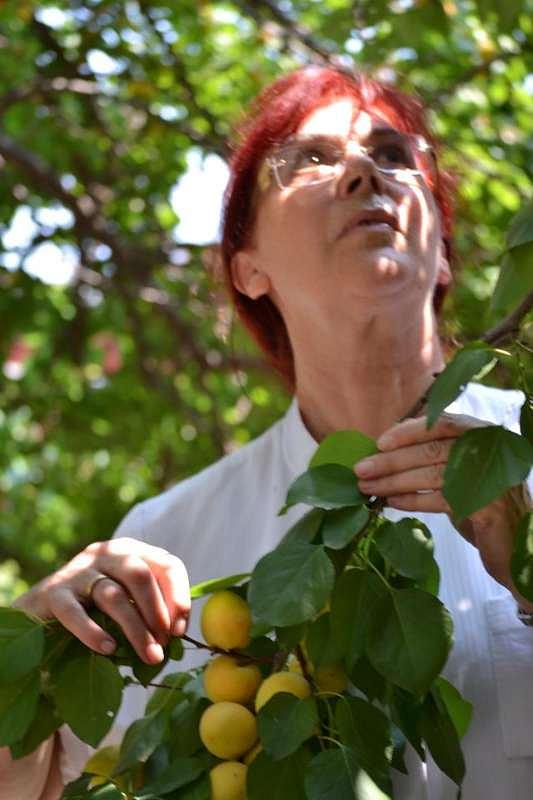 Guest writer Veronica Stancu from Romania Association of Women in Business interviewed Yveline Bonora, the owner of Les Saveurs d'Yveline's.
I had wanted to introduce Yveline Bonora to the Women in Business community from the moment we got the first jar of rhubarb and strawberry jam. When I discovered what unexpected combinations of fruits and spices are to be found in the jars from Les Saveurs d'Yveline's, I figured her story too must be interesting for those who appreciate things done with passion. Yveline Bonora is French. She came to Romania five years ago with her husband Just, who took on a chef job in the country.
What is the (short) story of your life and from whom did you inherit your passion for jams?
I was born in the South of France, on the French Riviera, and was raised by two gifted parents: my mother, an enthusiastic cook, and my father, a dedicated gardener. Thanks to them I discovered all the exotic fruits which grow in that climate: citrus, kiwi, bananas, nutmeg, figs, feijoa, and passion fruit. I spent all my summer holidays at my grandparents' ranch in Normandy where I used to help my grandma gather strawberries, cranberries, pears and all the other fruits in the orchard; then, when I grew up, I started preparing delicious jams under her careful watch.
How long have you been living in Romania and what brought you here?
I've been here for five years. My husband came a year before to open a restaurant for a Romanian businessman.
Pickles, lemon and ginger; pears and caraway; apricots and lavender; caramel and sea salt; watermelon with rose petals and many more exotic ingredients can be found in your jars. What inspires you to make these unique combinations?
Combining fruits, flowers and spices is part of the French tradition, particularly in Provence. Jams are always served for breakfast and used to prepare lots of desserts. My husband is a chef with a lot of cooking experience and together we come up with a lot of interesting recipes.
Who are your clients and how did the Romanian market initially react to the Les saveurs D'Yveline products?
When I started the business in 2010, we met our clients to-be at the fairs we took part in and invited them to taste our products. They were at first surprised, then curious! Our clients are obviously gourmands, but gourmets as well, so they are willing to taste various recipes, they pay attention to the quality of ingredients and know the latest trends in the field.
Where do you sell your products, what is your distribution chain?
Our products can be found in grocery shops, delicatessen, tea parlors, in Carturesti bookshops and at Madame Lucie's. Our jams can be also found in the breakfast menus of Pullman, Intercontinental, Radisson Blue, Epoque and Carol Parc hotels in Bucharest.
What are your plans for developing your business in other cities in Romania and also in France?
We are present in a few stores in Iasi, Constanta, Cluj, Brasov and we hope to make ourselves known in other regions of the country as well; it's one of our priorities. France is not in our plans for now, but we have a new client in Sofia, Bulgaria.
What do you think about the Romanian women-driven business environment? Are there significant differences between Romania and France?
I haven't noticed any significant differences and I reckon that Romanian women are just as active as their French counterparts.
Do you believe that in the years to come, in the context of the economic crisis, women will be more likely to step up as entrepreneurs?
I'm not an expert in international economy, but I strongly believe that, during the financial crisis, female qualities – seriousness, thoroughness and long term outlook – are of real use in today's conditions.
You run the business together with your husband. What are the strong points each of you contributes to the business? In other words, how do you complement each other in business?
My husband has an incredible energy: 50 ideas a minute and he always thinks of new products for us to create! I try to channel this surplus of energy and to put each idea into practice. He is also an excellent organizer and successfully deals with the technical problems. I for one contribute with ideas and that savoir faire inherited from my family; besides, I take care of our products' aspect, wrappings and marketing. We complete each other and this is all that matters! Catalin Mihai is a valuable addition to our team. He is efficient in commercial and administrative activities.
Is there a famous woman who has inspired you both personally and professionally?
I am particularly impressed by the success Anne-Sophie Pic had. Her restaurant was included in the Michelin Guide and in 2011 she was chosen the best female chef in the world out of 8,000 candidates (chefs).
Interview by : Veronica Stancu, Romania Association of Women in Business, www.rawb.eu
Normal