Romanian company looks for EU support to upgrade polluting train engines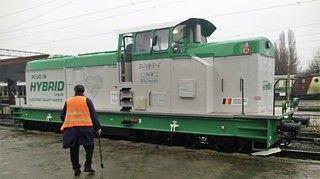 Romanian company Euroest Locomotives, which modernizes diesel locomotives, is looking to be included in EU programs supporting the lowering of CO2 emissions. Euroest, which is based in Constanta, is turning polluting diesel locomotives into "green" locomotives, namely plug-in hybrid locomotives (LHy-M) and plug-in battery locomotives (LEA).
The company is looking for EU financing programs targeting the upgrade of diesel locomotives. For this, it has requested the inclusion of railroad transport as an activity that can be financed through the Regional Operational Program 2014 – 2020, in the lowering of CO2 from transport section, Clubferoviar.ro reported.
In February 2018, the company finished the upgrade on the first plug-in hybrid locomotive (LHy-M). The hybrid locomotive cost RON 3.5 million (EUR 751,000) to upgrade, Adevarul previously reported. Almost half of the sum came from the state budget. The locomotive has an autonomy of up to 12 hours and can be charged in 3 hours. It can reach a speed of 30 km per hour. It can be used in ports, depot stations or industrial platforms, where it helps lower pollution levels.
The train engines that the company wants to upgrade are over 40 years old and very pollutant. Besides the lowering of CO2 emissions, their upgrade would bring numerous technical and business advantages, the company argues. If 110 polluting diesel locomotives were upgraded, the CO2 emissions would be lowered by 2,400 tons, and the noise would be reduced by up to 65%, it said.
Romania's passenger rail company plans to buy 100 second-hand trains
Romanian locomotive producer gets EUR 14 mln financing for six electric engines
(Photo: Facultatea de Energetica - UPB Facebook Page)
Normal