Euro 2016: Robbie Williams' bet on France upsets Romanian Facebook fans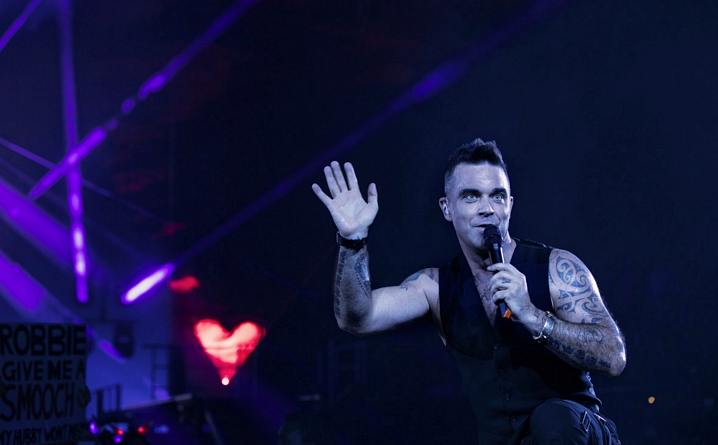 Famous singer Robbie Williams' appearance in a coffee ad before the Euro 2016 opening match has upset his Romanian Facebook fans.
In the commercial for Café Royal, the artist speaks about the Euro 2016 opening match between Romania and France and bets "3 capsules" on the French team. See the ad below.
"Bonjour le France! Ah, tomorrow night at 9 PM, at le Stade de France, your brave l'equipe will be kicking off the Euro opener. It's been long awaited. Now, how will your boys do? Let me see. Romania right? I'll put three capsules on Les Bleus. Three-nil. See you in the finals!" Robbie Williams, a passionate England fan says in the ad.
The commercial was posted on Robbie Williams' Facebook page and has attracted many comments from the singer's Romanian fans, most of them being unhappy with his prediction.
"We know you don't mean it; it's all about the money. That's fine; we still love you! Hai Romania!" reads a Facebook comment from a Romanian fan.
Another one says: "Now don't be mean to all your Romanian fans who simply adore you! Remember your amazing concert last year in Bucharest."
Robbie Williams performed in front of tens of thousands of Romanian fans last year in Bucharest. However, the people later complained about the concert's poor organization and Romania's National Authority for Consumer Protection (ANPC) has decided to fine the two companies that organized the show.
Romania will play against France in the Euro 2016 opening match scheduled for June 10.
Comment: Six reasons why Romania may win the Euro 2016 opening match against France
Where to watch the Euro 2016 matches in Bucharest, other Romanian cities?
https://www.youtube.com/watch?v=rxJ-Sa_Ndqc
Irina Popescu, [email protected]
(Photo source: Robbie Williams on Facebook)
Normal