Eduardo Niño, deputy head of mission at Mexican Embassy to Romania: 'We make life, this is the only choice'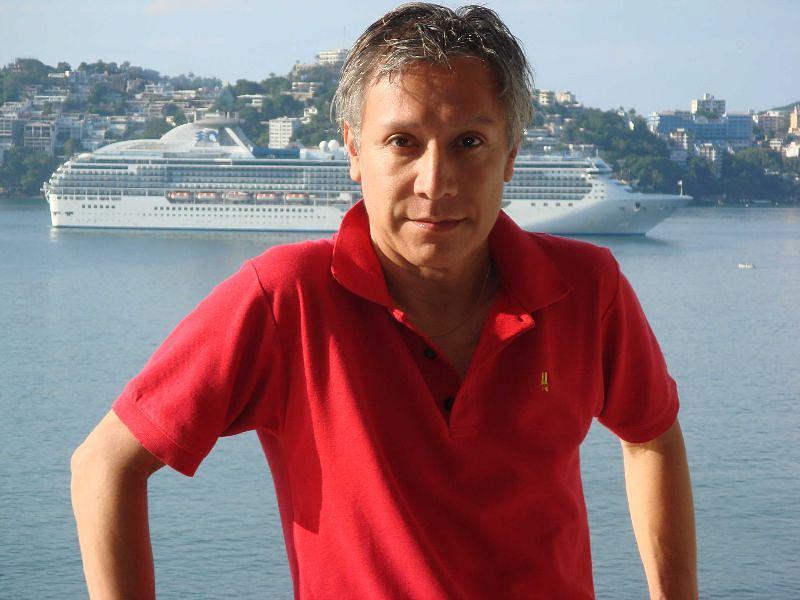 Every morning, for the last two and a half years,  Counselor Eduardo Niño, Deputy Head of Mission at the Mexican Embassy in Bucharest, makes the symbolic Romania-Mexico trip: by international law, the embassy is considered the legal territory of the country it represents.
As for the mornings spent in cities like Paris, Washington DC, Riyadh, Jakarta, Taipei, Athens, and Bucharest, they may have differed in the intensity of light, the noises entering the room, or even in the presence of singing birds, but they were bounded by one factor: the waking-up ritual.
In the early 60s, in a house from Tampico, North-East Mexico, Eduardo Niño and his five brothers learned the waking-up ritual, with no alarm clock involved. The father put them all in the car, in their pajamas, very early in the morning, at about 5.30, drove to the beach, and threw them all into the water. "Swimming for about half an hour, then come back for breakfast and then the day begins. This is how we learned to swim and this is how we learned to wake up in the morning as children. It was not cruel, it was special," Eduardo Niño remembers.
Now living in the Cotroceni area of Bucharest, he still wakes up early, at a quarter to six and even before drinking his coffee, or having breakfast, he goes to the pool. Swimming is for him waking up and coming back. "I begin to swim and the brain wakes up. It's a great time to find solutions. This is when I really plan my day."
For Eduardo, the two-hour stretch between 6 and 8 in the morning are his freedom. "In my job, we never know how the day is going to unfold, so maybe the reason why I wake up so early is a selfish one, because from 6 to 8 in the morning it is really my own time. After that, I may have to go to business breakfasts, day meetings, business dinners. I never know when the day ends."
A time of letters and Paris in the 60s
Eduardo Niño lived in Tampico until the age of five and then moved to Paris, to pursue his primary and secondary studies and to live with his favorite aunt and his cousin, Guillermo. When asked about Paris in the late 60s and then in the 70s, the political turmoil, the cinema, the nightlife, Eduardo, now seated at his office on Doctor Louis Pasteur street, laughs. "People always ask me, how did you adjust to Paris, how was the city. Well, I was a child. I knew the museums, I knew the school, I knew my class-mates." Paris meant for Eduardo a very nice house, a Jesuit private school, his aunt, his cousin, holidays in Cologne, and being a boy scout.
Eduardo's distinctive feature now is a very serene and friendly smile, which could probably be traced back to a happy childhood, diplomatic politeness or to his Mexican origins. "We are optimistic people. I am not speaking of politics, or in terms of the Government. I am speaking about humanity. There is something Mexican that is very contagious and this is what I was talking about, a humanistic attitude towards life. We are happy, and if we can't be happy, we are ironic."
Even while being a teenager in Paris, Eduardo always felt Mexican. "We were going back to Mexico two times a year, a short time during the summer and then during the winter holidays, for Christmas. I was never disconnected. We were writing letters, it was a time of letters, as telephone was too expensive."
Diplomacy and around the world jobs kick in
"I wanted to study in France, but then my father came and said: No, no, you must come back to North-America." He was accepted at Georgetown University, a school in Washington DC, which is a very strong center for international relations. "This is where the diplomacy comes in. I went into the School of Foreign Service. From there I was already going into the direction of diplomacy."
After the experience of Paris in the 60s and 70s, Washington in the early 80s seemed a small, dull and empty looking city. "At that time, Washington wasn't the city that is now. Over the 80s, it has transformed from what used to be a southern city into a cosmopolitan city."
His first job was at the Ministry of Foreign Affairs in Mexico City. After working there, he passed the examination to enter the Foreign Service. His first destination: Saudi Arabia.
Saudi Arabia was a special country, as it was not open to tourism at that time, Eduardo says. "You visited it either for religious reasons, or for business. The idea of going to a travel agency and buying a travel package did not exist and it's peculiar even now. It's still not an easily accessible country." He had studied Middle-Eastern studies at the University, so he already knew Arabic when he got there. It took him a bit of time to read the newspapers, but eventually he was doing it on a regular basis, watching the news, reading books, or just being in contact with people.
During the day, he was doing his work at the embassy and in the evenings he was going to the university, for his masters degree in Arabic Literature. He also started doing yoga there. "There were many expats and the expat community is always looking for things to do. And there was one Indian housewife who knew yoga, so she started a small group and she was teaching us."
After Saudi Arabia, Israel, Taiwan and Indonesia followed. "The first and most noticeable thing when arriving in Asia, anywhere in Asia, is the number of people. Mexico City is a very large city. We are speaking about 20 million people in the whole metropolitan area. It's a big city, but Asia is shocking, everywhere you go in Asia it is crowded. Everywhere you go there are people, lots of people. Living in Jakarta and coming back to Mexico in holiday made Mexico city look empty. The busiest part of day looks empty. Asia is hustle and bustle and movement and everybody is doing something."
Different, but the same
After waking-up in some many different cities, Eduardo Niño says that the world is essentially the same. Even if the French are very critical and are constantly demanding their rights, the US gives a lot of freedom to different groups and their lifestyles, or for example Mexicans have a special day to celebrate death- November 2, the connection between all cultures, even those who are divergent, is the humanity of all people.
"Coming back to Indonesia, I remember there was a traditional doctor of Indonesian traditional medicine, on the island of Java, who was applying a very efficient treatment against respiratory diseases. If you saw that man on the street, you might have thought he was asking for money. You learn to respect that. Maybe he doesn't have to get dressed like a doctor from Europe."
For Eduardo too the panoramic view of the world shrinks into the macro view of every day life, to the dimension of a block with six apartments in the Cotroceni area, where all his neighbors speak French. Or to the evenings spent at Ateneu or Sala Radio. Or to a night out dancing, with friends. "We make life, this is the only choice. It's a big responsibility, even for the friends and relatives that have died. I have the moral responsibility to live for them. So, I have to live lots of lives, I have no excuse for not living life."
By Diana Mesesan, [email protected]
(photo source: courtesy of Eduardo Niño)
Normal