Dare to meet 'Future Shock' Tom Fulton: the only professional wrestler in Bucharest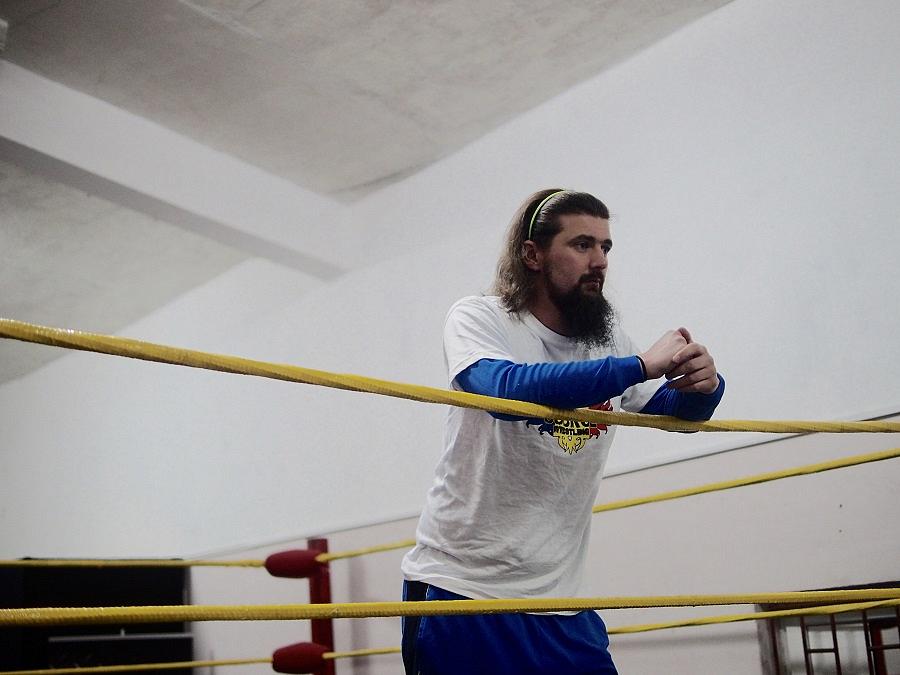 The Scottish professional wrestler 'Future Shock' - by his real name Tom Fulton lives in Bucharest and teaches English at a private school. Romania-Insider.com — visited him at his studio in Catelu, near Bucharest.
'Future Shock' Tom Fulton, the only professional wrestler living in Bucharest, was determined to make 2014 work. That year he opened the first wrestling school in Romania. He also started organizing a wrestling event that would feature his students and international wrestlers. A fan of grassroots movements, Tom wanted to organize a small show. In a relatively short time other people announced that they would like to partner with him into creating a bigger show.
He was thrilled about having a big wrestling event in Bucharest, but at the last moment all the partners pulled out. 'Future Shock' Tom Fulton felt disappointed and uncertain about what he should do next. But he took the ball and ran with it. He organized the event in a sports hall in Pantelimon. The show sold about 100 tickets. It was a good result for a city with no wrestling tradition, and 'Future Shock' felt in control again.
But then, he got extremely badly injured during one of these shows. He couldn't walk for months and he had to go to Germany for treatment. — Doctors told him that he wouldn't be able to wrestle again.
"Doctors in Romania told me to take up chess, and if I had surgery maybe I could move up to swimming," Tom remembers.
He went to Germany for physiotherapy with little hope. But therapy went well. "It is a prematurely miraculous recovery," his therapist told him. After the one-year therapy in Germany, he got back into the ring.
Tom had to make a decision for the future. It was the summer of 2015. His body had beaten the odds. He could return to Scotland where his real family, as well as his wrestling family were. But Tom is incredibly stubborn — and he was unhappy that he had to abandon the project of building the first wrestling school in Bucharest.
"I'm going back to Romania, I'm taking a ring and I'm making this work," the wrestler told himself.
The English boxer
It is a warm evening, the end of March, 2016. The narrow streets of Catelu, a village near Bucharest, are packed with kids playing outside. A long-haired, bearded man passes by them, and kids start yelling in English. Hello! How are you?
They see this man often. Three days a week, he parks his Dacia Logan and enters one of the houses in Catelu. Kids haven't been able to see what's inside the house — but they know that the man is an English boxer.
The wrestling ring occupies a big part of Tom's training room. However, it is a fairly small wrestling ring and has a wood plank stage covered by foam padding with a canvas mat. The elevated sides of the mat are covered with a blue fabric skirt. Tom bought the ring in Scotland last year.
'Future Shock' and his students train here three times a week. This is almost like a holiday for Tom. Before moving to Romania in 2011, his life in Scotland meant a lot of wrestling. After work he would go to training every day and then on weekends he'd put on shows.
Now his life is different. Nine months a year, he's a primary school teacher at a private school in Bucharest and a part-time independent wrestler in the afternoons. The other three months, he lives in Scotland, trains the whole day and takes part in shows. Two different lives.
Tom has about ten wrestling students altogether. Most of them are teenagers, and heard about the wrestling school on Facebook.
For wrestling fans, 'Future Shock' Tom Fulton is a known character, who performs in shows across Europe. When they heard that 'Future Shock' had moved to Bucharest, Romanian kids started sending him videos of them trying to wrestle. Their play was dangerous, as they had no idea about any wrestling rules. Tom came up with the idea of opening up a school.
The wrestling childhood memory
Now 30-year old, Tom discovered wrestling when he was a kid. He'd go to his grans and watch a wrestling show with his grandmother and grandfather every Saturday.
"It was the most important thing in my week," he says,
As a teenager, however, Tom grew out of wrestling. He played ice hockey internationally, then he played in a metal band. The fascination for wrestling became just a childhood memory.
But then one day, he randomly ended up at a local wrestling — show. He was in his mid '20s and was living in Glasgow at the time. He had just graduated from the Aberdeen University and had a bachelor in education. He couldn't believe that wrestling shows existed locally.
"I was blown away. I couldn't believe that these guys existed in real life not just on TV in America," Tom says.
The next day he went down to the wrestling school in Glasgow that had been advertised after the show. Tom didn't have the build of a wrestler, but he really wanted to see how it worked because he was obsessed with it as a kid. And he got hooked.
He'd train several times a week until he got to the point where he was told that he'd be in the next show. His colleagues were from all sorts of walks of life. The only thing they had in common was wrestling.
In 2011, Tom moved to Bucharest to work as a teacher. To his surprise, there was no wrestling scene in Romania's capital; no place to train, no other wrestlers. Romania had zero wrestling tradition.
Telling a story
In the UK, wrestling has a massively rich history going back to 30s, 40s. In the 60s more people were watching wrestling than football, Tom says.
Its origins come from carnival tricks. You had two people fighting but they were actually working together. And there'd be someone drawing up everybody and they'd try to convince them to bet. Then the three would split the money and run off with it.
A wrestling show has a sort of loose script."We know the end, but we have to come up with a way to tell the story and entertain the crowd," 'Future Shock' Tom Fulton explains.
"We improvise based on the crowd's reaction to what we are doing."
In boxing, you're trained to knock your opponent down whereas in wrestling you're trying to tell a story, to entertain the crowd. You got to entertain the five-year old, the teenagers, the dads who say this is rubbish, to make them come back next time; the grandparents also.
"We're trained to hurt each other, but to do that while trying to protect each other," Tom says.
A wrestling show is a like a live-action movie. "We're entertainers, we're comedians, we're stuntmen, and to an extent we're fighters," he adds.
Tom believes that unless you've been to a wrestling show you can't understand how silly and funny it can be.
"These guys are so charismatic. They light up the room when they come in. They wear these ridiculous costumes, they act silly, you can't help but be transfixed by it. It grabs your attention, and if it's done well it keeps your attention," he says.
Future Shock
His character 'Future Shock' Tom Fulton came about from a joke in training. All his colleagues wanted to learn fancy flips and acrobatics while Tom just wanted to learn the cheesy old wrestling that he loved from the 80s. The other wrestlers joked that everything he did was from that decade.
He got a character that is similar to the Terminator. He was sent back from the future to save professional wrestling for future generations. He had several futuristic tricks. But it was all a massive inside joke, because Tom has been always impersonating wrestlers from the '80s. His costume is blue with neon-green colors. He's a savior from the future entrapped by his passion for the 80s.
He doesn't talk much about his wrestling life at school. For him, the guy in the ring is not the same guy who teaches the four-year olds to write their names and count to ten.
But he's very patient both as a primary school teacher and as a wrestling trainer. He feels, though, that some of the people who come to training are not willing to put on enough effort.
"Wrestling isn't easy and it's not supposed to be easy. Everything is earned," Tom says.
He still hopes that he can create a grassroots wrestling movement in Bucharest. He plans to organize their first show in June. It will feature Tom and maybe another foreigner, and the guys training at his school.
The biggest challenge is not actually learning the moves, but understanding why you are doing this, when you are doing it.
"Wrestling is more about what you're doing when you're not wrestling, everything that you do between the moves" Tom says. "Just like with an actor, what really counts is everything you do between the lines."
By Diana Mesesan, features writer, [email protected]
(photo by Diana Mesesan)
Normal