Comment: Unfinished business and the rule of law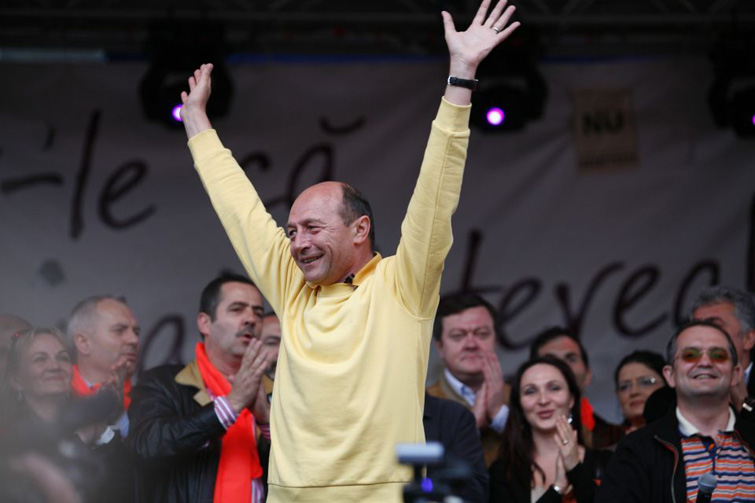 At the Romanian Presidential election held in November 2009, Mr Crin Antonescu achieved 20.02 percent of the vote and did not progress to the second round of voting. He pledged his support to Mr Mircea Geoana of the Social Democratic Party, who narrowly lost to Mr Traian Basescu (in picture) by 0.67 percent of the vote on a turnout of 58.02 percent of the electorate. Mr Geoana had been expected to win and the PSD were outraged that he had not, accusing Mr Basescu and the authorities appointed by him of rigging the vote.
We can discuss the the Social Democratic Party's allegations another time, but I can say that rigged votes are usually won by a wider margin than 0.67 percent; cynics say that maybe one side was slightly better at rigging than the other. For the PSD, this election result was never confirmed and they have regarded unseating Mr Basescu as urgent unfinished business. Nonetheless, we shall return to Mr Antonescu's un-rigged 20.02 percent for the moment.
Mr Antonescu has just become President of the Senate of the Romanian Parliament at a special meeting of the Senate which, if I understand things correctly, can only be called by the current President of the Senate, in this case Mr Vasile Blaga. Mr Antonescu has therefore replaced Mr Blaga as President of the Senate by unconstitutional means. However, having just been elected President of his party, PDL, Mr Blaga should perhaps have immediately resigned as President of the Senate. He did not do so and it is not unreasonable for the USL coalition, the majority in Parliament, to move to replace him. But they should have done so by constitutional means.
Now the governing USL coalition will move to impeach Romania's President, Mr Basescu, in Parliament, and if they are successful (highly likely) Mr Antonescu will become interim President of Romania.
Having achieved one fifth of the vote at the 2009 election, Mr Antonescu has charged, like a reckless driver weaving through the traffic on the Bucharest – Otopeni highway, to catch his flight to the Cotroceni Palace. His collaboration with Mr Ponta of PSD has given him his Parliamentary platform and the two of them have recently 'cut and pasted' parts of the constitution at will for short term political advantage. They have done so without any interest in, or concern for, the long term consequences on the political development of the country within a proper legal framework, even though Mr Ponta is a lawyer.
Who knows if Mr Antonescu will be a better President than the disappointing and erratic Mr Basescu, we have not been given any idea what he plans to do once he has taken office. Nor do we yet know if he intends to seek popular validation through a new Presidential election as soon as possible. This would be the honorable thing to do and it would help to restore a sense that Romania is, like other democracies, a country of laws. So far all we have seen is Mr Antonescu's rabid desire to become President by any means, for the sheer hell of it and by arrangement with Mr Ponta.
I say again, Mr Antonescu has become President of the Senate and next in line to the Presidency through unconstitutional, illegal, means. On this one point alone, Romania's government has abandoned the rule of law and this is a very serious situation for the country's political present and future.
How does all of this look from beyond Romania's borders? A country with no discernible economic and foreign policy endures endless squabbling among its powerless and utterly untrustworthy political class. The country becomes less and less important and influential on a regional and global level and will be left far behind other emerging nations. And the world of business will wonder how safe it is to invest in Romania if the government has no interest in obeying the country's laws. Romania's politicians may have no interest in the rest of the world, but the rest of the world is watching them, for the moment.
By Ronnie Smith, Guest Writer 
 Ronnie Smith is Scottish and now lives in Romania, working as a professional training business consultant and communication coach. He is also a teacher of political science, a political and social commentator and a writer of fiction. The views expressed are his own and do not necessarily reflect those of Romania Insider.com.
(photo source: PDL)
Normal