Comment: The Romanian Roadshow across Europe - seeking support and presenting Romania's positive side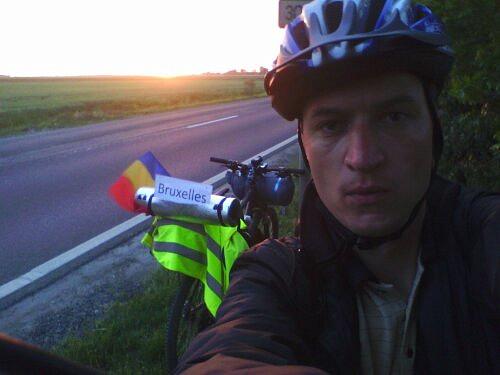 Guest writer Stuart Meike covers a recent NGO initiative which sent Romanian European MP candidate Erwin Albu hitchhiking across Europe to seek support for Romania and spread the good word about his country.
Erwin Albu (in picture) is someone I have come to know well in recent years ever since he approached me as the British Honorary Consul about establishing links between Brasov and the United Kingdom. Of all the Romanians I know, he is the one who most strongly believes that he can personally move mountains. A characteristic which nearly 25 years after the so called 'revolution' is still much needed. It was Erwin's unflappable determination to make things change that led us to establish together our not-for-profit organization Transylvanian Community Solutions. It is about what it says on the label, finding solutions for the communities of Transylvania and the wider Carpathian region with an aim to again making these mainly rural and agricultural populations demographically sustainable.
Recently I have been spending a little more time in the United Kingdom. As I have written elsewhere, 'Romania' has been surprisingly to the fore in everyday discussion. If I mentioned that I had been living in Romania the response was invariably about migration. Too few people knew much about the country; their knowledge being gleaned from the press coverage of the politicization of the issue. It is always a pleasure to explain that Romania is in fact a stunningly beautiful country with an abundance of natural resources that in those measures compares well to any other in Europe. Further, it is only a matter of unlocking its latent potential for it to be a vibrant and attractive place to live, to work and to do business. All Romania needs is good governance and the support of an international community that is willing to research, recognize and create the solutions to address Romania's specific needs; as opposed to just re-hashing the 'solutions' fashioned for others facing their own problems elsewhere.
Back in Romania, we decided that this is a message that needs wider dissemination; that the word needs to be spread amongst our European brethren. It is not a story that I, as a British citizen, am best placed to present; far better that it comes from an articulate, young, dynamic Romanian. It was clearly a role for Erwin to take up; communications is his forte and public speaking is for him a passion. Hence, we came up with the plans for the Romanian Roadshow, for Erwin to travel across Europe meeting people and addressing public forums, to inform the debate and to present the real Romania. And all this he will do by bicycle, by train and by hitch-hiking around Europe; not for him air travel and luxury hotels. It is a paradox but the funds to create change are available but rarely to those who could most effectively use them.
One message that he will take with him is, of course, our own; that we need support to create projects that will generate employment and income and, thus, for the projects to help communities become economically, environmentally and demographically sustainable. We have seen the too negative impacts of allowing the 'free-market' to manage the post-1989 transition and we have seen the lack of impact deriving from promoting the non-business-orientated flip-side. We have a fear that relying on foreign investment and thus foreign ownership is not sustainable into the long-term for either an indigenous population or a democracy. Hence our primary objective is to create new social enterprises that have a predominance of local ownership, even if it has to come about with the support of non-indigenous funds.
Obviously 'Europe' as in 'Brussels' is one destination for the Romanian Roadshow. We want to ask, for example, why so little of the available EU funds have found their way to support grass-roots initiatives in Romania. It is well known that EU funds absorption is very low so we want to ask whether it is not time to re-think how they are offered and how they are managed. Undoubtedly there is a shortfall in Romania in the capacity to create and build projects to utilize funds. So where are the funds to support those who can create the very projects that could start to make a difference? They are not very evident. The problems on the ground are extensive but little is happening to resolve them and a major reason is that there are too few catalysts acting upon them beyond those in the bureaucratic frameworks emanating from Bucharest or Brussels. The very creation of initiatives and projects is too often left to the goodwill of 'amateurs' like ourselves. It is a state of affairs that is not conducive to action and so long as it continues unchanged it will remain a hindrance to community development and regeneration within Romania.
The Roadshow will travel further afield. It will visit the United Kingdom, the Netherlands and Germany, all countries that are concerned about migration from Romania. Our aim is to present the positive side of Romania and to give the EU public and, of course, journalists the opportunity to understand a little more about Romania and the situation facing the country and its people. We will say that it should not be looked upon as a poor relation that is a fount of problems that are drifting across Europe but as a country that has the potential to be a major contributor to the wider European community. That if unleashed, Romania will become a significant economic force that is far removed from the perceived burden that it now is.
It is not our intention to become involved in the rather xenophobic immigration debate, although it will be difficult to avoid at times. Whilst domestic, publicly-funded, social-support resources may be under pressure, it is, at least in the UK, more about a few exploiting the issue to help them with their UK-out-of-the-EU campaign. There is little other reason for Romania to be embroiled in this as any migrants from Romania would only be traveling a path well-trodden by millions before them. We would also much prefer our Roadshow to be focused on issues that are not solely of domestic concern to the places it visits.
Ultimately our Roadshow is about promoting a greater understanding of Romania, its unique issues and its national characteristics. It is about presenting Romania in an optimistic light but it is also about saying that Romania, like all countries, does have its problems. Romania's do, however, need to be better understood and to be rather more precisely addressed. The Roadshow is about creating clarity about Romania, its people and its needs and by so doing, we hope, it will be a catalyst for change.
By Stuart Meikle, Guest Writer
(photo source: Erwin Albu's website)
Normal